tradeit™ is an enterprise-class ecommerce platform that powers multichannel retailing, global ecommerce and sophisticated omnichannel strategies, handling any mixture of brand, B2B, retail, international or multi-site requirements. It's a highly robust, yet flexible and scalable retail & B2B ecommerce platform combining leading edge ecommerce, advanced content management, innovative marketing functionality and smooth order processing.
The
trade

it

ecommerce platform
Highly flexible, scalable and proven Retail & B2B ecommerce platform with a customisable framework which enables us to tailor ecommerce solutions to meet individual and highly complex requirements
Constantly evolving with frequent new releases and rich features future proofing your investment. As we own and develop the platform in house, it can be moulded to your exact requirements and designs
Red's superior hosted ecommerce platform model avoids the limitations of SaaS and similar models, resulting in a superior ROI and a lower total cost of ownership
Complete in-house control for non-technical users via the built-in content management and administration system
Strong multichannel capabilities giving you one master platform connecting multiple channels
An international ecommerce platform which powers fully localised ecommerce sites
Fully integrated with all supporting systems spanning 3rd party or bespoke in-house solutions
Built-in marketing & merchandising management tools to attract, engage, convert and re-engage users
Scales in line with your business meaning you never outgrow it, avoiding expensive and resource-hungry re-platforming projects
Leading ecommerce platform powering world class, engaging & award winning ecommerce websites
Class-leading ecommerce functionality
tradeit features enterprise-level ecommerce functionality helping retailers, manufacturers, distributors and wholesalers deliver class-leading ecommerce solutions. Developed over the last 15+ years to suit the separate requirements of both B2B and Retail ecommerce, tradeit contains all the tools you need to empower your ecommerce team.
See the key features of tradeit
trade

it

Retail & B2B ecommerce features
Ecommerce Content Management System
Product Information Management (PIM)
Manage all product catalogue and data (pricing, images, stock, descriptions, translations, downloads, reviews, ratings etc..)
Unlimited products, SKUs, facets, categories and attributes (includes aliases, company-specific SKUs, custom attributes etc...)
Product variations management - colours, sizes, flavours etc...
Support other product types: subscriptions, digital products (mp3/ebook), event booking, warranties & samples
Share product data between multiple channels with different pricing, currencies, & languages
Setup and manage relationships between products and categories
Customisable & configurable cross & up-sells
Manage search and sort options
Support multi-lingual, multi-currency, multi-warehouse and multi-taxation models
Web Content Management (WCM)
Customisable, responsive design
On-page editing using pre-defined components
Roles/rules-based administration system
Built-in image editing tool & automatic resizer
Integrated management of all media files
Supports content types including text, images (banners, galleries, carousels, sliders, zooms, 360 spins), Flash, videos, navigation, forms, surveys and downloads
Create events and collect attendee information during the checkout process
Internationalised for multiple languages including Cyrillic and symbol-based text
Google reCAPTHCA on forms
Content lifecycle management including rollback
Integrated blogs and forums with tagging
Send-to-a-friend (can include reward for both referee and referrer in conjunction with the promotions engine)
Built-in on-site social network: allows users to create profiles (bio, images, social media, avatar), upload content: images, videos, photos etc... follow/unfollow others, like uploaded content, add comments and share
Site-wide/individual activity feeds bring everything together and alert other users of activity such as new upload, content, visits, purchases
Three way Q&A including moderation
Built-in ratings & reviews engine (ratings can be used as sort option)
Control over schema.org, twitter cards and rich snippets
Ecommerce Marketing & Merchandising
Configurable rules-based system
Multiple offer types including discounts, bundles, coupons, and more
Target or restrict specific users/user groups/products/brands/channels from offers/promotions
Layer multiple offers and define the order applied
Schedule time span of offers
Copy existing offers to set up similar new ones through tweaking NEW
Limit offer usage across the site, or per user
Full offer reporting for each campaign
Offer multiple free gifts with variations NEW
Create unique coupon codes for use in email campaigns (export for use with other ESP if required)
Discounts split across line items to avoid outputting negative values (some ERPs don't support negative values)
Users can disable offers if they don't want to take advantage of them NEW
Pop-up or on-page adverts
Adverts based on user profile: demographics, location, previous footprint
Support multiple content types including products, images, videos, Flash, HTML
Display randomly within a zone if there are multiple adverts NEW
Display across sessions and defined time period
Show different content at different breakpoints if required
Display across different pages on your site
Show multiple adverts in a single zone using carousels - order of adverts is definable NEW
Personalise content based on user actions: where they came from (PPC, Affiliates, email campaign etc..), what they searched for, what they looked at, what they added to basket, what offers they have fulfilled
Display adverts when offers 'almost' apply NEW
Use for both cross-sells and up-sells
Control product relationships & ordering
Use pre-defined metrics to populate based on real time data
Configurable naming conventions (e.g. 'Other people bought...')
Personalise based on user profile and/or actions
Choose from automated or manual population, or mixture of both
Unlimited categories and sub-categories
Multi-tick facetted navigation
Predictive search with type-ahead functionality
Search across both products and content
Choice of pagination, infinite scrolling or lazy loading (set % of page scrolled through before loading more)
Maintainable dictionary for misspellings, synonyms, alternative and related items
Drag-and-drop tool for manual merchandising control of category pages
Pre-defined and customisable sort options
Supports all transactional, bulk and triggered emails
Deliver targeted content based on definable user actions or inaction
Report on all campaigns
Automatic Google sitemap generation
Control formatting of URLs
Management of all redirects
Full control of all on-page elements such as page titles, meta tags, h1-h6 etc...
Proper output of image tags
Facet-friendly URLs with legible syntax
Support for canonical tagging
Configurable marketing/vanity URLs
Redirects work across secure and not secure protocols
Automatically updated link fields to avoid any dead links when URLs change NEW
Personalised e-gift cards with online or in-store redemption
Pay via multiple gift cards or as part payment
Fixed or customisable gift card values
Multiple gift wrap, boxes or hamper options on an item, group or basket level
Personalised messaging on an item, group or basket level
Anonymous sending (ideal for Valentine's Day)
Scheduled arrival dates
Multiple gift list support
Report against user gift lists for marketing purposes
Personal address book with reminder service
Include 'Do not open until...' messaging with user-specified date
Integrated points-based loyalty scheme
Configurable collection and redemption values
Full or part payment using points
Loyalty point balance in My Account
Manually credit or debit points using Call centre
Points earned against each order (inc/exc VAT & devlivery)
Define whether points are earned against orders paid for with points
Use to apply store credits to a user's account
Use in promotions (i.e. double points today)
Configurable expiry dates on points stored against user accounts NEW
Set Spend & Save targets for customers and display their balance, target, & previous performance in their my account NEW
Ecommerce Order Management & Fulfilment
Member and guest checkout options
Multiple saved baskets
Mini-basket
Single or multi-page checkout
Optional enclosed checkout
Saved card payment through tokenisation
Encrypted using SSL
Supports multiple payment methods: on account, invoice, debit/credit card, pre-paid credits, subscription, direct debit, buy now pay later
Integrated with Loqate address finder
Integrated with major PSPs including Secure Trading, CyberSource, PayPal, & Worldpay
Selectable basket aggregation meaning same SKUs can multiply when added to basket or remain as separate items in exceptional circumstances
Order Management & Fulfilment
Supports multiple warehouses for different domains/channels
Define tax and delivery options for each warehouse
Configurable cut-off times for order picking at each warehouse on each delivery option
Setup and configure different tax areas and rates for each channel
Calculate delivery based on basket items, basket price, or basket weight
Configurable product delivery surcharges for individual items or delivery types
Pricing rules for each delivery option
Configure multiple delivery types for each channel/domain
Definable order rules for additional fraud protection
Automatic or manual order status updates
Append notes to order status updates
Print orders, invoices and packing slips (including bin numbers for exact location of items)
Configurable/customisable order workflows
Search and filtering options for finding orders
Change/forgotten passwords
Update/set preferences
Submit service requests/enquiries
View, administer and remove saved baskets
View all current, previous and back orders plus order details
Manage calendar and reminders
Setup and manage multiple wish/gift lists and distribute them
Double opt-in registration and subscription functions, and the ability for users to close their own account will full event logging, in line with the GDPR NEW
View offline orders (subject to integration)
Business-to-Business My Account
View credit limits & outstanding balances
Export previous orders and print
View and pay invoices online (add to basket and pay on credit or debit card)
Quotation management
For a wider list of B2B-specific features, see below
Call Centre/MOTO/Endless Aisle
Process online, telephone, mail and in-store orders
Handle customer queries and disputes
Place orders on customers' behalf
Process returns, refunds and replacements
View all customer orders and check their status
Update user details on their behalf
All sensitive information (password, payment details) is encrypted and protected from administrators
Use on tablet devices in stores for endless aisle
Assign account managers to customers and enable only them to administer those specific accounts
Apply or remove promotions from particular users, including adding free gifts NEW
Use with services like PCI-PAL Agent Assist or via in-store PDQs for secure payments over the phone or on the shop floor
Administrator override for restricted products, meaning staff can add them to a basket and order on a user's behalf NEW
Split a single order to multiple delivery addresses (includes in-store collection)
Split basket by items or group of items
Offer different fulfilment and gifting options on each item or group of items
Schedule delivery of items or groups of items at different times
Include gift wrapping, messaging on items or groups of items
Optional auto-splitting on product availability (i.e. send in stock items now and others when available)
Integration Hub
Accepts XML, Tab and Web Services
Supports all commercial and in-house packages
Control affiliate and comparison feeds
Communicate with any software package based on your own defined business rules and schedule
Integrate with online chat providers
Pre-integrated with Loqate
Manage marketplace feeds
Authenticate passwords imported from external systems
Multiple levels of Amazon integration NEW
Import/export of data via CSV
Robust, secure integrations with PSPs
Pre-built integrations with Google Analytics
Integrate with fraud screening and payment security solutions
Business to Business Ecommerce
Master and sub-accounts with permissions
Configurable, personalised pricing on a user/department/company level
Built-in quotation system
Offer both gross and net pricing
Manage pricing by price list or currency
Manage cost centres, set and manage credit limits for accounts
Full control of back orders
Customer and order reporting
Minimum order quantities (MOQs)
Vendor managed inventory with auto ordering NEW
Set approved payment methods (e.g. on account, invoice, credit/debit card)
Configurable payment options against each user (credit limit, pricing, MOQs)
Quantity steps on products (5, 10, 15 etc...)
Supports batch numbers and expiry dates
Price list manager (set the % value of child price lists against parent price lists for products, product groups and customers) NEW
Integration with VAT checker to validate business authenticity NEW
Toggle between retail and trade pricing
Different shipping/fulfilment options based on user/company
Volume-based quantity breaks
Click & Collect/Reserve for collection points/trade counters
Trading prices, previous price and RRP
Account management via Call Centre
Quick order tools: repeat orders, quick order pads, quote-to-order, regularly ordered items including bulk upload of via CSV/Excel NEW
The best ecommerce platform for growth
Infinitely scalable, flexible and robust, the tradeit ecommerce platform enables businesses to extend their reach into new markets, channels and business models.
Leveraging the tradeit ecommerce platform's innovative and agile technology framework, we can efficiently and effectively customise ecommerce solutions to meet individual and highly complex business requirements, delivering rich engaging ecommerce experiences that captivate and delight consumers. So whether you expand internationally, sell directly to the trade, launch new brands, grow your omnichannel footprint, or develop an online community, tradeit offers the functionality you need and can scale as your business does.
Our customers include forward-thinking multichannel retailers, wholesalers, distributors and manufacturers. Using the tradeit ecommerce platform they process hundreds of thousands of transactions and reach millions of customers throughout the world, shaping the evolution of the platform based on real world usage.
We provide innovative technology that places the customer at the heart of our development road map to ensure the platform's rich feature set delivers a superior experience for them. We frequently release new versions ensuring that our customers stay at the very forefront of ecommerce technology and their ecommerce operations never outgrow the platform.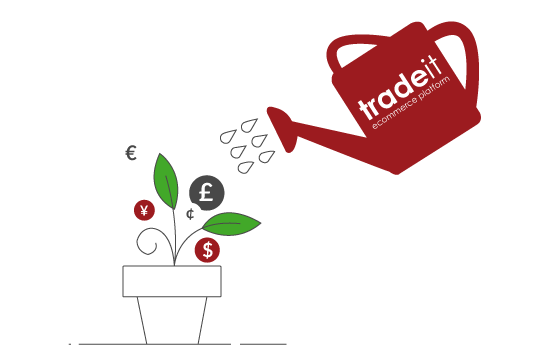 Ecommerce Platform Resources
Ecommerce Platform News & Insights