Sell effectively online to your customers with an ecommerce solution from Red Technology. With proven results in the giftware industry, our highly evolved tradeit ecommerce platform can help you take the next step on your ecommerce journey. We work with some of the leading brands in the industry across retail, B2B & D2C ecommerce and have implemented flexible, robust and scalable solutions to help them succeed. We're uniquely placed to tailor a solution that complements your business processes and integrates with your systems infrastructure.
tradeit Ecommerce Platform
Capable of handling an unlimited number of products, variations, dimensions, weights, prices and customers, the tradeit ecommerce platform has been built from the ground up to natively support B2B, D2C and B2C ecommerce making it ideal for giftware suppliers looking to service their customers online.
Stand out from your competitors and avoid a cookie cutter look and feel with a completely unique design in line with your business and brand.

Increase conversions, loyalty and customer satisfaction through offers, promotions and merchandising tailored uniquely for each customer.

Serve personalised content, offers, promotions, emails, adverts, and pricing throughout the customer journey, each and every time they visit your site.

Take control of your sites with simple content management through tradeit's rich in-site editing tools.

Give customers full details of invoices online, including shipping & billing addresses, order date, payment due date, PO number, details of every item ordered, balance of each individual item and the total order. Outstanding invoices can be added to the basket and paid for with a credit note or a credit or debit card.

Allow admin users to setup/view customer accounts and process orders on their behalf. You can also define an account manager for each customer's account meaning only they will be able to access it through the MOTO tools. You can even override prices in the basket whilst on the phone to your customers in order to close the sale!

Enables customers to maintain an agreed inventory of products at any and each of their locations and deliver simple replenishment when the stock holding falls below the agreed threshold. When the merchant undertakes a stock check any shortfall is then ordered online against that location and account, at an agreed timescale.

Merchants can set the % value (₊/-) against parent price lists for products, product groups and customers. The engine auto calculates the child pricing and assigns. Can also apply delivery costs, discounts, offer bands, gift options and advert basket price conditions across price lists or on a currency level.

Access full details of any back orders by searching through them based on customer, company, order or product. Enable various actions to be executed based on any changes to the status of that back order, including sending an email to the customer when the status changes or there's an increment/decrement of the items they are waiting for.

It's not always viable for businesses to sell some items in low volume. Set a minimum order quantity for any product as well as adding rules and workflows around alerting customers to this, and managing stock based on these restrictions.

Incentivise your trade customers to spend more by offering quantity based discounts per product. This enables you to lower the unit cost based on the amount they buy (e.g. 1-9 for £12 each, >10 for £10 each).

Online quote request and convert to order operating either independently or in conjunction with an ecommerce basket. Merchants can drive quotes from call centre, set specific pricing and then push to customers via my account and email that they can convert to an order.

Set individual credit limits for customer accounts and allow them to buy online through an ecommerce enabled website.

Enable quick and easy re-ordering with saved baskets, quick order pad and regularly ordered items lists.

Provide customers with a dedicated 24/7/365 self-service portal containing all information including billing, order history, credit limits, payment terms and much more.

Each product can be sold in fixed quantities (e.g. 5, 10, 15) with workflows and rules to alert customers and manage stock.

Control ordering and spending capabilities of all regional sites from a central location, including approvals system and credit limits.

Allow customers to specify products to be customised with printing or unique sizes (and calculate pricing accordingly) online.

Give your sales team remote access to the call centre tools (via tablet or laptop) so they can build quotes and create orders for customers on site.

Real-time integrations with ERP, CRM, OMS, accounting and warehouse management software from leading vendors, as well as bespoke, in-house systems alongside other third party tools or plug-ins.

Expand your reach, improve your service and enhance your fulfilment capabilities using Click and Collect or Click and Reserve via collection points, trade counters or warehouses.

Build brand affinity and automatically reward your best customers, incentivising them to keep coming back time after time, and turn them into advocates.

Let customers check live stock levels of any product at any warehouse or collection point, online.

Let customers place a single order for fulfilment to multiple locations, ideal for shipping to multiple sites.

Integration with services such as vatlayer.com enable you to validate the authenticity of VAT numbers during checkout.

Offer customers the choice of buying on credit or debit card, on account, or via invoice.

Reporting lets you check and control customer's account statuses and produce invoices.
+ Gifting-specific retail functionality
For retailers selling gifts we've a whole set of dedicated functionality, straight out of the box to help you convert and enhance your customers' experience.
Allow users to append unique, personalised messages to every item, group of items or to the entire basket.

Offer e-gift cards with the ability to check balances, top-up online and send as gifts, or integrate with services like Givex for enhanced omnichannel gifting capabilities.

Offer different wrapping and packaging types including bags, boxes, hampers, wrapping paper, bows, different patterns, styles etc..

Allow users to create and distribute gift lists which can be purchased against.

Enable customers to set up gift buying reminders and trigger an email at a specified time before an event.

Allow split orders and offer multiple fulfilment methods for each element of that order, including specified delivery days or Sunday delivery.

Allow customers to specify that their order/part of their order is a gift, and ensure any paperwork/ receipt sent does not contain pricing. However, it will still allow them to make a hassle-free return or exchange both online and in-store (if applicable).

Dedicated gift categories

Create dedicated gift items & categories in the navigation and easily add/remove or edit them with the built-in CMS.

Use gift/e-gift cards as part or full payment method for online orders.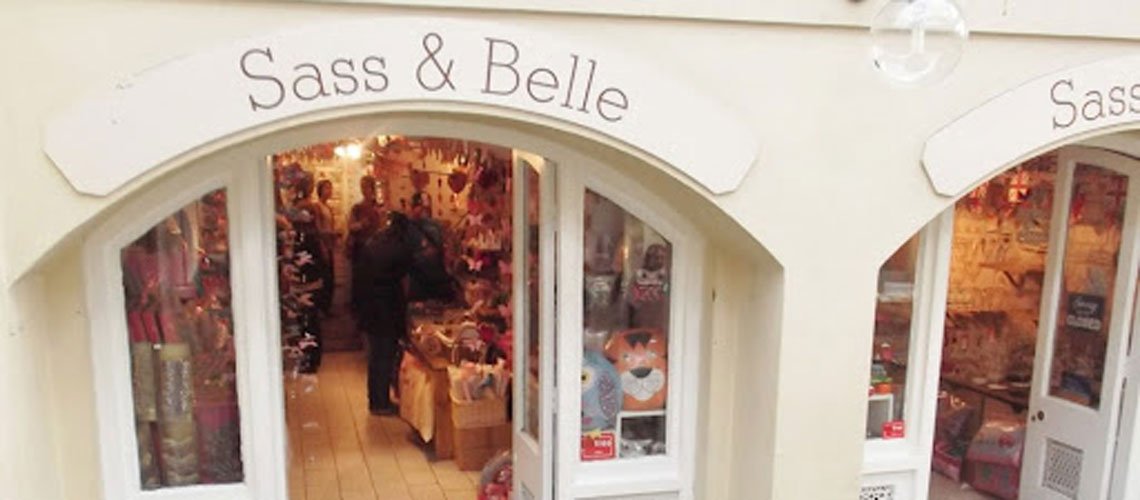 ---
Omni-channel Retail
If your gifting business includes bricks and mortar, tradeit helps merge your online and offline worlds, giving you a single view of all customer activity. With this in mind, alongside it's vast selection of retail ecommerce functionality, tradeit includes a host of complimentary features such as Click & Collect, Click & Reserve, online store stock checker, endless aisle, fulfil from anywhere and omnichannel gift vouchers aimed at helping you improve the service and fulfilment options available to your customers both online and in-store.



---
Integrations
We are integration specialists and tradeit has been integrated with many leading providers of ERP, Accounting, Payment, and Email systems.... as well as numerous other third party tools used online. Visit the link below for a more extensive list.



Giftware Ecommerce Customers
Giftware Ecommerce News & Insights