Powering the ecommerce channels of some of the leading names in the giftware industry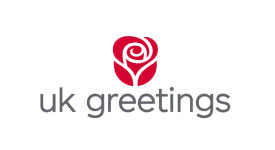 ✔

Proven success in the gift sector, helping leading names across trade, retail & multi-channel



✔

Empower your sales reps whether they are on the road, at trade shows or in the office



✔

Personalise & tailor Customers Experiences to drive conversion and improve satisfaction



Trade Ecommerce for the Gift Sector
Powering Something Different Wholesale's trade ecommerce
Key areas of the project
Trade customer self-service – Empowering their trade customers to self-serve 24/7 online, full management of their trade account & orders, improving satisfaction, driving sales & retention
Sales Reps – Through tradeit's call centre their sales reps can place orders, create & convert quotes along with the ability to fully manage customer trade account whether they be on the road or at trade shows
Gift wish lists – Innovative functionality that enables Something Different Wholesale to target customers who have created wish lists, using automated % discounts & offers to drive conversions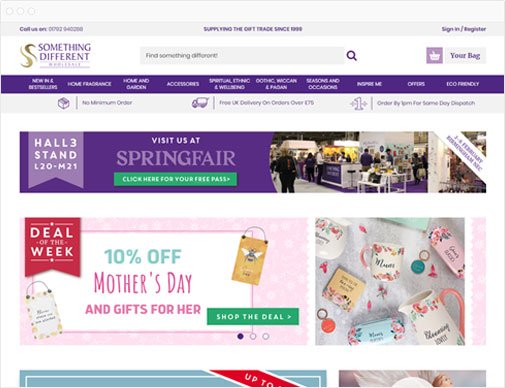 "The tradeit platform contained all the features that we required and would enable us to avoid building many of our desired B2B functions from scratch."
IT Manager, Something Different Wholesale
tradeit's B2B features
MOQs, Quantity breaks, Quantity steps
Retail Ecommerce for the Gift Sector
Calendar Club accelerate their ecommerce growth with tradeit
Key areas of the project
Click & Collect – from between 200-300 stores. As a seasonal business, Calendar Club's stores are pop-up's, they can easily turn the click & collect option off at certain stores and at certain times of the year.
Advanced Search – Site-search capabilities through Elasticsearch including custom configuration and additional metric enhancements based on customer tested scenarios.
Content Management – tradeit's highly capable CMS gives them complete control over content, including navigation, with more dynamic and personalised elements to allow Calendar Club to tailor the site to individual users based on a wide range of metrics.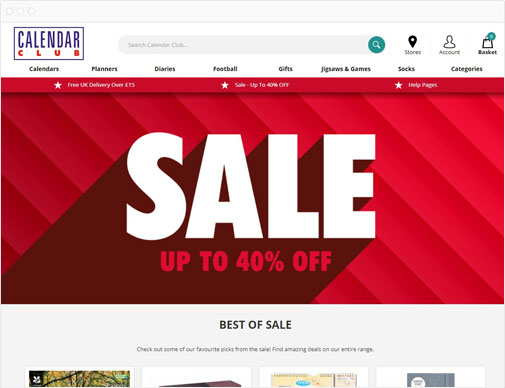 "The platform is more stable than our old one, and it is managed, so it takes the support pressure of our development and IT teams. The platform has more functionality than our old platform so should increase sales. I think it has given us a very good base to do further development on as and when we need to."
E-commerce & Operations Direct, Calendar Club
tradeit's retail features
Advanced promotions engine

Powerful on-site search tools

Rules-based content personalisation/CMS

Loyalty, gifting and subscriptions capabilities
Multi-Channel for the Gift Sector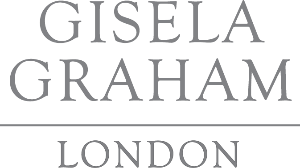 Driving multi-channel growth & efficiency with Gisela Graham
Key areas of the project
Ease of management – One centralised platform to manage Multi-Site/Channels, ability to deploy retail channel easily
Empowering Sales Reps – Through tradeit's call centre Gisela Graham's sales reps can place orders, create & convert quotes along with the ability to fully manage customer trade accounts whether they be on the road or at trade shows
Improved Experience – Due to a stunning design & UX, Gisela Graham can showcase their wonderful new collections & ranges online, improving customer experience & accelerating conversions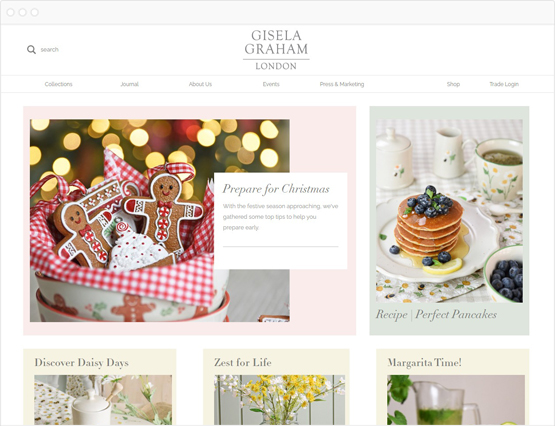 "Sales are considerably up on our last B2B website, and being able to also launch a Retail site via the same system has allowed us to open up a new channel."
Operations Director, Gisela Graham
tradeit's multi-channel features
Any mix of retail, D2C, B2B, international, brand or subscription sites

Supports multiple languages, currencies, warehouses, taxation systems

Unique or shared designs, assets and content

Customisable checkout & workflows

Single Administration System

Shared or Restricted Access
tradeit's international features
Are you looking to sell internationally? Find out why tradeit's international ecommerce capabilities can help you sell online in any market whilst cutting the resources & costs needed to manage your international channels.
Localised payment methods
INTEGRATION SPECIALISTS
We help merge your ERP, EPoS, CRM, or other business systems with ecommerce for
operational efficiency.
We've integrated numerous business systems to provide merchants with a joined up view of their customers, the automation of business processes and to reduce operational resources. tradeit can be integrated with a wide variety of 3rd party and in-house software systems without compromising agility.
Transformational Ecommerce Solutions for the Giftware industry
Learn more about our Ecommerce solutions
CONTACT US
Get in touch.
Discover how the tradeit ecommerce platform can help your gift business.
✔

Proven success in the gift sector, helping power market leading names across trade, retail & multi-channel




✔

Knowledge & experience of the gift industry's unique ecommerce complexities




✔

Find out how we can smooth any pain points you are currently experiencing online




✔

Discover tradeit's inherent features & flexibility, that don't rely on apps, extensions or plug-ins for functionality




✔

Discuss the integration with your back-end systems to help improve your business's efficiency & reduce costs




✔

Uncover why many other businesses are turning to Red Technology to power their online growth



Giftware Ecommerce News & Insights