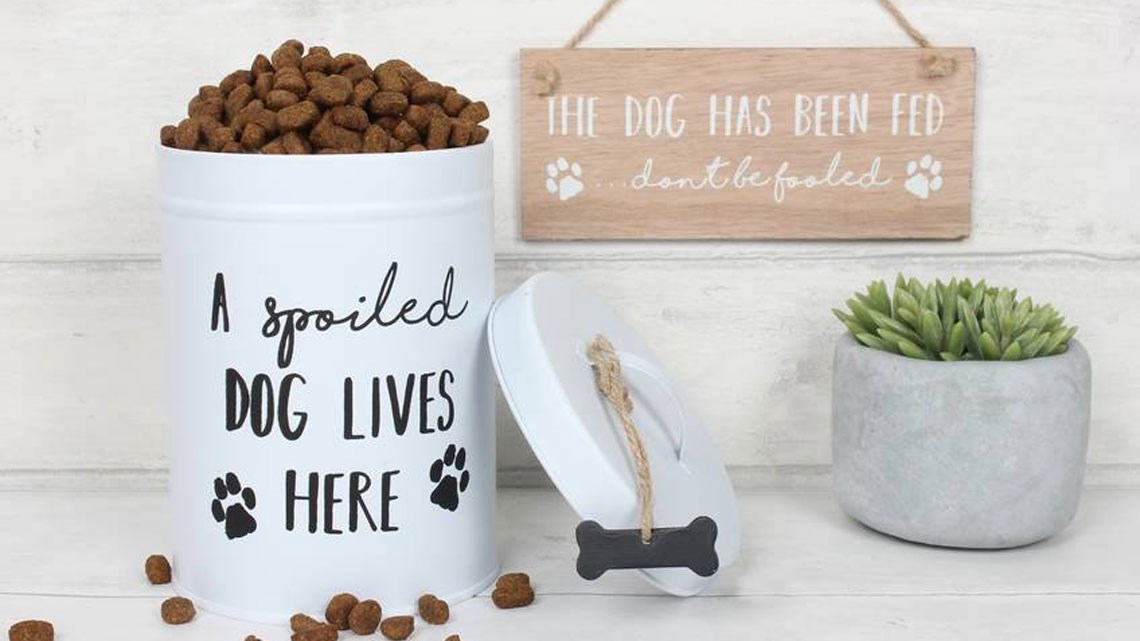 insights
Three great ways Something Different Wholesale increase AOV and revenue from their existing customer base
Wednesday, 05 July 2023
Due to the cost of acquiring new customers, Something Different Wholesale set out a plan to try and drive more revenue from their existing online customers. Rather than just set up promotional campaigns, or give discounts, to try and entice customers to spend more, they wanted something more subtle and sustainable, preferring the idea of steady incremental growth than the peaks and troughs often associated with online promotions.
Finding a solution
They weren't entirely clear how they could go about it, or what they could do, so sat down with one of our senior consultants to deliver a number of small changes that we thought could help. We started with three that revolved around alternative products, previously bought items, and upsells in the basket page.
Alternative Products
When you sell thousands of different products, you won't always have every item in stock all the time, and if you don't have an item in stock, you run the risk of losing a sale. In order to try and prevent the loss of sales in this scenario, some new functionality was derived which shows users similar alternative items to those that are out of stock.
This can be seen on both the product listings pages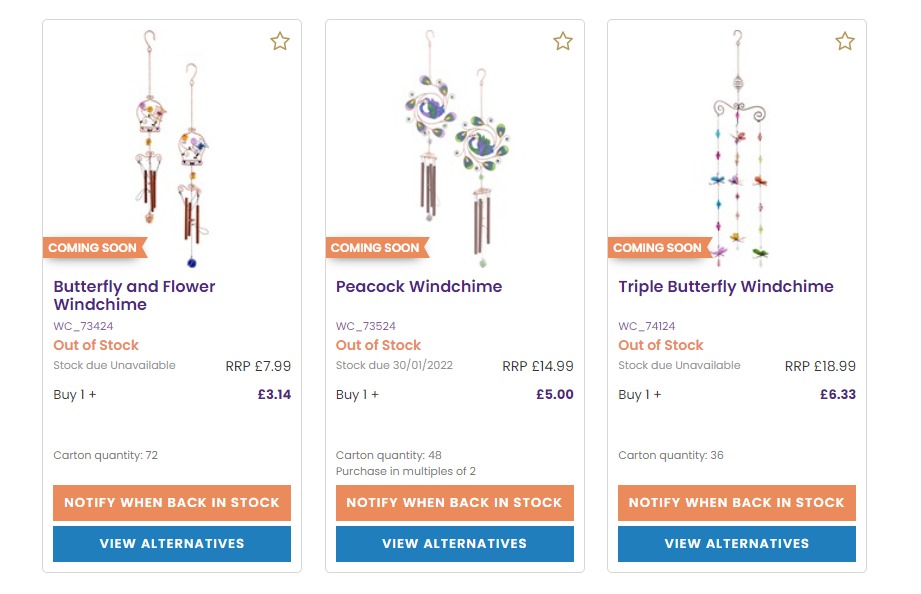 ...and the product details pages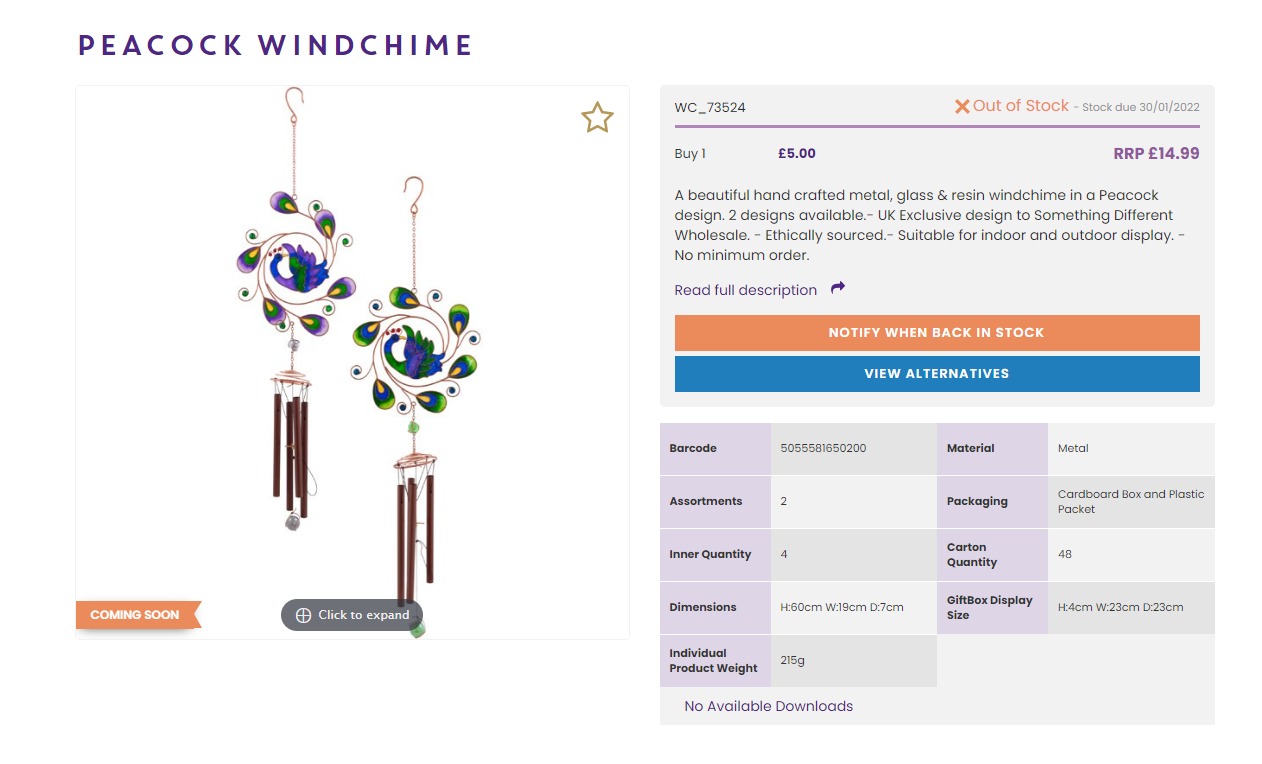 When the blue 'View alternatives' button is pressed the user is shown a number of alternative products with the closest in similarity displaying first. Only alternatives that are in stock will display, and if there are no alternative products, then the option is removed from the product completely.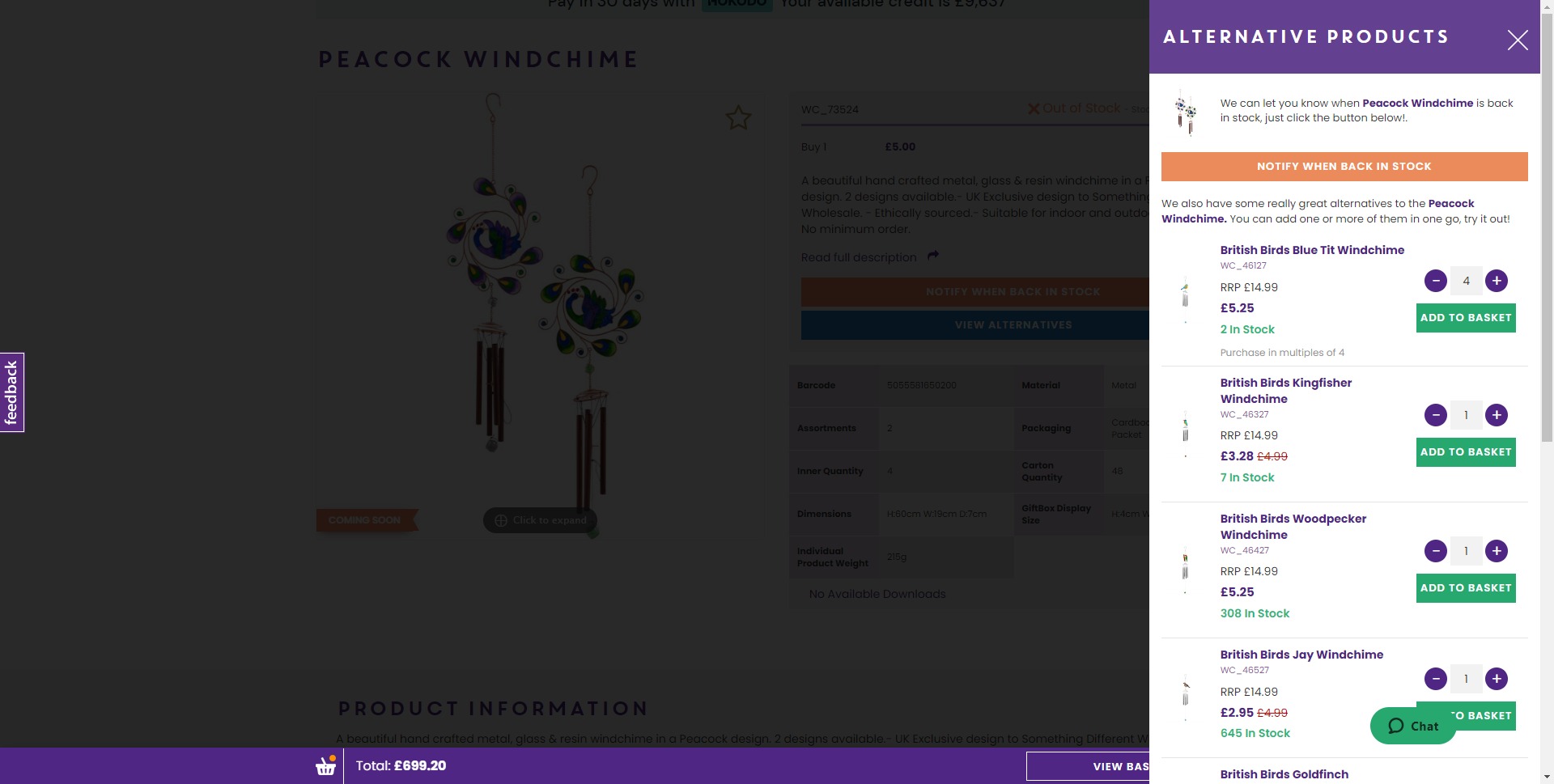 Previously bought items (BUY AGAIN)
The next modification included adding a Buy Again button to the header and a previously bought products section to each customer's account. That way, when they were logged in (they sell B2B so this is the norm) they are able to see a list of items they have previously bought, over a time period defined by Something Different Wholesale. This can be sorted by most commonly purchased, most recent purchase, or the number of previous orders containing that item, as well as showing only those items in stock.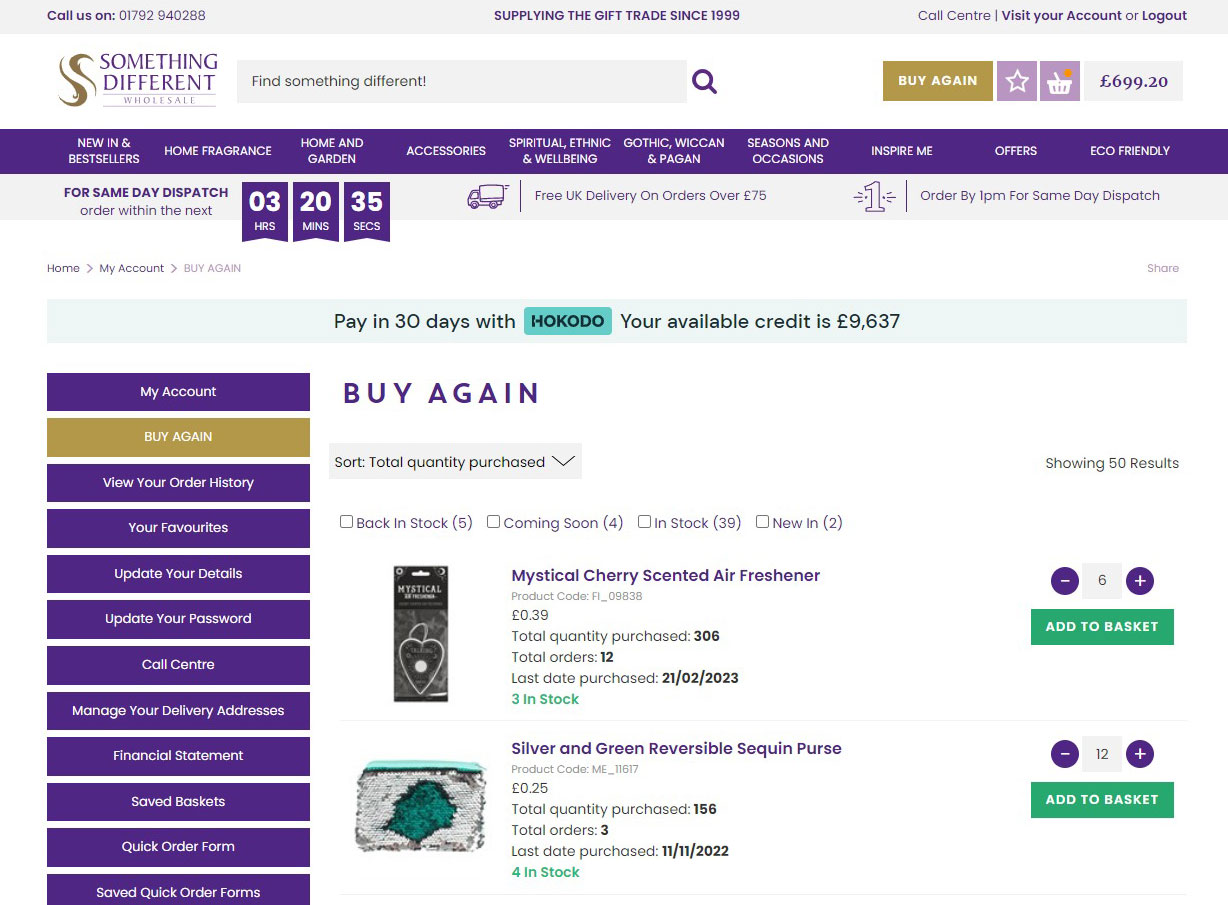 Basket page upsells
The third modification revolved around upsells on the basket page during checkout. Once a user has added their items to the basket and goes to checkout, they are shown a screen with a list of their previously purchased items (similar to the list of products displayed above). The items are sorted by those most often purchased and if any are currently in their basket they are obviously not displayed.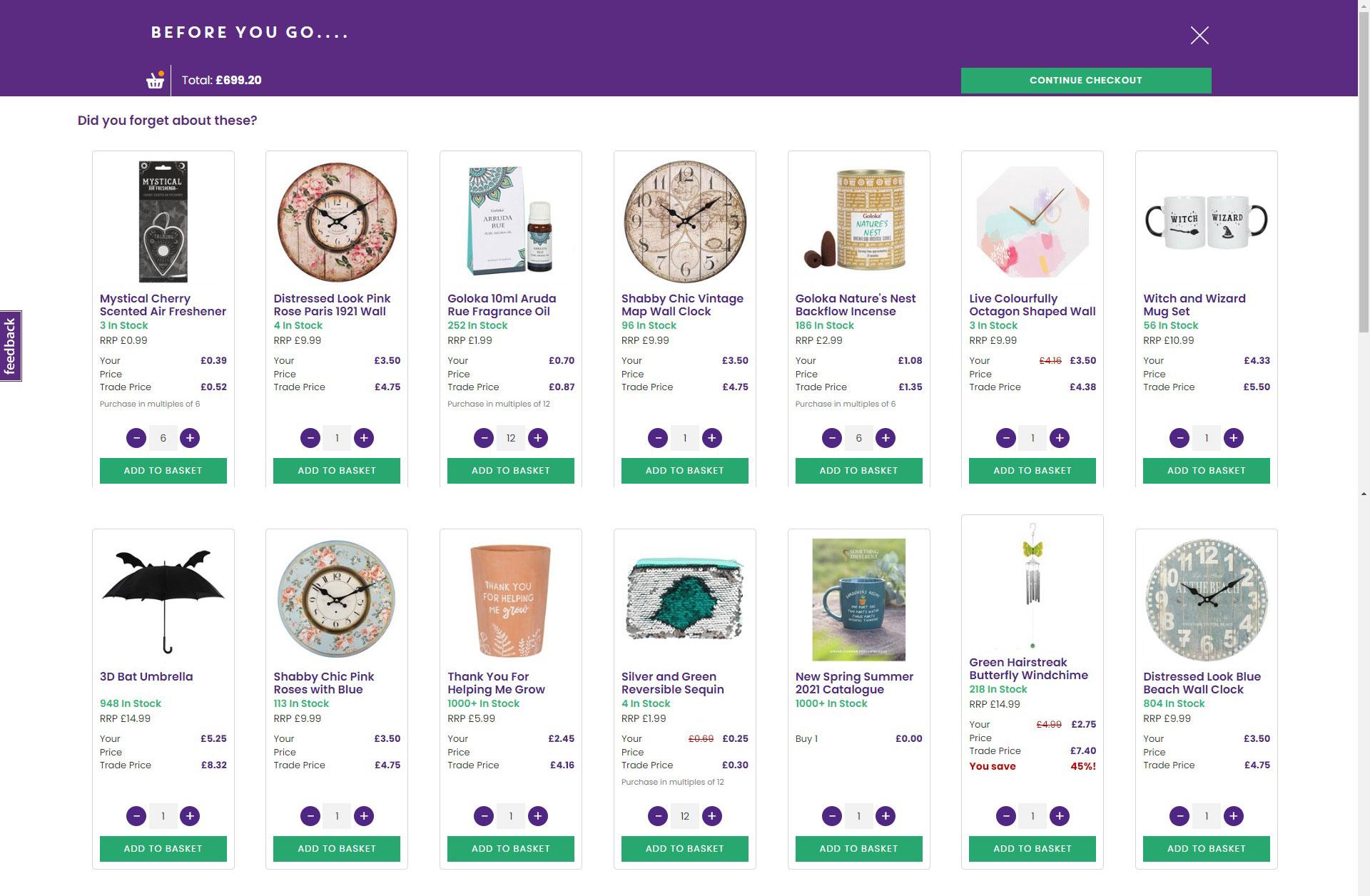 Results
On the face of it, the changes look small but they've already driven double digit percentage increases in both AOV and revenue. Not only that, the number of customers using these features accounts for almost 20% of all customers.
"We are delighted with the success of our latest projects with Red Technology. We have seen a significant increase in both our average order value and revenue as a direct result of launching the new website features. It is evident that the automated system is efficiently driving sales in the background while concurrently providing customers with a value-added service."
Senior Marketing Manager, Something Different Wholesale
Going forward
These changes are only the first phase of a number of different improvements that Something Different Wholesale are looking to make to drive increased revenue and orders from their existing customer base. The next phase will feature a set of options where users will be served even more hyper-personalised content as well as targeting new customers with enhanced upsell and cross-sell opportunities.
In Summary
There's no such a thing as a magic bullet in ecommerce. However, a series of incremental enhancements can make a huge difference to many of your KPIs, including revenue, conversions, AOV and basket abandonment. It's also a great way to ensure your site outperforms your competitors by introducing functionality they don't have. Whilst many platforms will struggle to introduce such features, tradeit is flexible enough to be tailored to any customer's requirements and the results speak for themselves.
Industry Recognition
The work has already begun to be recognised by the industry.