At Red Technology we work with our customers to help them make incremental gains by aiming to improve key areas of their websites' performance, and usability. There are hundreds of variables that affect that performance so, in tandem with our clients, we examine the key areas where we can help improve usability and customer experience, and grow revenue, particularly when using the rich marketing tools available in tradeit.
Marketing & Merchandising
tradeit contains a class-leading marketing platform that enables merchants to deliver personalised content such as promotions, recommendations, adverts and triggered emails to the right users, at the right time. We work with our customers to help them exploit these powerful tools to the fullest and enhance their ecommerce offering.
Promotions Engine
tradeit contains a high-powered promotions engine meaning merchants can deliver highly targeted offers and discounts to individual users. We help our merchants set up and deliver campaigns that a re proven to deliver results.
Advertising System
tradeit's advertising system delivers targeted content throughout a user's journey. From the initial build right through to regular campaigns we advise on how, where and when to best use adverts on your website.
Recommendations
tradeit enables merchants to deliver both manual and automatic cross- and up-sells based on merchandising techniques or using a pre-defined metrics powered by live website data.
Triggered Email
tradeit contains triggered email functionality meaning merchants can automatically create re-engagement programmes driven by user's actions. We help define, create and set-up these powerful campaigns.
A/B testing, or split testing, is not a new concept but is often underused by merchants. In essence it means creating an alternative version of an existing page on your website, directing 50% of your traffic to each, and analysing the performance of both over a period of time. The change could be something as simple as changing the colour or placement of an 'add to cart' button on a product page, or could be far more advanced and examine the difference between a single- and multi-page checkout for example. It could include testing different elements on the page such as h1, h2, h3 tags, page copy, image size and layout, text, font or colours. By undertaking some simple testing like this, and having factual data to back it up, you can determine whether ideas, changes, or theories are successful or not before launching them site-wide. It's important to continually analyse the results of any changes over time as what was successful last year may not be as effective this year. In effect, the testing never ends, there's always scope for improvements.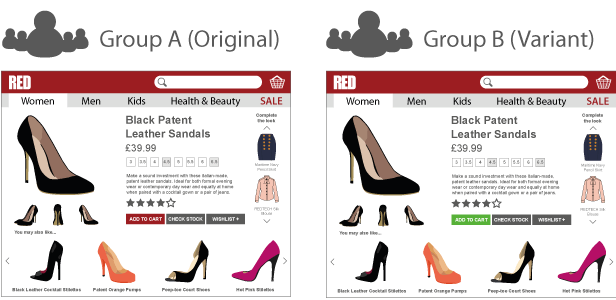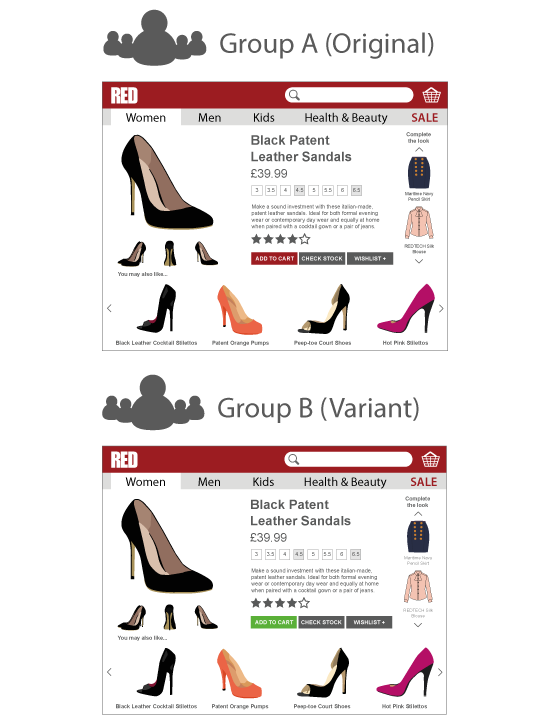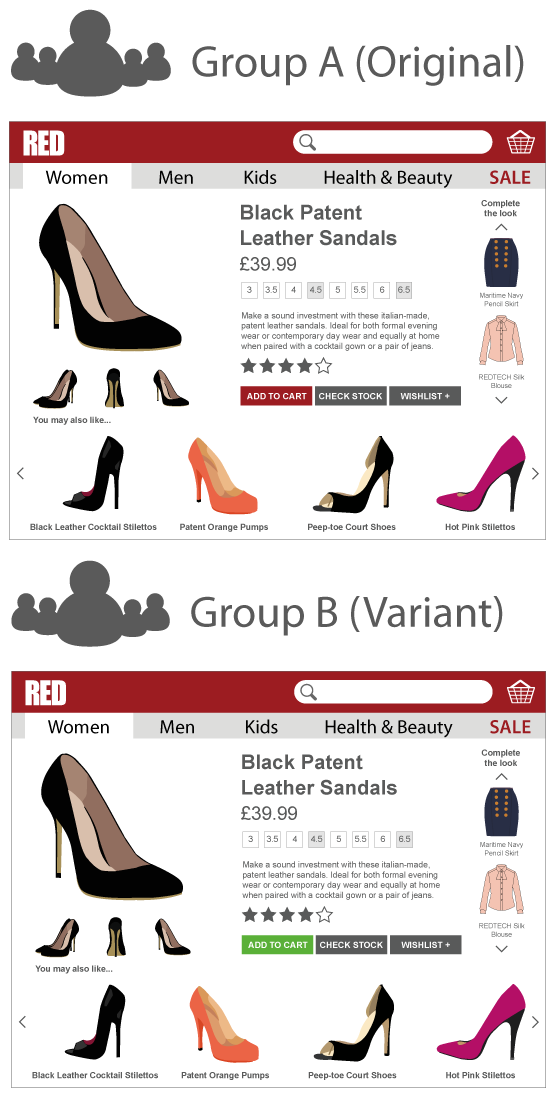 We conduct A/B testing throughout certain pages of your site(s) in order to try and improve their performance with particular focus on areas that are most likely to affect the key performance indicators, such as the checkout. Metrics used to determine whether the control (existing) or variant (new) is more effective and successful include things such as conversion rate, bounce rate, CTA (Call to Action), CTR (Click-Through Rate) and ultimately revenue generation, but we take a much more in depth approach by analysing your entire ecommerce business . Constantly testing and optimising pages is essential to your ecommerce success.
We all know how important conversion rates are, so when we build sites for our customers we focus on the specific goals they are looking to convert. For most that boils down to a purchase but that is not always the case. It may be a newsletter sign-up, filling in a form or survey, creating an account or downloading a document/app, so it's important to understand your business before looking at what a 'conversion' means.

As these 'conversions' vary between companies it's important for us to understand the nature of your business and its users when looking at conversion rates, as visit-based metrics are not quite as relevant they used to be. For instance, due to the rapid adoption of mobile devices, consumers may browse your site remotely but only purchase on a desktop device which would obviously negatively skew your results as they haven't converted on mobile. If you looked purely at data, you may conclude that the conversion rate on mobile devices is poor so something is wrong or needs changing, but that may not be the case.
Understanding how users interact with your sites through constant user testing is crucial to interpreting the data and improving your conversion rate. It might be true to say that removing some fields from an online form may increase the number of people completing it and thus increase the conversion rate. However the fields that are being removed may be vital to the business for a different reason or purpose and only by understanding your business and processes is it possible to determine things like that. Acquiring the information another way or later in the sales cycle may be one answer, but it might be equally be determined that the form should remain the same despite its effect on conversion rates.

Taking steps to improve your conversion rates, provided they don't interfere with other business processes or requirements, should have the added effect of streamlining the path to conversion, whatever that may be.
UX Testing
Opinions vary as to what works best for end users on a website so why base your decisions on opinion? Rather than guessing, we base them on fact by undertaking user experience testing and user journey analysis throughout various stages of the design and build of any project, and just as importantly, once the site is live. Ecommerce sites and businesses are different so there is no industry standard for how things should look or work but there are basic ideas and principles to consider, and as the majority of ecommerce sites function roughly the same, there will be things that users are used to and possibly expect. For instance due to the device type, we know there will be a difference in how mobile users interact with a site compared to desktop users (scrolling, pinching, no hover etc..), but testing will show exactly what that difference is and how it affects the user experience. Only then can you think about how to make the site function at its optimum across all the different breakpoints.
Your target audience is equally important and it's vital to perform your user testing on that demographic. You may assume that an 18 year old who has grown up using ecommerce may interact with a website completely differently to a 70 year old who has come to it much later in life, but can only really be sure when you have tested that theory. User testing can help determine if there are any differences, what they are, and eliminate any assumptions. It's vital that you continue the process of testing the user experience once your site is live, as technology and user habits are changing all the time.