Powering the ecommerce channels of some of the leading names in the IT industry
✔

Reduce resources with tradeit's pricing manager



✔

Enrich your product data with content syndication



✔

Empower your sales reps with online tools



✔

Extend your product range with industry feeds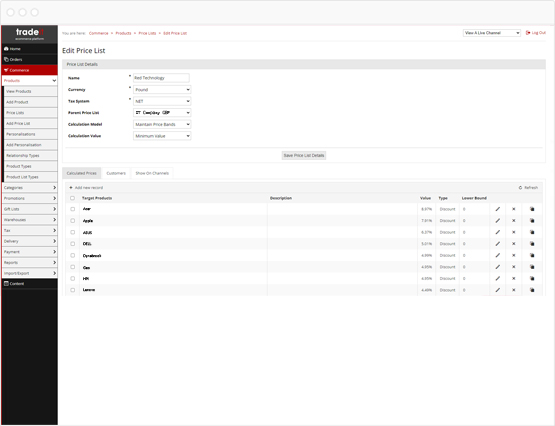 PRICING MANAGER
Reduce resources

with unique customer pricing from a single price list.
✔

All customer pricing generated from a single price list




✔

Define the discount or markup applied to each customer




✔

Apply buffers to ensure items are never over discounted




✔

Cater for quantity-based pricing on any product




✔

Works with pricing override in the call centre for even more granular control
TOOLS & CONFIGURATORS
Drive more sales

with customised products.

Allow customers to tailor their own solutions online through integrations with product configurators from the industry's leading names, driving up conversions and repeat orders whilst reducing the strain on your workforce.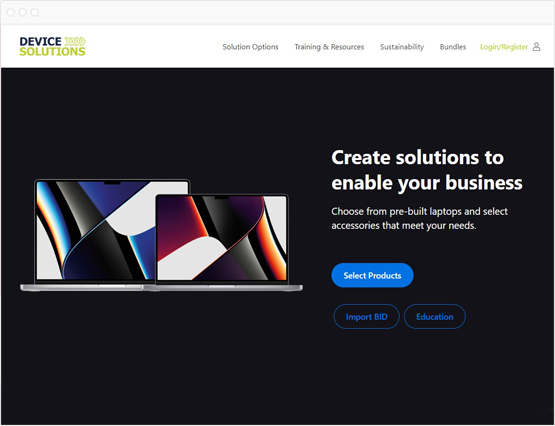 PRODUCT INFORMATION MANAGEMENT
Enrich your product data

with content syndication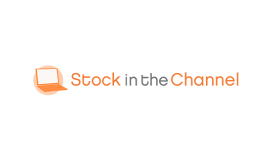 ---
Search
With a catalogue that likely runs to thousands of different products and variations, search is absolutely vital to the success of your ecommerce site. We use Elasticsearch to provide improved search term handling, enhanced query performance, better result relevancy and reliability.
See More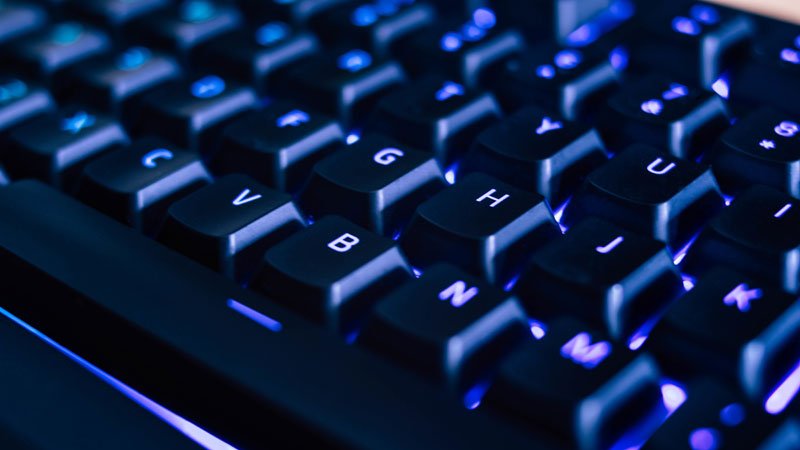 POWERED BY

CALL CENTRE
Increase efficiency and
empower your sales staff.
Empower your sales team to use the website as a powerful sales tool with the ability to take a range of actions in dealing with customers, or on their behalf, like; placing orders, raising/converting quotes and overall management of accounts.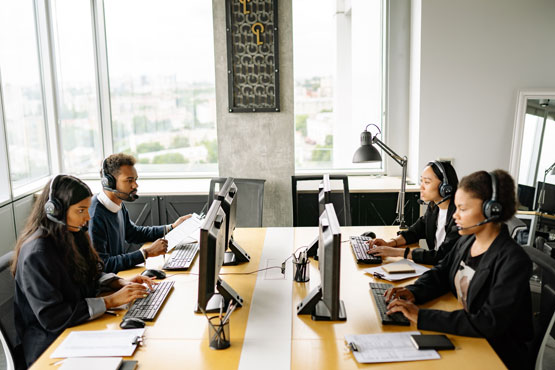 Create, view, manage & convert quotes with price setting and expiry dates. Quotes are emailed to customers and pushed to their online accounts and can then be converted to orders online in their own time
Staff can be assigned individual accounts with rules, permissions and access applied, meaning it can be set that they only have access to their own assigned accounts
Process orders via mail, email, phone, or fax alongside your ecommerce channels, giving you a single view of all customer activity
Give sales staff the ability to override customer pricing at the basket in order to close deals. Margin can be shown to staff against each product (not visible to customers) ensuring items are never over discounted, whilst buffers can be applied to enforce this
"Feedback from customers has been overwhelmingly positive and Red have delivered a robust and powerful solution to take our ecommerce forward."
IT Manager, Westcoast
LEARN MORE ›
INTEGRATION SPECIALISTS
We help merge your ERP, EPoS, CRM, or other business systems with ecommerce for
operational efficiency.
We've integrated numerous business systems to provide merchants with a joined up view of their customers, the automation of business processes and to reduce operational resources. tradeit can be integrated with a wide variety of 3rd party and in-house software systems without compromising agility.
CONTACT US
Get in touch.
Discover how the tradeit ecommerce platform can help your IT business.
✔

Proven success in the IT sector, powering online growth




✔

Knowledge & experience of the IT industry's unique ecommerce complexities




✔

Service your customers more effectively and at a lower cost by empowering them with strategic self-service capabilities




✔

Existing integrations with many industry-specific ERPs




✔

Integrate with distributors synonymous in the industry and other 3rd parties, extending your product offering and enriching your product data




✔

Discover tradeit's inherent features & flexibility, that don't rely on apps, extensions or plug-ins for functionality




✔

Discuss the integration with your back-end systems to help improve your business's efficiency & reduce costs.




✔

Uncover why many other businesses are turning to Red Technology to power their online growth.



"It has been a true partnership with them offering expert advice on top of their robust platform. I would have no hesitation in recommending them to anyone."
Business Development Director, The Barcode Warehouse
LEARN MORE ›
IT Ecommerce News & Insights