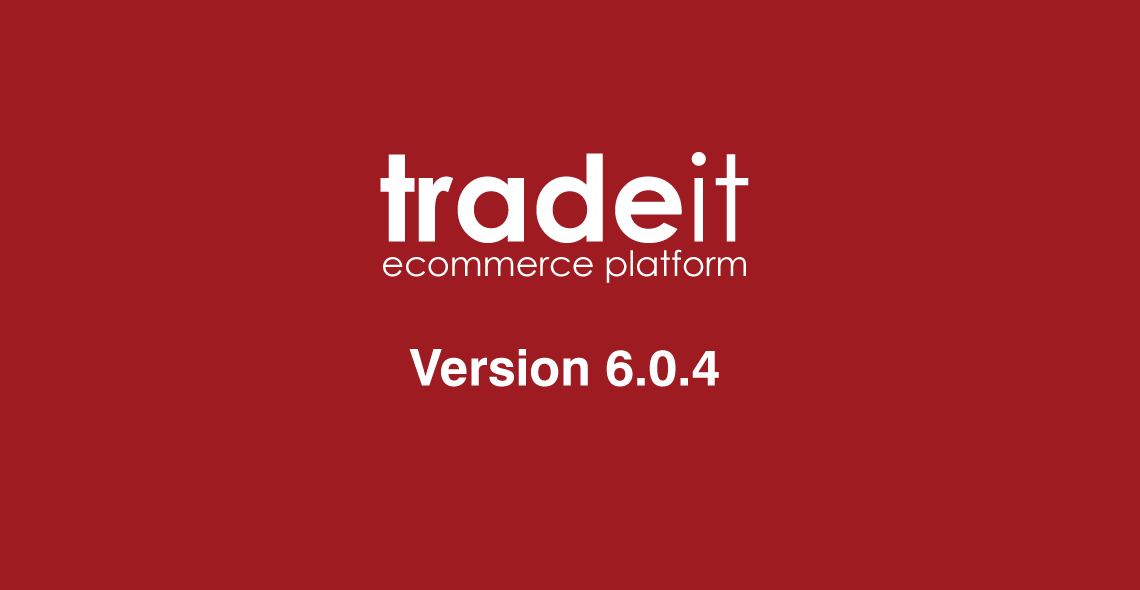 news
tradeit ecommerce platform version 6.0.4
Thursday, 25 May 2017
The second tradeit update of 2017 brings a host of new functionality and improvements
Loyalty Scheme NEW
The key new addition now available in tradeit is the built-in loyalty scheme. Having developed loyalty schemes in the past, and integrated with loads of third party tools, we decided to build our own from scratch to give our customers exactly what they've been asking for. See details of the loyalty scheme.
Alongside the introduction of the loyalty scheme there are other enhancements:
---
Adverts UPDATED
tradeit's functionality has been expanded to include triggering adverts for visitors from affiliates, meaning different content and offers can be displayed to different users, from different affiliates. Merchants can also determine how long to remember the user for after their visit, ensuring that subsequent content is shown to that user if they return to the site and purchases are assigned to that affiliate.
---
Basket UPDATED
In the past tradeit would only let the user add one unique instance of a product to their basket before adding any further number as multiples of that. This is known as basket aggregation and is commonly used by most ecommerce baskets.
However, there are rare circumstances where a merchant may want those two items to remain separate in the same basket. For example, a user may purchase two identical mobile phones, which in normal circumstances would just be 2 x the item. However, they may purchase a different tariff for each phone which therefore makes them a different product essentially. In this instance the merchant would want them displayed as such, rather than creating a unique SKU for every single phone and tariff combination. By disabling basket aggregation items will remain separate in the basket and be output to the warehouse as such. This avoids having to create unique SKUs for every phone and tariff combination.
---
Amazon Marketplace UPDATED
There have been numerous enhancements to the way in which tradeit is integrated with Amazon Marketplace. These include improvements to feed and document uploads, as well as configurable options around the sharing of product descriptions, product names, product images, order addresses and feeds.
---
Redirects UPDATED
With the growth of the secure protocol, tradeit's link management functionality has been extended to make sure that all redirects work across both secure and not secure protocols. By removing the protocol from the source URL you can ensure that a single redirect will work across both secure and not secure protocols.
For instance:
http://www.mydomain.com/a - would only match if the request made by the user was not secure
https://www.mydomain.com/a - would only match if the request made by the user was secure

Where as //www.mydomain.com/a – would match if the request was made over a secure or insecure protocol.
---
Canonical URLs UPDATED
For a long time, tradeit has automatically outputted canonical URLs for a product that is displayed in multiple categories so as to improve link and ranking signals to search engines, by setting that product to the primary category. This functionality has now been extended to automatically assign canonical URLs to product variations so they are also that of the main product within the main product category too.
---
Stock Availability UPDATED
The availability date in tradeit has been expanded to work two-fold. In most situations if the stock level of an item falls to 0, it will display an availability date (i.e. the next date that item will be available to order). If the stock level is 1 or more, it will show no availability date as the item is in stock. In the second scenario, when the stock level falls to zero, tradeit can now also display a raw availability date meaning a merchant can display both the availability date and the quantity of stock that will be available on that date, helping customers with the pre-ordering of items.
---
Product List Watchers UPDATED
Many of tradeit's powerful marketing capabilities are based on using segmented groups for personalisation and targeting. One of those is the product watchers list report which can give details of every item that is being watched by a user (i.e. they have added it to their wish list) and who those watchers are. This functionality has been available for a few years now, but has now been extended to include when they started watching the item (date) so that you can segment further still.
---
Warehouses UPDATED
Secondary Stock locations
tradeit supports multiple warehouses on a single channel. By default, a primary warehouse is defined on the channel and all stock checks will be determined by that warehouse and then its secondary stock locations.

This means that tradeit will attempt to allocate all the stock for an order from the primary warehouse first and if it is unable to do that, it will then attempt to allocate the stock from a secondary warehouse and so on. If it cannot allocate all of the stock from any warehouse it will attempt to assign a partial amount from the primary warehouse and so forth. If a partial amount of stock can be allocated then the quantity of the basket will be adjusted to reflect this and the user notified. When ordered, the stock level at that particular warehouse will be reduced to reflect that.
User Warehouses
tradeit now includes the ability to override the allocation of primary and secondary warehouse in this way and assign users to a particular warehouse when they order. For instance, if a merchant has multiple warehouses, this enables them to fulfil local orders from their nearest warehouse rather than shipping items from a central (or primary) warehouse that's actually a lot further away.

tradeit can also assign completely different products to different warehouses but can still import or export the stock level for all warehouses combined in a single file.
---
Order Discount Tax NEW
Most merchants now use an ERP or stock management system integrated with their ecommerce site to manage orders, stock and fulfilment, but this can often cause problems when looking to apply discounts to orders through your ecommerce site, as many ERP systems cannot export line items with a negative value. However, that's not always the case as some can support them. With this in mind tradeit has been configured to cater for the application of discounts that are proportionally split across line items so that a negative line item is not output. There is also the option to allow discounts to be applied as line items, for those back end systems that can support them.
---
Google Sitemaps UPDATED
tradeit automatically generates and updates your Google sitemaps which is great, and as product and category pages are pulled from the same source including any translations, Google knows to pick up any translations as alternative links from those pages.
However, content pages are structured differently to product and category pages in that they are defined separately if they are translated, as they may be completely different in how they look or how the content is displayed. So, when creating multiple content pages in different languages, these also have their own paths (as you would want), but there is no way tradeit can determine that they are actually linked and so the sitemap outputs them separately. To resolve this, content pages can now be grouped using the new Sitemap Group functionality within in-site editing, meaning you can effectively group the pages together and specify the alternative links for your Google sitemap.
Find out more about the tradeit ecommerce platform
‹ Version 7.0.0Version 6.0.3 ›