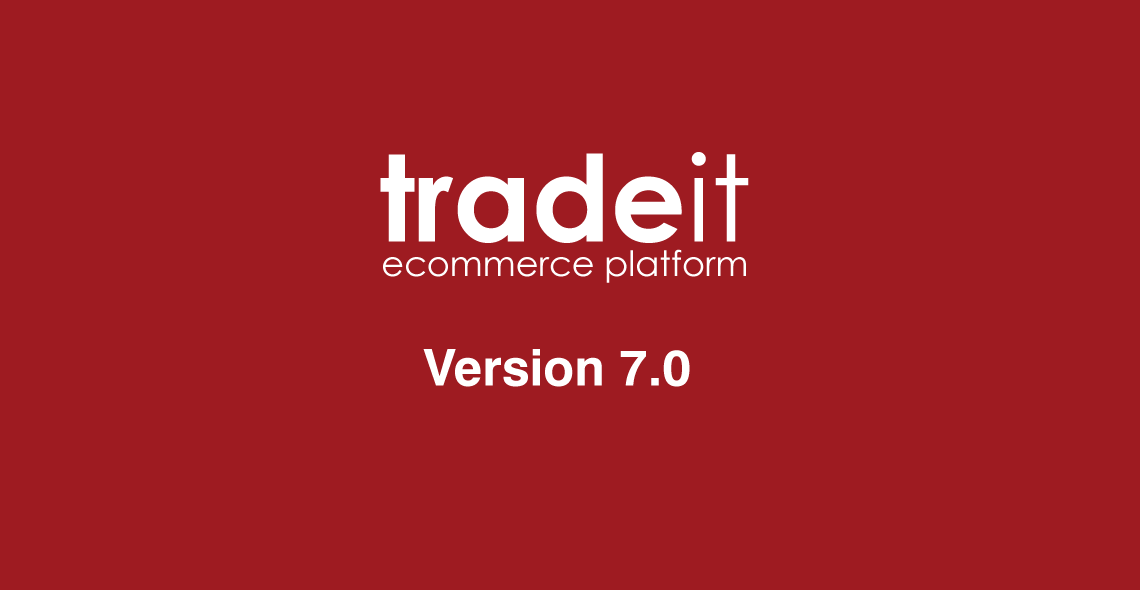 news
tradeit ecommerce platform version 7.0.0
Wednesday, 13 December 2017
The latest update of tradeit, version 7.0.0, sees some significant changes and a host of brand new functionality added to the platform.
User Interface UPDATED
The largest change in the release of tradeit 7.0 has been a complete and extensive overhaul of the administration system including a new design and user interface, making management of your site(s) easier than ever.
---
Microsoft Technology Stack UPDATED
We've upgraded tradeit to run on some of the very latest Microsoft technology including Windows Server 2016 & IIS 10.0, SQL Server 2016 and .net version 4.7 giving significant performance enhancements to the platform.
---
Amazon Integration NEW
Amazon integration has been updated so we can offer several levels of integration.
Level 1 – Orders only
The simplest level of integration with tradeit allows for the download of orders from Amazon to tradeit, the acknowledgement of the order creation in tradeit to Amazon and the feeding of dispatch notifications from tradeit.
Level 2 – Level 1 + images, stock and prices
Additional configuration with specific feeds for images, stock and pricing.
Image Feed
Manages the Amazon images from tradeit. tradeit will resize the images and host them.
Stock Feed
Enables merchants to manage their website and Amazon stock levels all from tradeit. Stock can be fed from the same warehouse as an existing channel or a new warehouse can be created for managing the stock level independently from other channels.
If the same warehouse is used to serve all channels, a minimum stock level for Amazon can be configured in tradeit. If stock drops below that level, 0 will be pushed to Amazon.
Price Feed
Merchants can manage their Amazon price from tradeit using the same price list as assigned to another channel or using an entirely different price list.
Level 3 – Level 2 + Product Data
Product Feed
Due to the complexity of configuring the product feed with the data required by Amazon for a successful new listing, we recommend that the merchant uses the extensive tools provided by Amazon to manage their products.
However, we do have the option to implement a feed directly from tradeit's product catalogue to Amazon if the merchant requires it.
Order Feed
In tradeit when an order is placed, a confirmation email is sent. However when that order is triggered from Amazon, rather than send two emails (one from tradeit and one from Amazon) which could be confusing for the customer, there is an option to stop the tradeit confirmation email for Amazon orders.
Missing Product Category Assignments
If a SKU exists in tradeit but is not assigned to an Amazon category, the order will be created using the category assigned in tradeit.
Missing Amazon Shipping Service
If the shipping service level specified by the Amazon order is not configured within tradeit, a new Amazon shipping service level will be generated and mapped to the 'Amazon delivery general' delivery option. This means orders will not be rejected by tradeit if Amazon introduces a new service level.
---
GDPR NEW
GDPR is an extremely hot topic within ecommerce at the minute and is potentially going to have a huge impact on your business. As such, tradeit has been extended to make provisions for some of these new regulations.
Privacy Policy
A new content page is now installed with every Accelerator installation.
User Data Consent
Two check-boxes have been added that are required to be selected by a customer attempting to register or use the guest checkout.
The first check box requires the customer to agree to the merchant's terms and conditions
The second check box requires that the customer agrees to the merchant's privacy policy
Newsletter subscription
The newsletter subscription component has been extended to also include an additional check box requiring users to 'double opt-in' to consent to their data being used for marketing purposes.
My Account
Close your account
One of the stipulations of the GDPR is that users have a 'right to be forgotten'. Broadly speaking this means that any individual can request for their data to be removed or deleted when there is no reason for a business to continue processing that information.
A new page has been included in the My Account that enables a customer to close their account. In doing so it is automatically closed and the customer will no longer has access to any of the channels they could log into.
Update User Details
The user details screen now includes a link to the privacy policy in order to outline how their data is being used.
Call Centre
A call centre operative must obtain consent from the third party.
Registration Email
The email sent to a newly registered user contains a message linking back to the merchant's privacy policy.
Consent Auditing
Any consent that is given by a customer is logged to the event auditing table to provide a record of the consent against a user.
---
Google Enhanced Ecommerce Analytics NEW
tradeit has been extended with Google Tag Manager and the API will be extended with web controls to track the following:
Viewing product impressions
Clicking product links
Viewing product details
Adding products to, removing products from shopping carts
Initiating the checkout process
Completing transactions
A further control will be created to register analytics scripts with the current template.
---
Exports UPDATED
Order exports have now been made completely manageable from the administration system.
Customisable Order Export Configuration
This new feature provides merchants with the ability to add a new order export configuration enabling them to create new ones or re-run their existing order exports whenever they choose. These customisable export configurations can also be easily edited at any point. The merchant can then run these reports on demand whenever they want. They will also be added to the scheduler meaning they are then automatically run from that point forward (the default is every 15 minutes).
---
CMS/In-site Editing UPDATED
There's been further improvements to the CMS with particular attention paid to the in-site editing functionality which also has a new, cleaner feel. We've also added the ability to add 'no follow' to any links.
---
Call Centre UPDATED
There has been several enhancements to the call centre functionality. As part of tradeit's functionality, users can be restricted to view and buy just a sub-set of the products in the catalogue. However, administrators can now override these restrictions where necessary, enabling call centre staff to add restricted items to a user's basket and place an order on their behalf. If a user tried to add these same products to their basket and complete the order, they would be unable to do so.
Administrators can now turn offers off for particular customers and add any product they want as a free gift via the call centre interface if required.
New account management capabilities have also been added such as displaying all accounts that a user is responsible for and searching accounts by company or order attribute values.
---
Link Fields NEW
Within tradeit's in-site editing functions is a library of components to help users create stunning landing and content pages. Many of those components feature link fields which allow administrators to add pre-positioned links to a specific piece of content within that component. These might be on something like an image, a button, a piece of text, as a separate link etc… and help keep things consistent and easy to manage for the user.
When using these link fields, if the URL of a page is ever renamed it will automatically update any link to that page and point to the renamed page (i.e. if you rename the page URL from wwww.example.com/page-a to www.example.com/page-b the links will automatically point from www.example.com/page-a to www.example.com/page-b without each link needing to be edited)
PLEASE NOTE: This functionality does not extend to links embedded in a WYSIWYG.
---
Order Rules UPDATED
Order rules have been extended to include a condition based on company, or order attribute values. For example, a company account may be suspended pending payment of their outstanding balance. The attribute 'account suspended' could be added to that company so that any orders placed whilst that account is suspended would be flagged and reviewed before either being processed or rejected.
The condition can use any of the follow operators:
Is Equal To
Is Not Equal To
Starts With
Does Not Start With
Is Empty
Is Not Empty
WARNING: Order rules are evaluated at the point the order is created therefore the attributes being evaluated as conditions must exist in the basket prior to the order creation. This is an important distinction because we often add attribute to orders after the rules have been evaluated and therefore any attribute set in this event will not be available.
---
Restore Basket NEW
When a customer logs back into their account, any items that they had previously placed in their basket and not purchased will be displayed enabling them to quickly checkout. This functionality is cross-device compatible meaning they will see the items no matter whether they log in via a PC, laptop, tablet, mobile or any other Internet enabled device.
---
Articles UPDATED
tradeit 7.0 introduces the ability to restrict the number of pages displayed on article (blog) listings pages and to hide the paging controls when there is less than one page of articles to display.
---
Company Addresses UPDATED
In a B2B environment, company addresses can now by managed by users within the storefront providing they have the relevant permissions. This means they can add/edit addresses within their company account. Those users without the relevant permissions cannot.
---
Pricing UPDATED
Price Lists
Price lists now have listings and lookups so you can easily move and change them, or see where they sit in the overall hierarchy of price lists. This means it is far easier to manage unique, customer-specific price lists as each can be individually named by the merchant (i.e. Customer A, Customer B, Customer C etc…) and is particularly useful in a B2B environment where different businesses may receive different levels of pricing depending on their size, spend etc... It also makes searching for them easier using your own naming conventions.
Calculated Child Price Lists
A child price list can now be configured to calculate prices from its parent. a percentage value (negative or positive) is set on the child price list and an automated process populates the prices from the parent.
Individual prices can be overwritten manually by an administrator and these will not be affected by the automated process, unless they are subsequently cleared.
A minimum price can be set on the parent price lists, below which the calculated price cannot go, regardless of discount percentage applied.
Managing Prices
Each price list is given a currency and now merchants can manage their pricing by both price list or currency meaning if they have thousands of different price lists in the same currency, they can manage them en masse, significantly reducing administration time. It also means that a merchant can edit all delivery prices, discount bands, offer bands, gift options & basket price condition advert criteria by currency, meaning they can standardise costs across all price lists based on their currency, also significantly reducing administration time and costs.
---
Product Imports UPDATED
Product imports now support product variations as part of the import so it's even easier to upload huge chunks of products quickly and easily.
---
Loyalty/Reward Points UPDATED
A configurable expiry date on Reward Points means merchant can determine how long points are stored against a user's account before they need to be redeemed. The ability to pay for the cost of delivery with reward points has now been made optional meaning the merchant can determine whether to allow users to redeem points against delivery costs or not.
---
Loyalty/Pre-payment UPDATED
Using tradeit's built-in loyalty scheme, merchants can now offer their customers the ability to purchase pre-paid credits (usually at a discount to incentivise them) to spend at a later date. This ensures future loyalty whilst also giving customers a quicker and secure payment method.
---
Loyalty/Spend & Save NEW
Merchants can now set spend & save targets for their customers to incentivise them to spend more than in a previous time period. tradeit will calculate the amount spent by the customer over the previous time period and a percentage increase against that figure can be defined for the user to reach. The reward for reaching that increased amount can also be defined by the merchant and could be a discount code for money or a percentage off their next order, an amount of loyalty points to use in future, or perhaps a move into the next tier of membership giving them better prices (i.e. Silver to Gold). Customer balances for the defined time period are displayed in their 'my account', as well as the last time period's balance. The amount left to spend and the time left to spend it are also displayed alongside any current, valid coupon codes that the user still hasn't redeemed.
---
Clickjacking NEW
We've implemented some further security measures to prevent Clickjacking including ensuring that the application must be hosted in an iframe on the same host.
---
Bundles NEW
Items can now be added to the basket together that effectively creates a bundle on the fly (i.e. a printer and extended warranty). This then appears as a single line item in the basket so that if the quantity is increased, it will increase both items making it easier for the user. The items are still output separately in the order though for easy picking/packing and accounting etc...
---
Product Recommendations UPDATED
Metrics for Recommendations - Product metrics are now enabled by default and calculated on a daily basis. These metrics are as follows:
Top Selling
A list of products ordered by the number of times they have been purchased by any customer from most purchased to least purchased. The list can be restricted by channel or category.
Top Viewed Products
A list of products ordered by the number of times they have been viewed by a customer, the list of products can be restricted to a channel or category.
Top Rated Products
A list of products ordered by their average customer rating. Products in tradeit are rated on a scale of 1-5.
Products Previously Bought Together
Only available to add to a product detail page, it will display the products that have most frequently been bought with the product currently being viewed by the customer.
Best Product Deals
Products that have the highest difference between the Was Price and the Now Price, the list of products can be restricted to a channel or category.
Customers Past Purchases
Products previously bought by the customer, ordered by the number of times they have been purchased, from most to least frequently.
Products Inspired By Your Wish List
Products that have previously been bought by any customer from the items in the customer's wish list.
---
Warehouse Stock Location UPDATED
A new field has been added to the stock record which can be used to store a value which determines the location of a product within a warehouse, such as a bin number. The administration has also been extended so when viewing details of an order the merchant can print a picking list that groups the items in order of their warehouse location.
---
Adverts NEW
Zones within a template can now be configured by a developer to randomise the order adverts are displayed. This means that if there is one advert zone but several qualifying adverts, they can be displayed at random within that zone.
Offer nearly applies
An advert can now be configured to display in a zone when an offer nearly applies to the customer's basket. 'Nearly applies' checks whether the offer in question qualifies using a product that is already in the basket and/or the basket total is within x% of the minimum basket value required for the offer to apply.
A further option to 'ignore all other conditions if an offer nearly applies' allows the admin to use the same advert on the basket page as is used on other listing pages.
Examples
1. If the merchant has an offer of buy 3 items for the price of 2, and a user basket contains 1 of the items, then the offer will be evaluated as nearly applies and the advert will be displayed.
2. If the merchant has an offer of free delivery on orders over £50 and the customer basket is within 50% of this value, the offer will be evaluated as nearly applies and the advert will be displayed.
A carousel has now been added to adverts so that multiple adverts can scroll across an advert zone rather than having them stack on top of each other. Merchants can define the order in which adverts appear to the user.
---
Quick Order Form UPDATED
The quick order form has been extended to suggest products that match the product code being entered by the customer. It also now supports the ability for a customer to populate it via CSV or Excel file import.
---
Delivery UPDATED
If the basket contains in-stock and out-of-stock items, a component can be added to the delivery step that allows the customer to choose when they will receive their items. The options are:
As soon as they are available
When all the items are available (as few deliveries as possible)
---
Offers UPDATED
Free Product Discount
Merchants have long been able to offer their customers free gifts/products using tradeit, however this functionality has been extended so that customers can be shown a variety of free gifts to choose from, which the merchant can define. This might be as simple as different sizes, colours or flavours, or could be entirely different products altogether. Not only that, there is now also the ability to offer multiple free gifts at the same time. All free gifts/products will also be stock checked at the time of ordering to ensure that they are available.
If multiple products are defined, each product can be given its own quantity and a single product can be selected as the default. The default free product is the product initially added to the basket.
A new dialogue is displayed on the basket page if there are multiple products to choose from on the discount so the customer can choose which free product they want.
Offers can now also be disabled by the user if they don't want to take advantage of them, such as opting out of receiving a free gift if they don't want it. They can also be removed by a call centre operative if necessary.
Copy Offers
Setting up multiple offers is now easier and quicker than ever now that tradeit features the ability to copy offers. For example, setting up a 10% discount offer on a particular product group can just be duplicated for other product groups by copying the offer and changing the product group that offer applies to. It's so simple.
Order Discounts
Many back order/ERP systems don't like order discounts being exported as a negative line item, so for years tradeit has split any discount across all of the individual line items so that a negative value is never exported. However this functionality has now been extended further so that any and all discounts are only applied to the relevant line item to which they are applicable.
---
Orders UPDATED
Orders can now have modifications defined against them. For example, the merchant can choose to change the delivery cost of an order or fully/partially cancel an item.
---
Request Stock Notification UPDATED
The request for stock notification service has been in tradeit for years now. This information is stored against a customer meaning that when an item is back in stock they will be notified by email, however this functionality has now been extended to account for guest users, including making provisions for the GDPR, rather than just those who have a registered account.
---
Accelerators UPDATED
Performance
There have been several client side improvements made to enhance the performance of the Accelerators including reducing Render blocking Scripts, improving stylesheets and cleaning up JavaScript files.
Functionality
We've increased the standard functionality of our Accelerators to include adding the ability for customers to create returns in their my account, added breadcrumb navigation on all content templates except the homepage, added new security features, an advert zone in the mini basket and lots more…
For the B2B Accelerator, we've now introduced a VAT number validator to ensure that business accounts can be verified as genuine before receiving any preferential business rates (requires separate integration with vatlayer.com) as well as adding a PO number field in the checkout. We've also extended the order history page to display the billing address.
Reviews
As the difference between product variations (such as colour, size etc...) is likely to be minimal, reviews are now stored against the main page meaning that each variation of the product will display all of the reviews and the user will see them all rather than just the reviews against the particular variation they are looking at.
Variation Dimensions
By default, the Accelerators now support product variations on the page rather than redirecting users to a new page when each variation is selected (although separate pages still exist for SEO purposes). However, this still enables merchants to tailor the output of the page when each variation dimension is selected, for instance the price, product name, image etc... can all change.
Product Search
The 'Rank' sort option has been added to the Accelerator and is the default sort option for the product search page. This displays the best matching products at the top of the search results. the rank is based on the number of occurrences of the search term and grows higher when the search value is met multiple times.