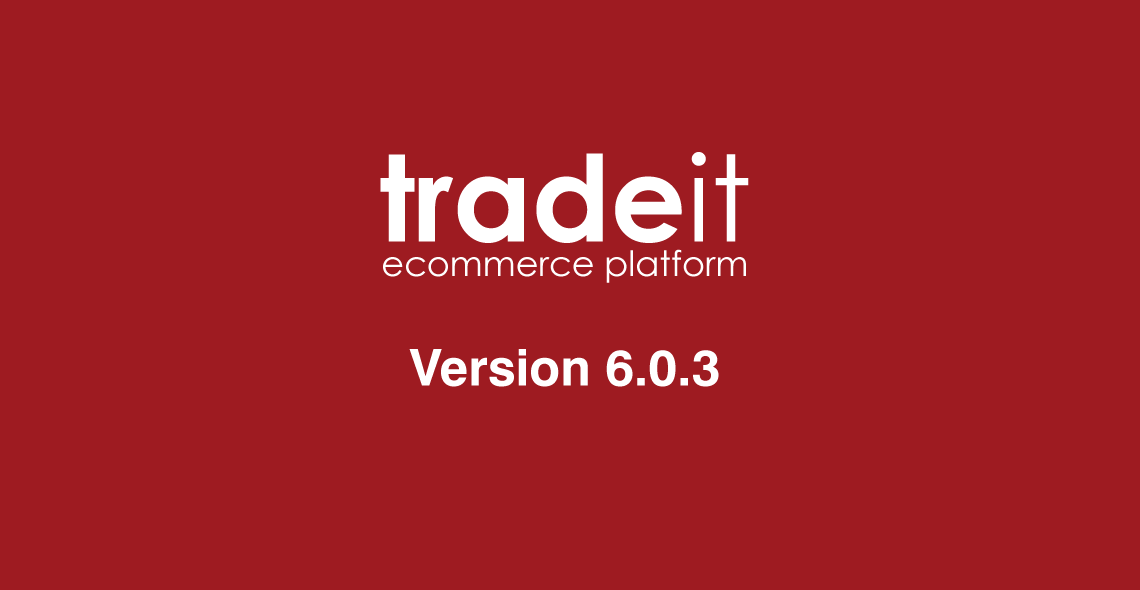 news
tradeit ecommerce platform version 6.0.3
Friday, 03 February 2017
The latest tradeit update, version 6.0.3 comes with a swathe of new enhancements.
Bundles UPDATED
Bundles have long been part of tradeit the functionality has now been extended to include the ability to cater for products that contain variations (different flavours, colours, sizes etc..) as part of that bundle.

For example, a sports nutrition company might want to offer some protein shake with three flavours as part of a bundle with a box of protein bars and energy gels that are both also available in three flavours, enabling the user to select any flavour of each product to create their own bundle. They could also include products that don't have any variations, alongside those that do, as part of the same bundle.

What's more, those products are still output from tradeit as individual line items, rather than a new bundle SKU, making stock management and ERP integration as simple as if they were bought separately.
---
Call Centre/MOTO UPDATED
Over recent years we have seen several of our B2B customers using tradeit's call centre module to proactively drive sales, rather than just as a reactive tool for processing orders or dealing with customer queries. Internal sales staff are now using tradeit to manage customer accounts, quotes and orders meaning they can use the web as an additional tool to help manage their clients, potentially freeing up their time to pursue further business whilst gaining a single view of all their purchasing activity.

With this additional and alternative use in mind the call centre functionality has been expanded to include account management. This means that administrators/sales staff can now only see the accounts of those customers who are assigned to them and can only administer their accounts, rather than having access to your entire customer base.
---
Promotions UPDATED
tradeit's class-leading promotions engine is one of the most powerful features of the platform and is constantly being improved to deliver even more great offers to our customers who, in turn, can deliver more great offers to theirs.

As such, a new bundle promotion type 'Buy x get the cheapest half price' has been added, extending the capability to deliver innovative, unique and relevant promotions further still.
---
Quantity Steps UPDATED
Part of tradeit's unique B2B functionality is the ability to offer quantity steps on products meaning you can define whether you only sell items in certain quantities (5s, 10s, dozens etc...). This has now been extended across multiple channels with the ability to have one channel with quantity steps on certain products and another channel without them on exactly the same products. This may be useful across a B2B and retail site selling the same products but to two different markets (consumer & trade) at different prices and quantities for instance.
---
IP Restrictions NEW
Security is always a concern for ecommerce merchants so IP restrictions can now be defined via the storefront administration system and assigned to user groups, ensuring that your site can only be authenticated and administered from one of the specified IP ranges, by a user from one of those groups. This enables you to ensure that your site can only be administered by users from your head office or from your regional offices, and not anywhere else, by simply using the relevant IP address range.
---
Order Rules UPDATED
tradeit features merchant-definable order rules to provide an extra level of fraud prevention and checks for suspicious orders by flagging anomalies before they are processed, including things like; order value exceeds £x..., number of a single SKU ordered exceeds x, or customer billing and shipping address is different, plus many more. These rules have now been enhanced to include whether any delivery address on the order is the same as the user's default delivery address.
---
Cascading Data NEW
tradeit now gives you the ability to cascade data from companies down to users, meaning that information such as VAT number, addresses (both billing and delivery) and price lists is only stored against the company record and not each user, freeing up vast amounts of storage space. However, administrators can still determine whether to assign some, or all, of the default company information to each user, or let them enter their own.
---
Packing Slips UPDATED
Packing slips have been extended to include the ability to add comments. This is particularly useful when call centre staff need to add some additional details to the picking and packing information on an order for example, enabling the warehouse to see their instructions.
---
Product Exports UPDATED
We've added some filtering on product exports which will help speed them up and make it easier to segment them. Products can now be exported by group or category so administrators can only export the particular group of items they need to work on or update, rather than download all products and remove those they don't want manually.
Find out more about the tradeit ecommerce platform
‹ Version 6.0.4Version 6.0.2 ›