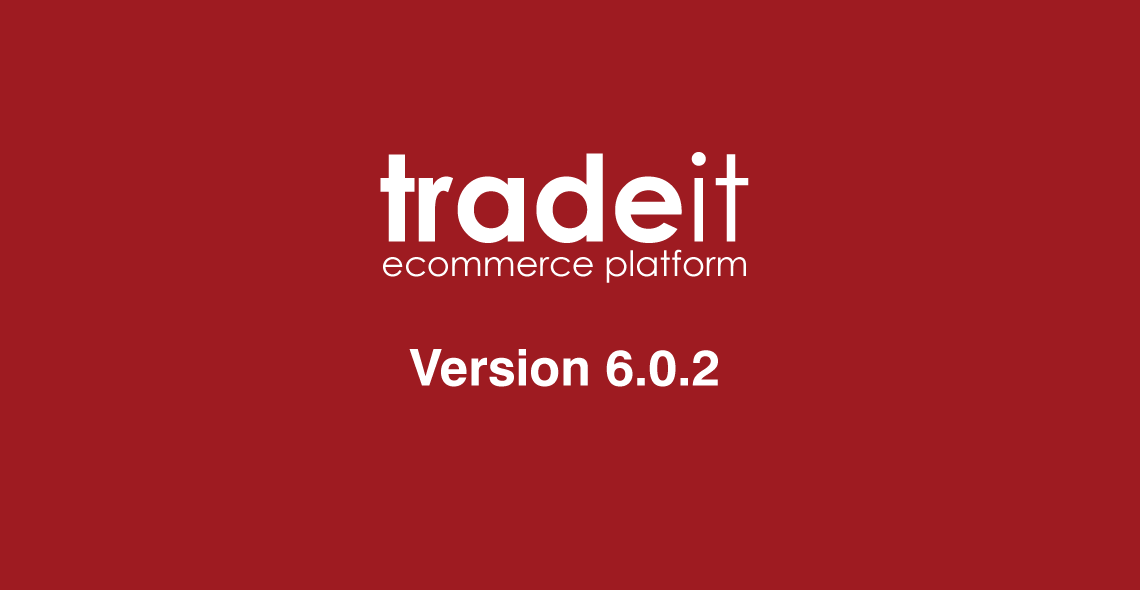 news
tradeit ecommerce platform version 6.0.2
Wednesday, 27 July 2016
tradeit version 6.0.2. comes hot on the heels of version 6.0.1. and includes another impressive swathe of enhancements.
Quantity Steps UPDATED
tradeit offers the ability to combine both Retail and B2B functions from the same installation meaning merchants can share pages, products, content etc.. between the two, or create completely separate information for each, and can even be channel specific. This helps cut down on both the initial build cost, and any ongoing administration time and costs. As part of that B2B functionality, tradeit offers quantity steps, meaning products can only be purchased in certain increments such as 5, 10, 15 etc... This has now been extended so that this functionality can be enabled for B2B users but not for B2C users on exactly the same SKU, meaning a merchant can share the exact same product page/products between both their B2B customers and B2C customers with different options for each as B2C customers will not want the restriction of only being able to order items in certain amounts. In addition to this, pages can also be flagged as private for certain users so that they are only available via authentication, as well as restricting the products that an authenticated user can see on the site.
---
Events NEW
As more and more businesses (both Retail and B2B) look to move towards an omnichannel approach, the merging of their online and offline activities is key. With this in mind tradeit now features the ability to create events and collect attendee information for those events during the checkout process, meaning merchants can drive online users to their offline activities (particular in-store) with ease.
---
Database NEW
A volatile database can now be added, which stores data that is not critical to the operation of tradeit such as diagnostics, pages hits etc... Over time, this helps reduce the footprint of the database and speed up your website. As merchants begin to collect and use more data for customer profiling and personalisation this will become more important in keeping the user experience as optimised as possible.
---
Search UPDATED
tradeit has offered type-ahead search functionality for a while now, however this was always delivered using a third party tool. In the latest update, this functionality is now a standard part of the platform and helps direct users to exactly what a merchant sells/what the user is looking for, by displaying possible search matches as the user types. This also helps prevent customers retrieving search results of 0. The search component also uses search passes which are completely configurable in the customer administration system meaning the merchant can ensure they more closely match the results on the search page and enhance the user journey.
---
Integration UPDATED
Ensuring smooth communication between the software that makes up your ecommerce eco-system is crucial to delivering a great UX, striving to meet the holy grail of a single customer view, and ensuring easy management internally. As well as being experienced and expert systems integrators there is some new functionality within the platform that means tradeit can now authenticate storefront passwords/password formats unknown to the platform. This means that passwords created by third party systems like CRM or ERP, can be imported and authenticated using an algorithm built specifically for the merchant, and helping with easy customer management.
---
MOTO/Call Centre UPDATED
tradeit features MOTO/Call Centre functionality to aid call centre administrators in helping customers who phone in. It enables them to log in to customers' accounts, see what they see and help administer their account/place orders on their behalf etc... One of the options available to them is to create an account on the customer's behalf and set it up for them. For added security, when they now do this, the password is randomly generated and an email is sent to the customer for them to retrieve it, rather than the administrator knowing what it is. This fucntionality has also been included as part of our Ecommerce Accelerators
---
Receipts UPDATED
Receipts have been enhanced further and there is now a method for retrieving the first authorised receipt which enables the merchant to display details of the authorisation on order confirmation emails. (NOTE: It does not allow the display of customer sensitive information like card numbers, expiry dates etc...).
---
Fulfilment UPDATED
tradeit contains the ability to create and define many different delivery types and assign them to products/ product groups / product weights / delivery destinations etc.... This means that certain items will not have certain delivery options available to them. The latest version can now display to users the exact reason why those certain delivery options are not available on their basket/contents (weight restrictions, product restrictions, value restrictions) so that they can potentially change their order or split the delivery based on the displayed restrictions.
The extended delivery surcharge evaluator now also means that any surcharges that apply to a specific product can be shown against it. It also means a merchant can define a tax region rule for a specified delivery option and thus override the tax area of a delivery group, based on that delivery option.
---
SKU Management UPDATED
tradeit has had the ability to have product code aliases since version 4.3 meaning merchants can create their own SKUs for items but also enable users to search via their own unique SKU for that product, or the manufacturer's SKU for instance. This functionality has been extended further so that the order information can now show the product code aliases, such as company-specific SKUs, on order confirmation emails. The merchant can also determine the company from their code or VAT number.
Find out more about the tradeit ecommerce platform.
‹ Version 6.0.3Version 6.0.1 ›