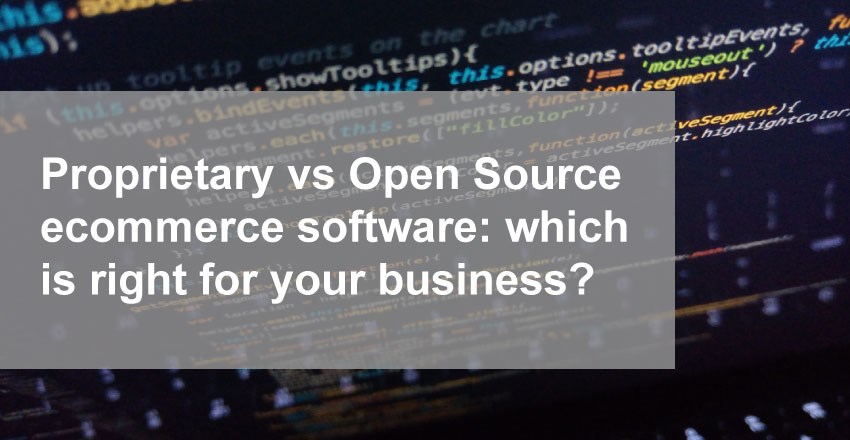 insights
Proprietary vs Open-Source Ecommerce Software: Which is right for your business?
Friday, 16 November 2018
It's a question we are often asked and a question for which there is no right or wrong answer. The decision comes down to what is best for the user's requirements, their business needs, the importance of the ecommerce function to their business, expected growth, their budget, and their required ROI.
What is Proprietary?
Proprietary software is computer software for which the software's publisher or another person retains intellectual property rights—usually copyright of the source code, but sometimes patent rights.
What is Open-Source?
Open-source refers to a product or service whose design, blueprint or code is free to use and modify.
Pros and Cons of Proprietary vs Open-Source Ecommerce Software
Let's look at some of the pros and cons of both proprietary and open-source ecommerce software:
Proprietary
With a proprietary solution you tend to be dealing with the developers of the platform so will have more influence over your entire ecommerce eco-system. It's likely you'll have a single point of contact for all design, development, integration, training, hosting and support, meaning you have far greater control and stability. As a result, any issues will be far easier and quicker to resolve. This is vital for sites that are processing a significant number of orders and transacting large amounts of money.
Pros of proprietary
Knowledge and protection of code base means sites are more secure because they are developed in a controlled environment by a concentrated team with a common direction. This team is the only group that can view or edit the source code
Deep knowledge of own code means integration with third party software is often easier
Upgrades are handled by the vendor
Tend to have complete access to the core code to make changes/upgrades, allowing easier functionality development, and solutions tailored to EXACT client requirements
Able to handle a large number of visitors and transactions
More scope to expand and grow without expensive upgrades or replatforming. Platforms can scale in line with businesess and through additional channels or modules (international, multi-brand, B2B & Retail), avoiding the pain and expense of changing platforms once you have outgrown them
Often a single point of contact for entire ecommerce operation including design, development, implementation, training, hosting, support and integrations, although this might not be true of lower end solutions
Functionality designed for non-technical users making sites easy to manage and requiring much less developer input, despite the increased sophistication
24/7/365 support and maintenance is just a call away, vital for mission critical software
Cons of proprietary
Code is locked, so can be at the mercy of the development company, although some can open up code for local access and customisation by external developers
Initial cost can be higher, but what you get in return is a more customised product from a trusted brand, higher levels of security and functionality, continuous innovation, greater scalability, ongoing training and support, and a lower requirement for technical skills
If you have to move, it requires a whole new rebuild/re-platforming project, although this is more than likely the same for open-source software in reality
Open-source
The main benefits of open-source ecommerce are the easy access to the base software, wide range of documentation, plethora of developers (though not always good ones!), library of third party plug-ins, and the potential lower cost of entry.
Pros of open-source
Lower cost of entry in theory
With the right resources and/or technical personnel open-source platforms can be managed in-house to gain more control
Numerous agencies/developers, familiar with most of the popular technology stacks, to choose from. Overseas agencies can potentially offer lower costs for development, although it might be difficult to gather references, assess quality of their work, and manage the project
Wide network of extensions, plug-ins and add-ons readily accessible and usually at a low cost (quality may vary considerably though)
A good offering for small business ecommerce needs due to lack of complexity and functions
Code is available to everybody so there is more scope to develop further functionality although this is not co-ordinated in a structured way
Free online knowledge base through various community blogs/forums/Q&A's
Cons of open-source
Fewer standard features (limited functionality, particularly in low-end versions). No upgrade path, improvements are piecemeal as components are improved over time
Designs/layout often limited to standard templates or themes which look like thousands of other sites, limiting your ability to stand out
Higher security risk – open-source by definition means the code is available to everybody (including hackers). This can become a real issue if sites are not regularly patched with security updates. Penalties for security breaches are understandably severe. Negative PR and loss of customers from such incidents can be potentially ruinous
You may need to manage multiple agencies/third party vendors as you will need expertise for database, web-server and application level components, or manage all of these in-house which will increase costs considerably
Multiple plug-ins are resource hungry and can make the site slow, unresponsive, and clunky
Most offer very poor functionality for B2B ecommerce without numerous bolt-ons. Even enterprise versions lack key B2B tools
Agencies don't have access to the core code and are still reliant on the actual software owner to upgrade that. Users are potentially at the whim of the software owner to 'upgrade' (see recent decision by Magento to force all users to upgrade to Magento 2, which is a full rebuild!)
Standard of agencies and developers varies greatly. Many agencies outsource development to off shore companies with non-English speaking staff to reduce costs but this often involves more time and resource, negating any potential cost savings
Getting support can be a challenge
More sophisticated functionality such as advanced advertising, promotions, personalisation, AI, and content management are not often available or easily handled, particularly in low-end platforms. Additional functions often include hidden costs or require paid for bolt-ons
Integration with other systems can be a challenge without an experienced and knowledgeable partner
Potentially not suitable for bigger solutions (higher data transactions and large number of visitors)
Changing agency/supplier isn't as easy as just switching the site across. Most agencies would look to use their own code/designs/integrations rather than use your existing ones
Although software is billed as potentially 'FREE', the cost of designing, building, maintaining, supporting, and hosting the solution will not be unless you do it all yourself, but even that has some costs
There are hidden perils when dealing with developers who don't, and never will, have access or control over the core code. Specifying requirements and development can be far more time consuming and costly as a result of this approach
In summary, for a very small/start-up retail company, or one-man band, a basic proprietary system that works straight out of the box and requires very little maintenance or responsibility is probably the cheapest and quickest route to market. The vendor takes care of hosting, ensures transactions are PCI compliant, and monitors & tests network security which means the merchant is responsible for far less. If there is some technical knowledge within the company, then open source might be the best route in this instance as it is potentially cheaper and may be more customisable at this basic level, but most will opt for a simple but inflexible proprietary system like Shopify or BigCommerce.
If a business is slightly larger they are either likely to use an agency to build their site for them or try and build it in house with their own developers. Using the agency route, they are liable to be at the whim of their agency as to what platform to use, unless they have a specific preference beforehand. Otherwise, it's likely to be one that the agency is most comfortable building on, the one they regularly use, or the only one they know rather than a straight choice between proprietary and open source. Some agencies only build on one platform where as others will build on several different ones so may advise clients which is the most suitable for their needs but this may also dilute their knowledge. Taking this route may mean you actually have to manage multiple agencies/third party vendors as you will need expertise for database, web-server and application level components.
In order to gain the most control (or at least the perception of most control) and seem like they are saving the most money, they may decide to build their own site in-house, employing a development team and managing their own hosting and support. In this case, it's probably more likely they will build their solution using open-source software as that is more widely used and there's more people to choose from in terms of employing their own developers.
As a business grows, ecommerce is likely to take on a larger function so the reliance on open source software becomes greater and the risks of using it (security, lack of support, inability to scale) become far less attractive. This is also the case with B2B ecommerce businesses which aren't well catered for by open source software. At this point, when you need more advanced or sophisticated functionality, more complex proprietary solutions will be the logical choice as they are more likely to be functionally richer, and can often be tailored to a merchant's exact needs due to their flexibility. Sites should also be quicker, more secure and perform better as code is optimised and enriched rather than including layers of core code, agencies' customisations, and any plug-ins or bolt-ons on top of each other.
When moving into enterprise-level ecommerce, nearly all businesses will opt for a proprietary or bespoke solution as their businesses will be heavily dependent on the software and can't afford any issues. IT/Ecommerce directors will tend to choose well-known and proven platforms from global brands such as IBM, Oracle, or SAP, due to the scale of their operations, support, and service offered. They are also willing to pay the additional costs for these services for the peace of mind they provide to their business.
Need help deciding which solution is right for your business? Contact our team of Ecommerce specialists today for a one-on-one consultation.