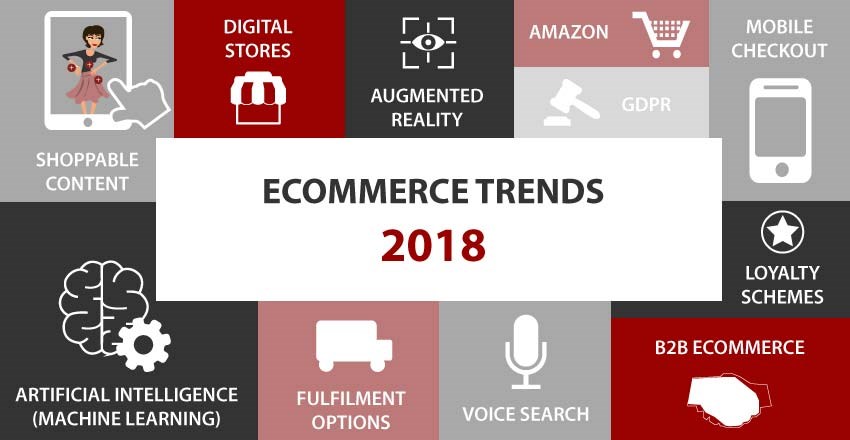 insights
Ecommerce Trends 2018
Wednesday, 03 January 2018
Our experts give their predictions for the coming year's hottest developments and enhancements in ecommerce
GDPR
The GDPR is going to have a huge effect on ecommerce next year. The new regulations mean businesses will have to be much more careful in how they collect, use and store customer data. Initial problems will be caused with a huge drop in your database as the requirements for double opt-in come into force, meaning your target market will be much, much smaller. You'll need to be much smarter in how you get users to sign up to your marketing. However the positive side of this is that those users who do opt-in are actively stating their interest in your products so should be far more likely to buy than those who you were just blanket marketing to anyway. This smaller and more focussed audience will also help you reduce wasted marketing spend by not continuing to target users who are not interested in your services. However it will also increase the importance of tools such as personalisation and loyalty to retain those customers you do have and try to increase the amount of money they spend with you.
You'll also need to be much more aware of how you store data securely, what data you store on customers, why you need it, how you can give customers access to it and how that data can be destroyed if a customer requires.
Loyalty Schemes
As discussed above, the advent of the GDPR is going to significantly impact on how companies can reach their audience. With this in mind, loyalty schemes will become an even more important tool for ecommerce merchants. Users will feel far more comfortable, and are thus far more likely, to give you consent to use their data, particularly if they feel like they are getting something in return. The new regulations will see a rise in the growth of customer loyalty schemes so those who currently have one should be at an advantage. Those that don't should think about deploying one in order negate the impact of the GDPR and increase their ability to retain customers. Simplicity is key so avoid anything which requires convoluted membership, sign-up, or complex Ts & Cs. One that's built-in to your ecommerce platform, meaning everything runs automatically, will have significant advantages over third-party systems that require separate integration, set-up, further contracts, more potential pain points, lines of communication etc…
tradeit includes a comprehensive and flexible, built-in loyalty scheme helping merchants re-engage and retain their customers.
Shoppable content
We all know that 'content is king' but it's becoming more relevant than ever as brands look to distinguish themselves from their competitors and blur the lines between commerce and content. The growth of blogs, forums, lookbooks, videos, e-magazines, style guides and social networks (Instagram, Pinterest's Lens etc…) all help establish added value for their consumers and drive more interaction. However, whilst these are great ways to showcase your brand and products, the ultimate aim is to increase sales, so reducing the steps between seeing your products and being able to purchase them is key.
Today's consumers are more social and mobile than ever and are used to getting information on the fly wherever they want it. As such the concept of shoppable content will continue to grow, particularly in certain sectors such as fashion, homeware or electronics.
The growth of image analysis automation in mobile devices will mean that users can take a photo of something and then search for that product (or something similar) in order to purchase it. Therefore the amount of attention to content/images that the merchant pays will be rewarded two fold, both with increased sales, but also through enhanced SEO performance.
B2B Ecommerce
It's been outgrowing B2C ecommerce for years and that growth is going to continue as more and more businesses realise the benefits of taking their operations online.
The advanced functionality of some ecommerce platforms today means many of their processes can be replicated online with a fraction of the resources and costs of their traditional business models. Print catalogues, sales calls, scheduled orders, invoice payments, quotations and more can be replicated and replaced by online tools that carry out tasks automatically or in a fraction of the time.
Not only that, those that don't adapt are being rapidly left behind by their competitors who have been quick to adopt this model. People are used to using ecommerce in their personal lives and want those same experiences replicated when they are ordering online in a work capacity. They want the ease of use of a B2C ecommerce site, combined with the advanced functionality of a B2B ecommerce site. Learn more about some of the advanced B2B ecommerce functions available in tradeit.
Businesses are also starting to appreciate the benefits of this as it allows them to free up staff and resources to increase the acquisition of new customers whilst existing customers are encouraged online.
Augmented Reality (AR)
Augmented Reality (AR) will begin to expand and evolve this year as stores roll out features that allow consumers to use their mobile devices to take guided tours or visualise items in place and in context before purchasing. This will be particularly prevalent for companies selling products such as furniture, homewares or fashion, where understanding how an item will look or fit before ordering could be key to closing a sale.
Not only will this help retailers increase sales, it should crucially also help reduce the number of returns as users will have a good idea of exactly how a product will look and feel before they've even ordered it.
Mobile Checkout
We highlighted the growth of new payment methods in last years' predictions and whilst that will continue this year, a key part of that is the mobile checkout. Apple, Google and Samsung have already launched their own payment methods and alongside the advancements in technology on mobiles such as fingerprint, retina or facial scans, paying via smartphone is now extremely simple. This simplicity will lead to a significant uptake in users for both online and in-store payments.
tradeit features a flexible and merchant definable checkout that's fully supported across all devices. Learn more about tradeit's checkout.
Machine Learning (Artificial Intelligence)
Artificial Intelligence (A.I.) enables retailers to enhance the service they are offering in a number of different ways. From conversational commerce in the form of helpful chatbots or virtual shop assistants that can answer user's questions instantly, to hyper personalisation (1:1) tools that can serve unique content to each and every user, to recommendations engines that intelligently and efficiently help predict customer behaviour and serve relevant recommendations using account information, customer preferences, order, browsing & search history, contextual information, and data, across multiple devices.
A key benefit of many of these systems is that through intelligent 'deep learning' capabilities, the more your customers use them and interact with them, the better they will get to know them and be able to deliver even more relevant information in the future. There's no doubt that AI is going to significantly change the way users search for, discover, research and buy products online in a number of different ways in future. According to Gartner, by 2020, customers will manage 85% of their relationships with businesses without interacting with a human.
Amazon
The online behemoth will continue its relentless growth. In the US, 44% of all online sales are through Amazon with many other regions rising rapidly. This means that many of your potential customers are on Amazon and you will need to be targeting them there. An Amazon store is now almost a pre-requisite of your online strategy, giving you access to millions of potential customers worldwide. Ensuring your Amazon presence is maintained and up to date alongside your ecommerce store is vital. Robust integration with your ecommerce store and the ability to share content, data, pricing, stock etc will reduce resources and help it run more smoothly, effectively enabling you to expand your online reach considerably without having to increase your resources.
tradeit features several differing levels of integration with Amazon from just the basic downloading of orders to more robust integrations including images, stock, prices and products. Learn more about tradeit's integration hub.
Voice Search/Commands/Ordering
2017 saw real growth in the number of devices that users could interact with and speak to such as Alexa, Siri and Google Home. This growth of voice driven search (conversational AI) is set to continue a pace with its use in ecommerce set to ramp up significantly. However, merchants must ensure their data is compatible with voice searches, is up to date, and algorithms are set up to effectively convert speech to text in order to truly reap the benefits. For example, it's easy to imagine a user asking if product x is available at their local store or for specific product information such as technical specifications, so accurate data and access to real-time store stock levels is key to providing that information quickly and accurately to the consumer.
Not only that, using a tool like Amazon's Alexa, consumers can even place secure orders using just their voice. Their voice patterns alone can be enough to authenticate the purchase. Now that really is a frictionless checkout!
Fulfilment options
With services such as Amazon Prime meaning users can get thousands of products delivered next day, consumers are less willing than ever to wait for their goods. This means that the number and type of fulfilment services that you offer are crucial to meeting customer demand as consumer expectations rise and competition increases. Same day delivery, late night order cut offs or rapid fulfilment services such as Shutl can all increase your ability to attract orders. So can fulfil from anywhere services for super-fast Click & Collect, or Click & Reserve, services enabling users to route and collect goods from the most convenient place possible.
tradeit offers complete flexibility for standard fulfilment options including allowing for picking cut-off times, bank holidays, delivery services available, restricted locations and products, surcharges (i.e. requires 2-man delivery). It also caters for omni-channel fulfilment services such as rapid fulfilment from stores, Click & Collect and Click & Reserve.
Digital stores
Lastly we're predicting the growth of bricks and mortar stores from pureplay etailers, as well as further moves by traditional retailers to digital-led stores using technology such as endless aisles, collection points for online orders, expert fitting, demonstration, AR/VR (see above) or further in-store experiences. Providing customers with added value and a chance to touch, feel or try on products without committing to vast retail estates will be more prevalent amongst savvy and agile retailers. We've worked with many leading retailers to help develop their omnichannel offering including the introduction on endless aisle capabilities for in-store ordering via tablet devices, rapid fulfilment from stores, click & collect/reserve (including the intelligent movement of stock between stores).
Learn more about our omni-channel retail capabilities