Morphy Richards
International Ecommerce Case Study

Household brand, Morphy Richards, selects the tradeit ecommerce platform for responsive UK and German refresh. Founded in 1936, trusted manufacturers of domestic appliances for over 75 years, Morphy Richards forms part of the Glen Dimplex Group. The brand is synonymous with a diverse range of small domestic appliances and their products can be found in retailers throughout the United Kingdom, as well as internationally; plus Morphy Richards also sell their products directly to consumers online.
"Red Technology were great. They understood what we needed and fulfilled those needs. The people are the single best thing about my experience. Always happy to help and advise when needed."
Online Manager, Morphy richards
Project Highlights
Showcase large and diverse product range including spares, accessories and instruction booklets for current and legacy models.
Separate Digital Asset Management system also running via tradeit, giving 3rd party resellers and internal staff access to all product information, data and assets, including legacy and historical items.
Online registrations and warranty support to improve customer experience.
Integration with internal AS/400 ERP and emarsys email marketing software.
Integrated blog for tips, competitions, reviews and recipes.
Social media integration with Facebook and Twitter.
International sites for the UK and Germany.
Responsive web design across multiple breakpoints.
Project Overview
Morphy Richards selected leading ecommerce solutions provider Red Technology as their ecommerce partner because tradeit offered the flexibility they needed to drive their direct to consumer sales, as well as the capability to provide a Digital Asset Management (DAM) system for use by their third party retailers. Working collaboratively with Morphy Richards, Red's ecommerce consultants have shaped the requirements for a new retail ecommerce solution, selling the brands' diverse catalogue of products, spares and accessories, whilst still offering consumers the ability to engage with the brand.
Retail ecommerce with faceted search & social widgets
Morphy Richards needed tradeit to manage three different types of products within the system. Not only products that were sold on the site, but also spares and accessories, which needed to be found by related product or spares name or part number, and obsolete products, so that visitors to the website could search through the back catalogue of instruction booklets held by the brand. tradeit provided the flexibility to handle these various types effectively through the website via multiple templates. Faceted navigation dramatically improved the customer experience on-site, especially when navigating the spares catalogue. The new ecommerce solution also leverages Morphy Richards' social activity by integrating social widgets for Facebook and Twitter as well as feeds for the company's blog into various storefront templates.
Integrated ecommerce platform & Digital Asset Management
The ecommerce platform forms the solid foundation for online growth at Morphy Richards and has been fully integrated with a number of their supporting business systems including integration with AS/400 ERP system, email marketing via emarsys and manageable feeds for affiliates. A responsive design also replaced the existing, separate desktop and mobile sites.

tradeit is also used to power their Digital Asset Management system which provides a central repository of all product data, information and assets, and can be accessed by internal staff and any third parties with approved access rights, such as the leading online and high-street retailers who sell their products. This enables those third parties to obtain any up-to-date product information they need or export it en masse to populate their own feeds, PIM, sales tools, catalogues etc...

See more at www.morphyrichards.co.uk
Morphy Richards News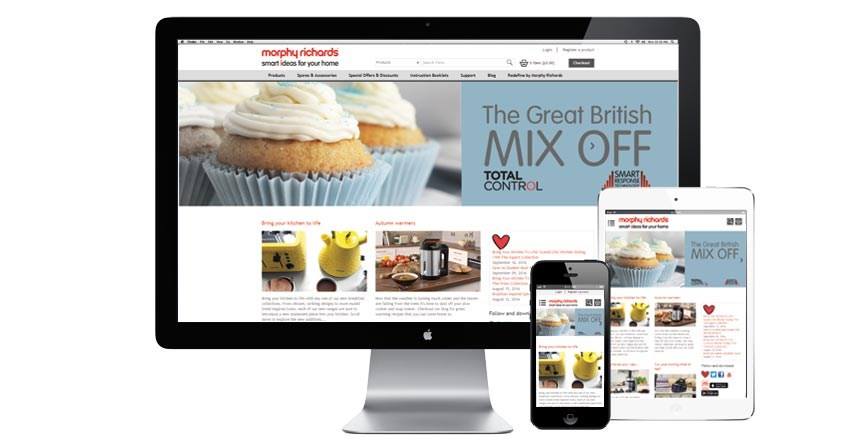 Leading electrical appliance manufacturer improve their mobile experience with the introduction of a new responsive design... read more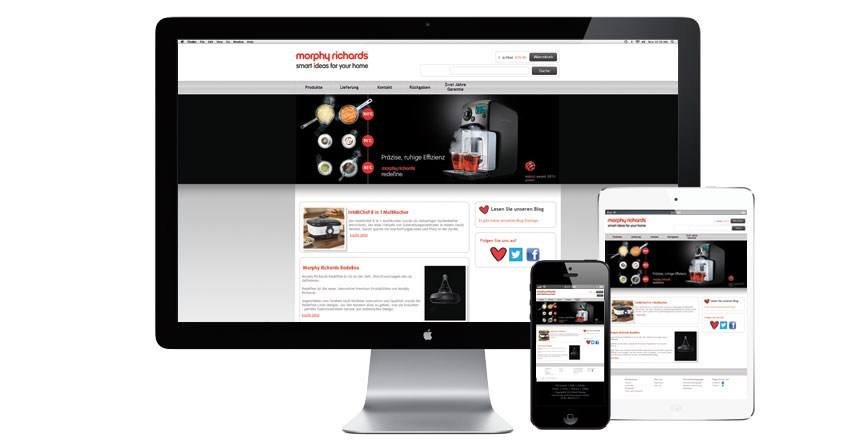 Leading electrical appliance manufacturer, Morphy Richards, have expanded their ecommerce into Germany... read more