Hotel Chocolat
Omni-channel Retail Ecommerce Case Study

A new omni-channel retail, digital flagship for luxury British chocolatier and cocoa grower Hotel Chocolat using tradeit.

Hotel Chocolat, one of the UK's leading omni-channel retailers, has launched a new digital flagship, bringing together all their products and services under one roof.
"Professional, knowledgeable and an all-round great team to work with, I'd have no hesitation whatsoever in recommending Red Technology. They really understand our brand and have provided us with a scalable solution that meets our exciting and ambitious omni-channel retail and international growth plans."
Digital Marketing Manager,
Hotel Chocolat
Project Highlights
Hub for all Hotel Chocolat brands under a single domain.
Intelligent gifting service and split deliveries from a single order.
Sanderson Elucid ERP integration.
Dedicated desktop and mobile sites.
Sophisticated subscription functionality for Chocolate Tasting Club brand.
Check stock of each product at each store with a built-in buffer level for each product to avoid customer disappointment.
Project Overview
Covering all of their brands, the website needed to provide customers and guests with the same experience they would receive at any of their stores, restaurants and cafes or at their hotel, Boucan restaurant, and spa in Saint Lucia. Integration of their physical stores with their website had to be seamless so that customers received the same experience at any touch point, whether at home, in-store or on the move. After a long and deep platform selection process, leading UK ecommerce provider, Red Technology, was chosen to deliver the utility-rich website using their tradeit ecommerce platform. Key to the selection was the existing rich merchandising, promotions engine and advertising capabilities available via tradeit, as well as new class-leading gifting functionality. The new gifting features mean Hotel Chocolat's customers can now tailor their order with unique gift bag, hamper and card configurations.
Intelligent gifting and omni-channel retail functionality
The tradeit ecommerce platform enables Hotel Chocolat's customers to split single orders into as many different deliveries as they have items, schedule delivery of them when and wherever they want throughout the world, and add any gift bagging, hamper and messages, including 'Do not open until...'. They can even check stock and use the Click & Collect service to pick up orders at any store throughout the UK, or have them delivered within 90 minutes of placing their order using the Shutl rapid fulfilment service.

The solution delivered includes the ability to handle the varying tax rates between different countries and any relevant promotions on an order line level, as well as coping with the vagaries of any international or promotional item returns.
Enhanced user experience
As the site has been built with the aim of enhancing the user experience, several new functions were added to help speed up and improve the customer journey including: tokenisation for added security and speed in ordering with a previous card, predictive search, mouse over for product details and stock on product listing pages, personal address book and rich 'My Account', product reviews, quick order, gift reminder service and fast international address lookup. Hotel Chocolat felt that Red Technology were best placed to help them continue to expand their omni-channel retail business online and tradeit was the best ecommerce platform on which to continue their growth.

See more at www.hotelchocolat.com/uk
Hotel Chocolat News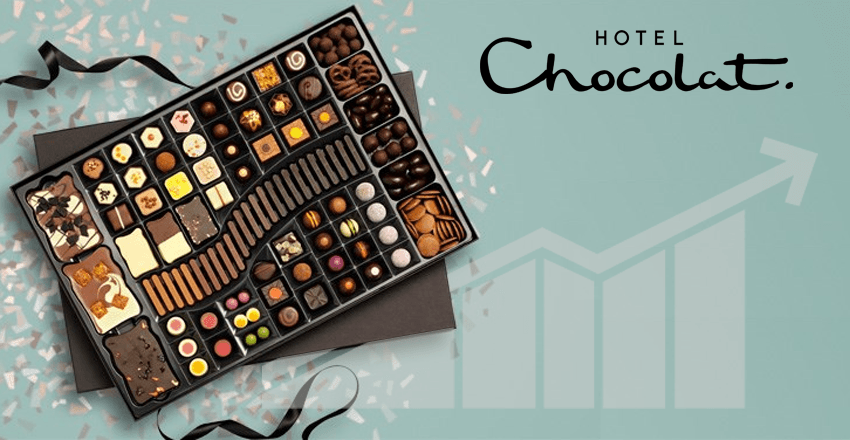 Digital channels grow at 20% to outperform market expectations... read more