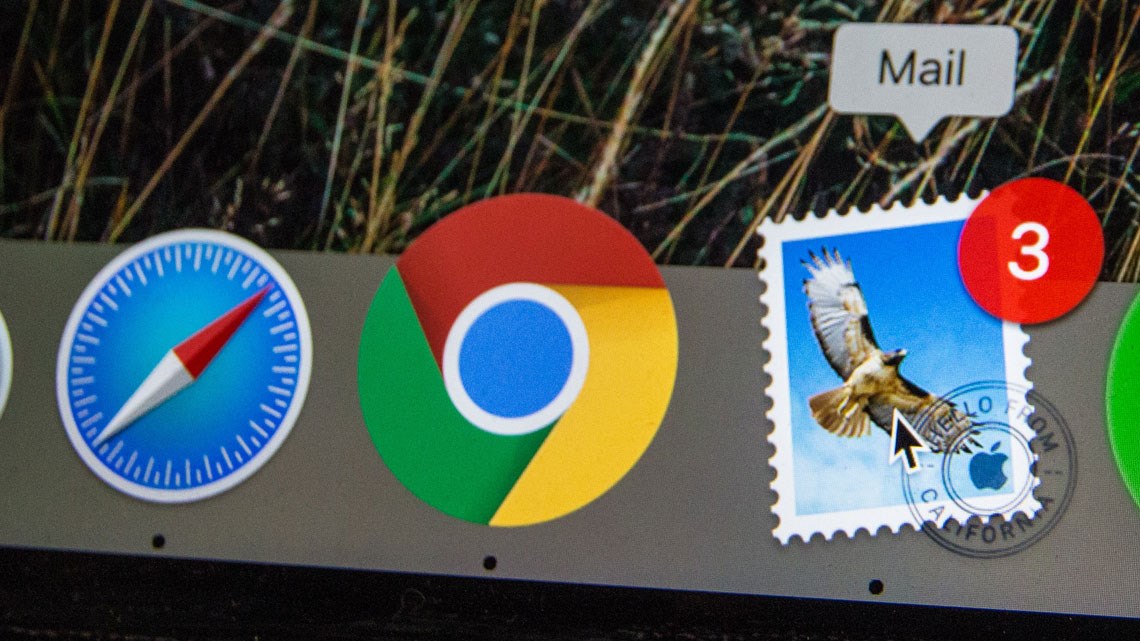 insights
CRO Lab - The effectiveness of triggered emails and how to make the most of them
Sunday, 08 July 2018
Email is still considered the cheapest and most effective way for retailers to communicate with customers and potential customers, but are they making the most of those opportunities throughout the ecommerce journey?
It's well known that the cost of acquiring a new customer is more than the cost of keeping an existing one, so any tools that can help retailers re-engage with their existing customer base, and get them to spend more, will provide great value to their business. The new GDPR has created some difficulty with using email to reach new customers so extracting the maximum from their existing customers, or any new users, also takes on even more importance.
Recognising and taking the opportunity to reach users throughout their customer journey using intelligent, triggered and targeted emails is key to improving KPIs. If this re-engagement can be automated saving them time, money, and precious resources too - then even better.
These automated, triggered emails produce the best response by targeting the right users, with the right messages, at the right time. According to GetResponse, triggered email campaigns have an open rate of 45.70%, a click-through rate of 10.75% and click-to-open rate of 23.53%, which is way above the norm. The unsubscribe rate and spam rate are as low as 0.58% and 0.06% respectively. These higher responses produce several benefits:
High engagement and re-engagement
Increased customer retention, satisfaction and loyalty
Higher click-through rates
Increased conversions, AOV, and Average Order Frequency
Once these triggered campaigns are created they can automatically be set up to send whenever the specified conditions are met, meaning merchants don't have to do anything.
Here's some examples of the most common types of triggered emails used throughout the ecommerce journey and how merchants are using them to increase their KPIs.
Registration / Welcome / On-Boarding Program
When somebody signs up for a newsletter, or registers on a retailer's website, they are initiating contact and the retailer can immediately begin to use triggered email for their registration/welcome campaigns/on-boarding, rather than sending the same series of generic emails to users no matter who they are. Merchants only get one opportunity to do this so it needs to be carefully planned.
Rather than send a simple 'thanks for registering' message that goes to everybody, they can begin to trigger different campaigns, with different content, to different users, based on any data gathered at the registration stage. For example, Black Library (A division of Games Workshop) offer new registrants a free downloadable ebook, which gives new subscribers a feel for the types of products they sell, whilst Crabtree & Evelyn welcome new users with a 10% discount off their first order to try and get them to purchase straight away. There's scope to be creative and immediately look to start building a relationship.
Many retailers will already follow this tried-and-trusted technique. However, using triggered emails based on the user's subsequent actions, or inactions, the retailer can begin to personalise the user journey and the emails they subsequently receive. For instance, a follow-up message can be sent based on whether the user places an order, or doesn't, or based on what they have purchased. This ability to instantly tailor your messages increases engagement significantly.
Create different campaigns based on user profile, actions or inactions
Determine which campaign is sent when
Highlight best-selling, new or popular products, sale previews, VIP events, competitions, blog articles, and news
Feature services available such as shipping and payment options, gift wrapping, stores, and click & collect
Present an introductory offer or discount
Continually test and hone your messaging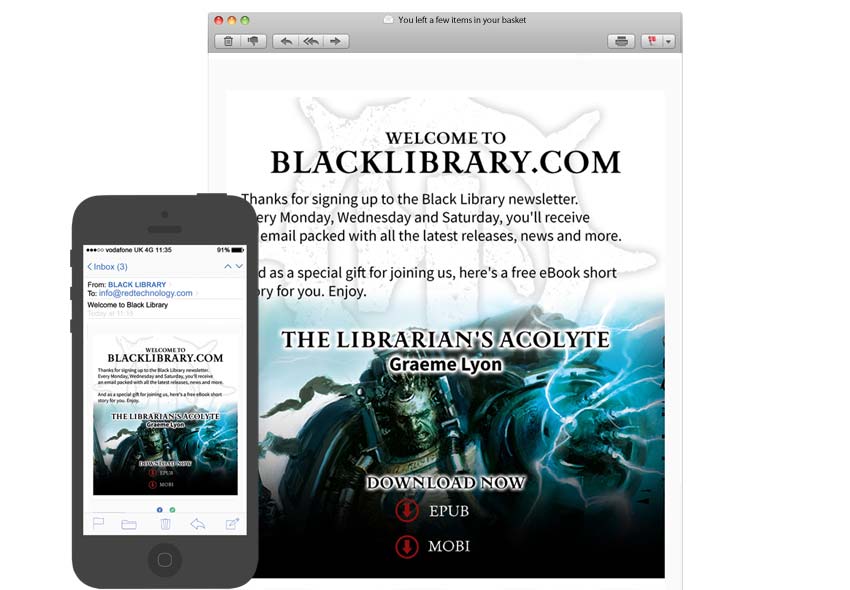 Black Library begin to engage with their customers immediately by offering a free ebook to subscribers
Abandoned Basket
Probably the most common form of triggered email campaigns after any initial registration/welcome/on-boarding programs and with good reason. 68% of users abandon their basket, and there are many causes such as; hidden shipping costs, researching total cost, not ready/saved for later, offer code not working, shipping time too long, preferred payment option not available etc.
An abandoned basket campaign is a proven way to re-engage customers due to the targeted nature of the content and the timing of when it is delivered. Whilst some merchants may use promotions or offers as part of their strategy, consumers may get wise to that and just wait for a discount code on their abandoned basket, so it's not recommended and could set a dangerous precedent.
Approx. 68% of users abandon their basket
Abandoned basket emails have an average 40% open rate and 20% click through rate, compared to 24% and 4% respectively for normal email campaigns
Proven to increase sales but refrain from discounting
Measure and test how soon to send email once the user abandons their basket. Timing is key but the message shouldn't be sent any later than 24 hours after the user has abandoned their basket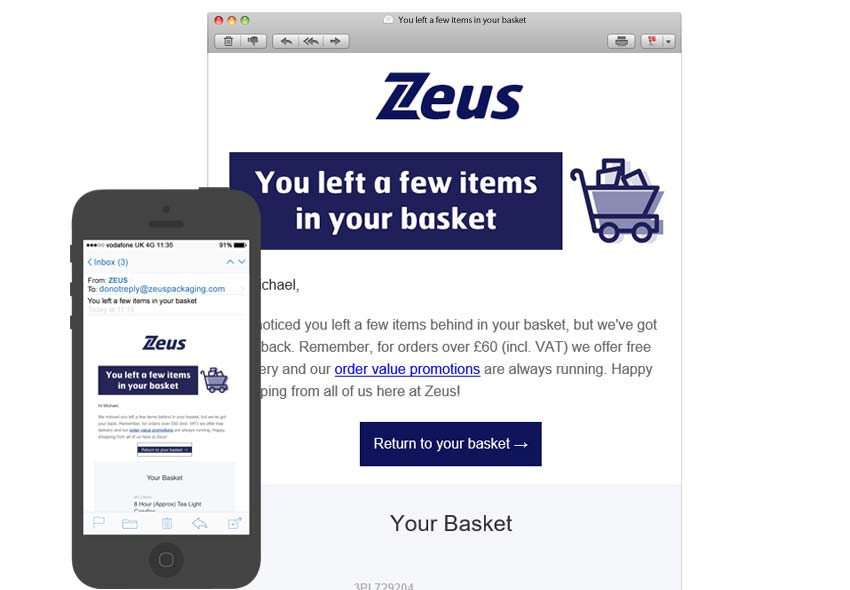 A typical abandoned basket campaign as used by Zeus Packaging
Review Request
Requesting product reviews is a great excuse to contact customers but is also great for capturing new ones. According to Econsultancy, 61% of people look at reviews before making an online purchasing decision so they are essential to ecommerce success and proven to increase conversions and sales (by an average of 18% according to Reevoo). Even negative reviews, if handled well, can prove to be a good thing (consumers are likely to be dubious of 100% perfect reviews anyway), although too many and there is clearly a problem. Whilst they might not directly increase conversions first hand, they are definitely something worth asking for.
Some merchants might use a reviews provider like Trustpilot or Feefo which can send the emails out for them but some more advanced ecommerce platforms include their own ratings and reviews engine which when combined with triggered emails can keep this functionality all in house.
Helps build relationship
UGC (User Generated Content) is great for SEO
Peer recommendation is proven to drive purchases from other users
Helps product development
Addresses any service issues
Timing is crucial; too soon and they won't have got it or had time to use it, too late and they might have forgotten about it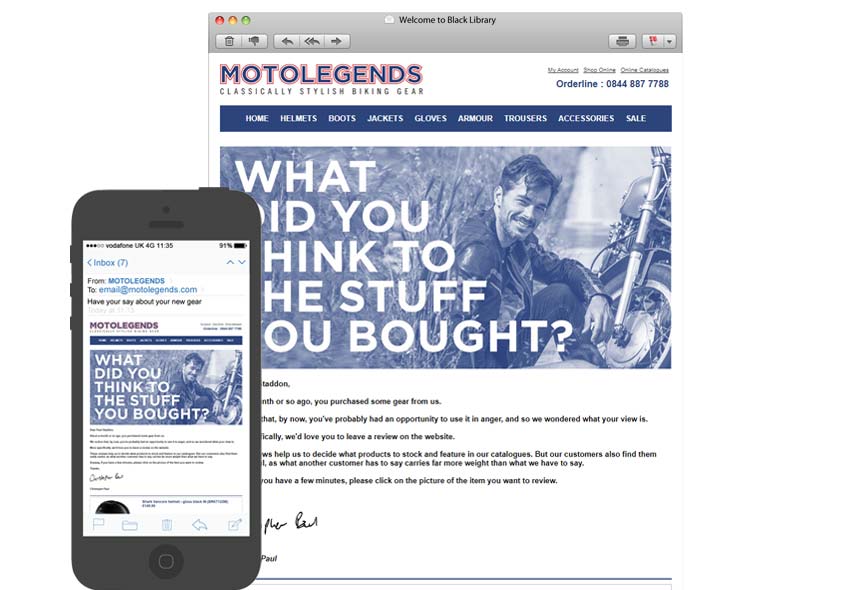 Motolegends email their product review requests to help build consumer trust and improve their SERP results
Replenishment/Re-order Reminder
Selling regularly ordered items is great for online vendors as they are a great source of recurring revenue. That makes triggered emails the most effective tool for reminding users to re-order without any expensive remarketing. According to Adobe, people who order something a second time are nine times more likely to repeat their purchase than first time buyers so capturing that second order can make a huge difference to ongoing revenues. Despite this damning evidence to support their use, many retailers just aren't taking advantage of this great opportunity.
They are particularly relevant for consumable products like make-up, food, wine, supplements, vape/e-liquid, pet supplies and much more. For example, if somebody has ordered 30 days' worth of supplements or vitamins, triggering an email 25 days after they were delivered, to remind them to order more, is a great tactic for increasing repeat orders.
Campaigns can be created and triggered based on order or despatch date
Can drive other additional purchases alongside repeated items
Triggered emails mean those users who shouldn't get the emails can be filtered out
Merchants can create a workflow of replenishment emails so different campaigns are sent based on whether the user does or doesn't re-order, or even based on what product(s) they order
Can feed into other campaigns such as recommend-a-friend, product review requests, or personalised product recommendations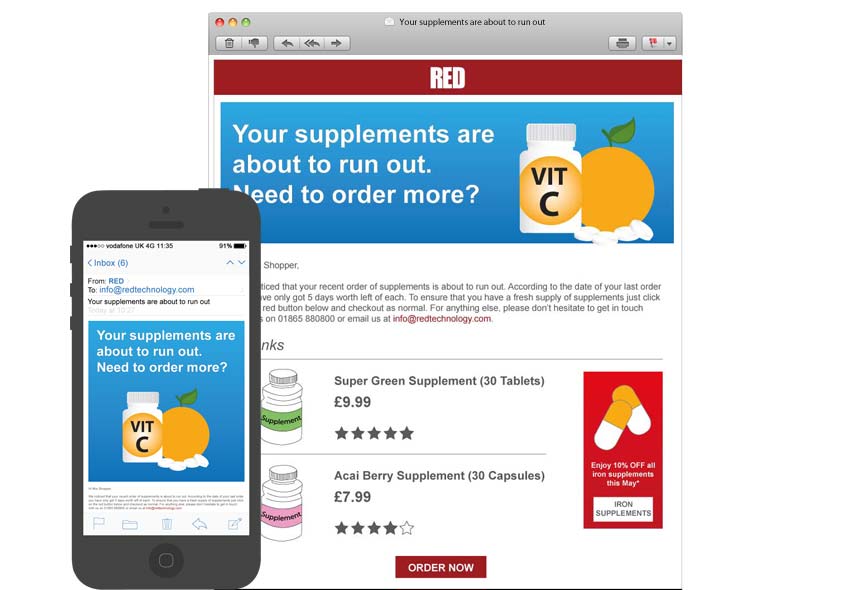 A typical replenishment/re-order email - ideal for regularly ordered items like supplements
Subscription Extension
Online subscription services have grown considerably in recent years with services like Graze or Birchbox being prime examples of how successful they can be. In an ideal world, tying users to regularly ordered items over a defined period of time is great for merchants as it helps them to forecast demand, supply, revenue etc… whilst requiring little management or re-engagement spend. However, when that subscription period ends, getting the user to extend it is the next goal. Automated, triggered emails can be sent to users to remind them to update/extend their subscription when it is nearing the end of their predetermined period.
Emails can be triggered to send a few days before their current subscription period runs out
Further products/subscription types can be pushed
More expensive/frequent subscriptions can be offered
Merchants can create a workflow of replenishment emails so different campaigns are sent based on whether the user does or doesn't re-order, or even based on what product(s) they order
Can feed into other campaigns such as recommend-a-friend, product review requests, or personalised product recommendations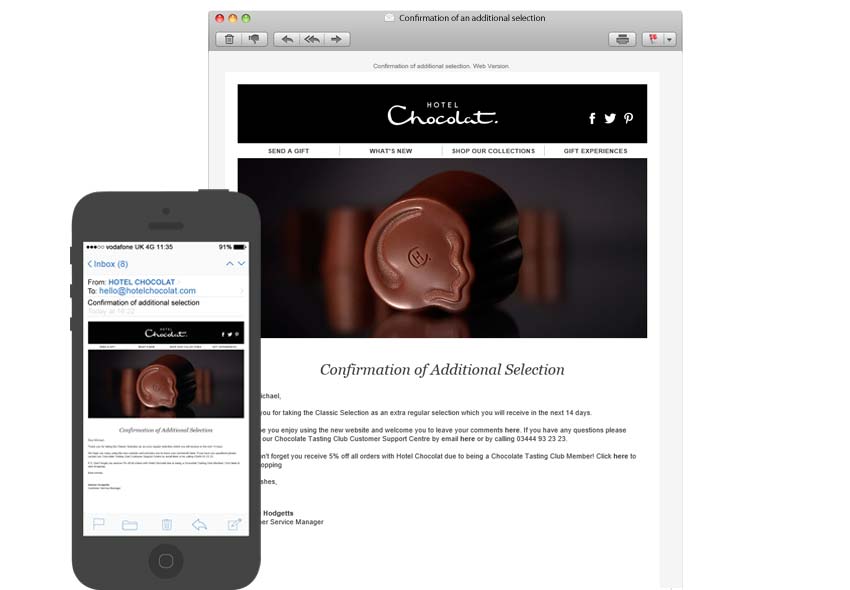 Hotel Chocolat use emails to trigger their Chocolate Tasting subscription service members into increasing their subscription frequency and changing their selection
Calendar Reminders
Giving users the ability to set reminders within their my account gives retailers the perfect opportunity and excuse to contact them. By providing such a facility the merchant can prompt users to buy items when they specifically asked to be reminded. For example, Hotel Chocolat use this to trigger emails to users when they request them, recommending items to buy and displaying what they purchased last year (if applicable). The user can specify how long before the event to send the email and this creates the necessary trigger to send the email automatically. They can add as many reminders as they want on any date they like.
Emails can be triggered to send when the customer wants
Very little work for the merchant
Further chance to upsell
Ideal for gift retailers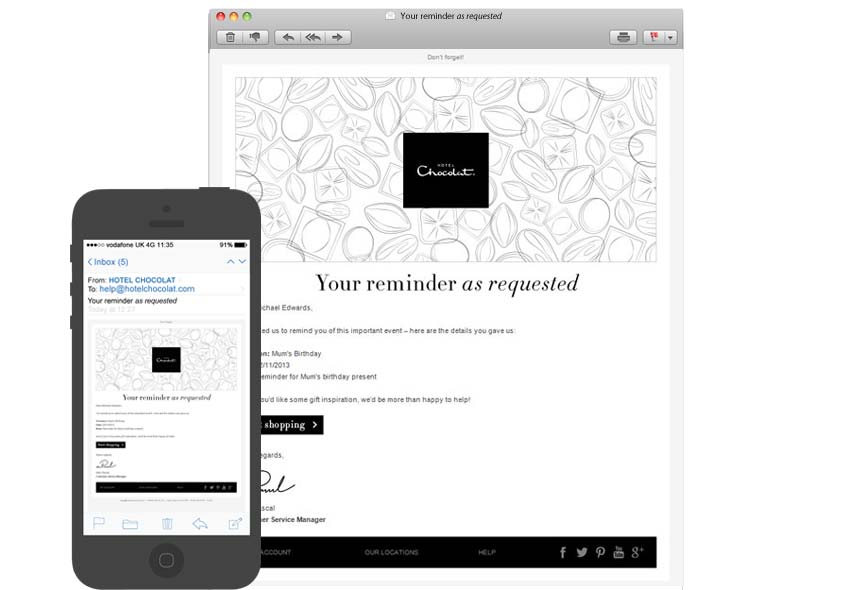 Hotel Chocolat remind their users of any special dates they need to remember, with suggested purchases too
Recommend A Friend
A relatively simple way for companies to try and acquire new business is by adopting a recommend a friend programme. This often involves an existing customer referring your brand/products to somebody they know in exchange for a discount against a future order for both them and the person they have referred. For example, McAdams pet food offer referred customers 15% off their first order, whilst also giving their existing 15% off their next order.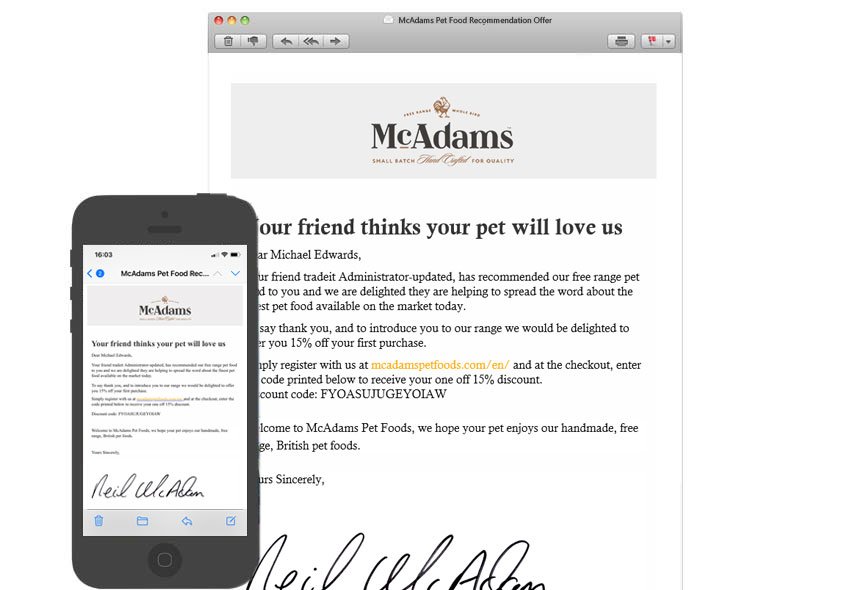 To find out more about tradeit's and suite of marketing tools.