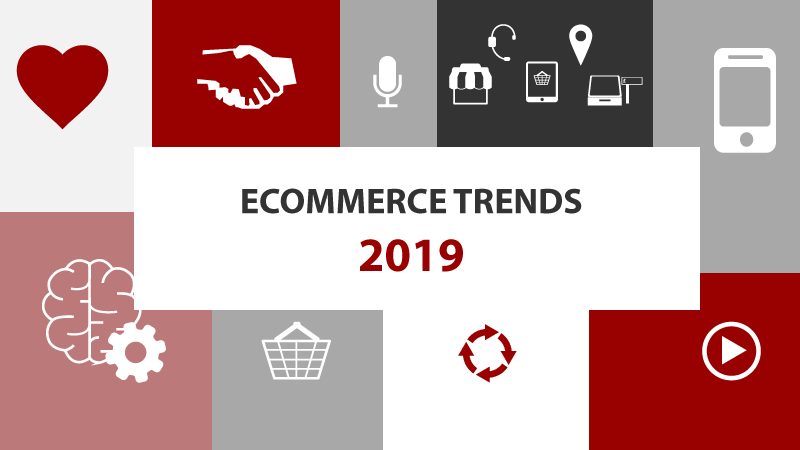 insights
Ecommerce Trends 2019
Monday, 07 January 2019
With 2019 now underway our team of experts have put together their shortlist of the trends they expect to gain traction or emerge in ecommerce this year.
Mobile to continue its upward trend
The abundance of smartphones and their 'always on' convenience means online sales via mobile devices will continue to grow. Last year saw 38% of all UK online sales conducted through a mobile site with this figure set to continue to rise, particularly with the advent of authentication via fingerprint or retinal scans making secure, one-touch payment a doddle. Ensuring your site is optimised for mobile devices will increase in significance as more of your customers continue to buy via that route. Site speed is also a crucial element of delivering a successfully optimised mobile site, as a slow site is the biggest barrier to conversion on mobile sites.
We have made significant changes to improve the speed of sites using our platform, particularly on mobiles, including:
Defer all images – the loading of the images blocks the rendering of the page. Deferring the images ensures they load after the rendering of the page.
Defer all Javascript including jQuery - the loading of the JavaScript blocks the rendering of the page. Deferring the JavaScript ensures they load after the rendering of the page.
Restructured the main JavaScript file to improve the execution order of the scripts.
Improved the custom slider script.
B2B Ecommerce
As we highlighted last year, the growth of B2B ecommerce is comfortably outstripping B2C and this is set to continue. Providing B2B/ self-service portals will become more important as companies look to cut the cost of sales people and bring in efficiency for their customers online. This will involve a more B2C style experience with the design, UX and layout of B2B sites replicating those from the retail world. These will be overlaid with advanced B2B functions, personalisation and self-service tools empowering customers to do much of the work themselves, and automating many traditional and time-consuming processes for merchants.
For example, Electrix International enable their customers to: create quotes which can then be converted to orders once priced, save baskets, place quick orders, pay and view invoices online, and much, much more...
Vendor Managed Inventory
Our experts believe Vendor Managed Inventory will become much more prevalent online in the B2B world. VMI enables a merchant's customers to maintain an agreed inventory of products at any and each of their locations and deliver simple online re-ordering when the specified holding falls below the agreed threshold. When they undertake a stock check, any shortfall can then be ordered against that location, at an agreed timescale.
For example, Sil-Mid offer their customers the ability to manage inventory online. In their particular example, customers keep various products at different locations that they order from Sil-Mid. This allows a representative to visit each location, count the current stock holding of each consigned product, and input that into the system. Any shortfall against the agreed inventory will then automatically be added to the basket meaning an order can be placed against that account to replenish the stock.
D2C Ecommerce
As more and more manufacturers are starting to sell directly to their end users online, this is inevitably putting the squeeze on traditional routes to market competing for the same business. Whilst we think this trend will continue, we also believe that it will force wholesalers and distributors who are being circumnavigated, to improve their ecommerce offering and service in response. Look out for more functionally rich, faster ecommerce stores with better service levels from distributors and wholesalers.
See our insight into Avoiding internal and external channel conflict with ecommerce to learn more about what problems to look out for when selling directly to the end user.
Omni-channel Retail (Bricks and mortar can fight back)
Given the current problems being experienced by the UK high street it's hard to argue against the advantages of being a pureplay etailer. However, savvy omni-channel retailers are taking advantage of the very fact they do have stores to offer their customers a superior experience by delivering services such as:
Same day delivery from stores (rapid fulfilment)
Some online businesses already offer same day delivery, but they're not common. It's one service that even Amazon haven't been able to offer properly yet. However, those merchants with multiple retail outlets or trade counters have a distinct advantage over strictly pureplay ecommerce businesses, as they can quickly fulfil orders from those locations. Each store acts as a 'warehouse' in it's own right meaning online orders can be pushed to the nearest location to the user's delivery address to be fulfilled from there.
For example, Office Outlet offer a rapid fulfilment service from their 90+ stores meaning that provided items are in stock at local stores (which can be checked before ordering), they can be delivered within one hour in major cities and within three hours outside of that.
Endless Aisle
Driving customers to your retail stores is difficult enough, so helping to ensure you never lose a sale from those visitors you do have is vital. By arming store staff with tablets running tradeit's call centre, they can provide customers with instant, accurate, up-to-date product information and find product stock on their behalf, both online or across any store. Not only that, they can log in as a customer, or create an account on their behalf and place an order.
Retailers like Crabtree & Evelyn and Office Outlet have used tradeit to power their endless aisle offering. By running the service using their ecommerce platform it saves on time and costs, whilst also already being familiar to their staff. Learn more about how Office Outlet are benefitting from a huge increase in additional revenue since introducing Endless Aisle to their stores.
Digital-Led, In-store Experiences
We are predicting further moves by traditional retailers to digital-led/experience stores. This might include functionality like Augmented Reality to help customers visualise items in their own environment, endless aisle (as mentioned above), or click & try services where items are ready for testing in a tailored area within stores (changing rooms, demo rooms etc) with sales people on hand to help/upsell.
Bearing this in mind, we also believe there will be a continued growth of clicks to bricks retail with traditional pureplay etailers opening physical stores, such as Amazon Go, Missguided and Boden.
It's important to remember that all these types of omni-channel services aren't just the preserve of retailers and the use of services like these will also grow in the B2B ecommerce space, where applicable. For example, Capital Hair & Beauty are the UK's largest independent supplier to hair and beauty professionals with 50 stores throughout the UK and Ireland. As part of their omni-channel solution they offer a store stock checker, click & collect within an hour from stores, and a store locator.
Customer Retention
Retaining their existing customers should always be a priority. Given every retailer is in a scrap for customers, there will be a stronger focus on retention, with larger budgets and time spent on retaining loyal customers rather than taking their loyalty for granted. It's a well-known fact that it costs 5-6 times as much to acquire a new customer as it does to retain an existing one so from a financial point of view it makes perfect sense. However, following the advent of the new GDPR in 2018, it's now even harder to attract new customers so ensuring you keep your existing customers and that they continue returning becomes more important than ever.
Loyalty
Loyalty programmes are a great way to foster customer retention and more and more ecommerce sites will start to introduce them. For example, Tropicana Wholesale are the UK's leading distributor of sports nutrition products to gyms, websites, sports supplements shops and personal trainers. In order to help grow their online business, they've introduced a 'Spend & Save' loyalty scheme. Not only does this incentivise their customers to keep returning to purchase from them by offering incentives when they do, the scheme is specifically designed to increase sales by offering rewards based on their customers specifically spending more than over a previous time period in order to receive their incentive. Customer's targets and incentives are all shown in their my account area, so they know exactly where they stand each month and exactly what they need to do to get their rewards.
Subscriptions
The last few years have seen the emergence and growth of numerous successful online subscription services from companies like Graze, Netflix, Birch Box, Hello Fresh etc… All manner of consumables are now offered via subscription including food, drink, flowers, health supplements, make-up and beauty products, films, music and much more. If your business model suits these types of products then subscriptions are a great way to try and engender loyalty. They are somewhat of a holy grail for merchants as they provide a constant source of recurring revenue without the ongoing expensive of continued marketing and serving those customers to the same degree. They can also be used as a tool to offer complimentary services to a merchants main offering.
For example, Bowers & Wilkins are one the UK's leading manufacturers of Hi-Fi and home cinema speakers and as a complimentary service to their core products, they offer a music subscription service which gives subscribers two unique downloadable, studio-quality albums each month so they can showcase the quality of their audio whilst also generating some extra revenue and loyalty.
Pre-payment (at discounted rate)
A pre-payment option is another simple way to retain customers. Firstly, the easier it is for them to pay, the more likely they are to order and return - frictionless checkout experiences are what they are now demanding. Secondly, by offering them a discounted rate for pre-purchasing credit which is stored against their account, they are tied to a merchant in order to spend it.
For example, Scribbler have extended their payment options by offering their customers the opportunity to buy credits (at a discounted rate) using tradeit's loyalty points scheme. This is advantageous to both the retailer AND the customer. It means the customer has a quick and speedy payment option for future orders (and at a 20% discount) whilst ensuring the merchant receives those future orders and gains customer loyalty. It's a win, win.
Voice Search
The popularity of voice search will continue to rise so ensuring that your content is geared up for search queries is important. Having an easily editable PIM and CMS like that in tradeit is important, so that content can be optimised for voice searches. Search queries using voice tend to be different to those using text searches with language being more natural compared to the concise queries users may physically type. There is hardly any effort required when speaking which means searches can be longer and more specific, so focusing on long-tail keywords is important when optimising content for voice searches.
Unfortunately, neither Google Analytics, Ads, or Search Console displays the difference between search mediums at the minute. The best you can do is look through your search data and try to identify long-tail queries using more natural language or queries like 'where is…', 'how do I…', 'where can I buy…' but there is no way of gauging the accuracy of these. Hopefully this is something that Google will introduce into analytics so it's easy for merchants to see the quantity of voice search queries they receive.
AI for personalisation
Merchants need to understand and predict their customer's desires and needs with better targeting across all their touch points, In this regard, AI enables them to personalise the content served to users, most prevalently in the form of recommendations. By pulling information from account details, known preferences, previous orders, browsing and search history, contextual information and other data merchants can deliver more intelligent, relevant and timely content to users which will in turn increase conversions. Many of these systems feature 'deep learning' capabilities, meaning the more customers use and interact with a site, the better merchants will get to know them, and the more relevant the content they deliver is.
tradeit is already capable of populating recommendations using metrics, but this capability is set to be expanded by pulling additional data from multiple sources. This enables merchants to deliver even more relevant and intelligent recommendations to their customers which are then continually refined as more data is collected and analysed.
Video content/Product videos
Video content is growing in popularity as user demand increases. Video can be used online in all sorts of ways, such as company films, explainers, product tests/demos, product videos, cases studies, testimonials and more, and sites which use videos are known to rank well in SERPs. Short videos are a great way to highlight products and services.
For example, Electrix International use product videos to showcase their range of cable trays and accessories. Not only does this increase conversions but it also reduces returns as users can see exactly what they are buying before they order.