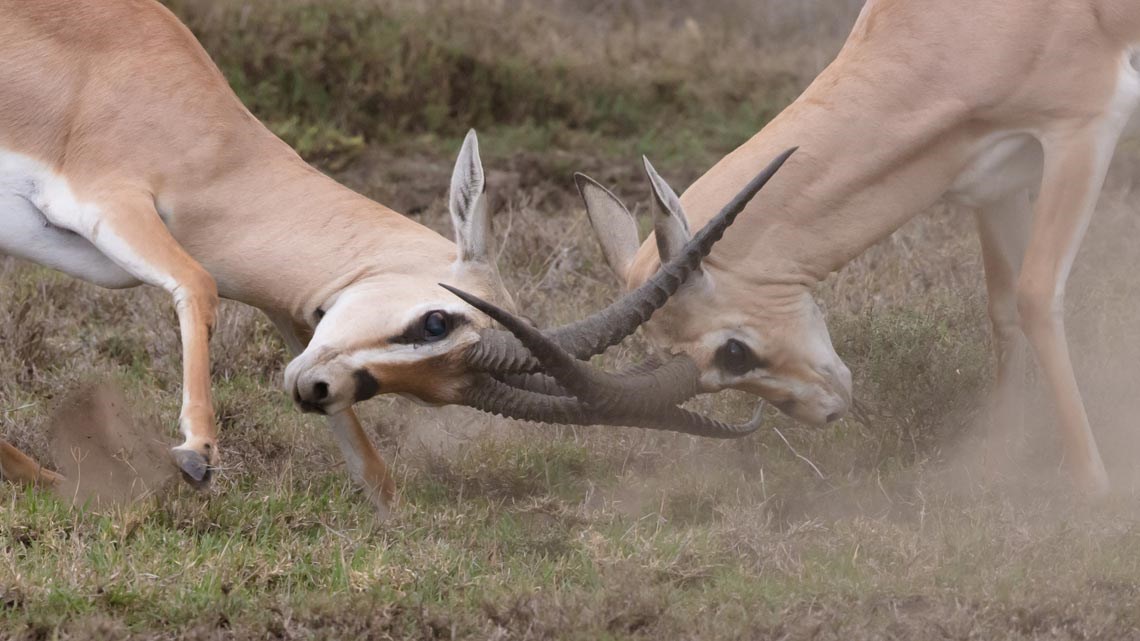 insights
Avoiding internal and external channel conflict with ecommerce
Thursday, 11 March 2021
As technology evolves and the way people purchase continues to shift, more and more companies are taking both their Business-to-Consumer and Business-to-Business channels online. In an ideal world, these ecommerce channels work in harmony with existing routes to market without a problem, but it does require some careful management and planning to avoid channel conflict.
In this insight we will look at how manufacturers can avoid any potential problems both externally with their retail partners/distributors, and internally between branches/offices or departments within their own organisation. We'll also look at some examples of how leading companies are adopting some of these ideas and putting them into practice in the real world.
When launching any new channel merchants first need to define the key drivers and business case for it in order to understand what potential conflict may occur and how best to mitigate it. Our previous insight into why manufacturers should be trading direct online (D2C) will help explain why an ecommerce store should definitely be a consideration.
Once the reasons for the project are understood it will be easier for manufacturers to define where channel conflict may come from. Often the reasons for launching the channel will be valid (if they are not launched as a direct conflict to other channels) and these, when explained, along with some mitigating action, can greatly reduce any issues and allow the new channel to be a part of a number of routes to market. These are some potential solutions and suggestions of ways to help avoid it.
Launching a Business to Consumer Channel (External Conflict - Retail Partners, Dealers & Distributors)
When a manufacturer looks to launch a new ecommerce channel to begin selling directly to their end users, it has the potential to cause issues with their existing third-party channels who currently reach those customers on their behalf. Here are some methods they could adopt when launching a B2C online store to help avoid channel conflict.
Only sell at RRP
In theory a manufacturer could always offer their end user the lowest price available on their goods and undercut their retail partners/resellers. However, by ensuring that RRP's are the same online as they are through any other channel, it gives dealers/resellers/stores the chance to match the manufacturer's online pricing, meaning they would never lose a sale to the ecommerce channel based on price alone. Manufacturers can then chose to potentially offer loyalty/spend discounts rather than product level discounts to avoid any price war with their own retail network.
Winsor & Newton
When Winsor & Newton, manufacturers of the World's Finest Art Materials launched their new ecommerce site, they had an agreement in place with their worldwide network of resellers to only sell items at RRP, meaning everybody was on a level playing field. They also agreed that they would not undertake any programs of discounting and offers via their ecommerce site in order to avoid potential problems of channel conflict.
Learn more about our work with Winsor & Newton
Only offer cheaper/commodity items online
This may depend on the make-up of a manufacturer's product portfolio but if there is a big difference between the price point of the cheapest and most expensive items, only offering the cheaper more commoditised items online means customers will need to use other channels to purchase the more expensive items, and thus will visit a reseller/dealer. This may be particularly relevant for items that require a demonstration, more technical sale or where a great opportunity for up-selling exists.
Bowers & Wilkins
Bowers & Wilkins are a manufacturer of class-leading loud speakers who follow this strategy online. They have ranges of speakers and headphones ranging from a couple of hundred pounds which they sell online (as well as through their retail partners), to professional, studio-quality speakers used by the likes of the Abbey Road Studios and George Lucas's Skywalker Sound Studios, which run to several thousands, require expert advice and installation, and are not available on their ecommerce site. This helps them avoid channel conflict with their worldwide dealer network.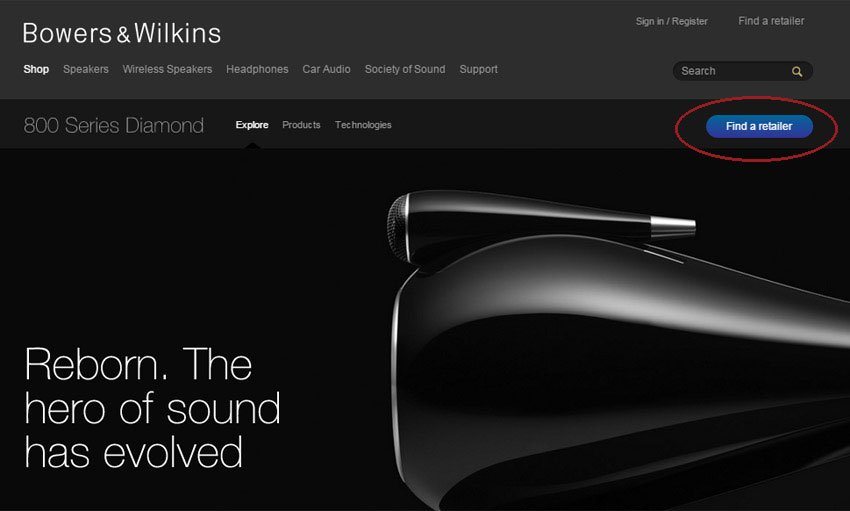 Bowers & Wilkins use a 'Find a retailer' option on their premium products. These products require a demonstration and are not available to purchase online.
Find out more about our work with Bowers & Wilkins
Product registration by end user
Manufacturers may decide to only use their website for product registrations. By offering the ability to register their products online the manufacturer gathers vital data about their end users (even when products are purchased through a third party). This will then allow them to target these end users via other traditional marketing methods such as direct mail or email in order to avoid any ecommerce conflict with their retailers. This product and customer data can then be used for additional services, spares or accessories rather than a direct product sale which may create conflict.
Use for niche products/product ranges/brands/bundles/spares & accessories
Another way of starting to sell online without affecting existing channels is to use ecommerce to launch a smaller/niche range of products, sub brands or bundles that aren't available through existing third party channels. This might be because retailers can't or won't stock them, or could be completely new products that a manufacturer wants to launch to market solely via an ecommerce channel. It could also be used by companies who wanted to disassociate themselves from their main product range or brand to enter a new or completely different market without causing customer confusion.
There is also the option of using ecommerce to sell spares and accessories that might not be carried by other retail channels, particularly on discontinued or legacy product/product ranges that are no longer sold by those resellers.
Morphy Richards
Home appliance manufacturer Morphy Richards use their ecommerce site to not only offer current ranges, but also to cater for existing customers by offering a vast range of spares and accessories for both existing and discontinued products.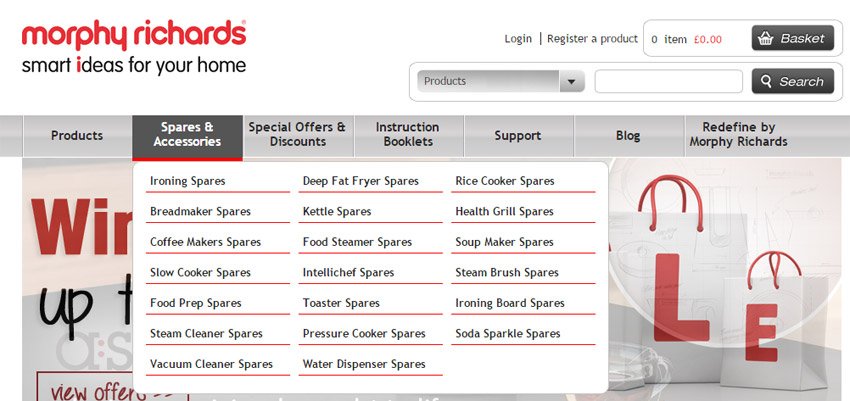 Find out more about our work with Morphy Richards
Use for new territories only
Due to the relatively low cost of deployment, ecommerce can be a great way of testing product sales in new markets or territories, without launching expensive expansion plans like committing to leases on retail stores, warehouses and production facilities, or setting up local sales channels. It also means there is no sales conflict as ecommerce could be used solely for these new international markets, whereas existing, domestic channels can remain the same. A fully internationalised ecommerce platform means any new online channels will be locally tailored to the new territories in terms of things like language, currency, taxation, payment and fulfilment meaning ease of entry to the new market. Launching multiple international channels can also be very cost effective if they share content, designs etc… They are also cheaper and easier to manage as they can use a single administration system.
Amoena
Amoena have launched 15 international ecommerce sites all using exactly the same design and templates as their main UK site, each localised for their respective market. This means they are quicker and cheaper to deploy as well as being easier to manage especially as they can be administered from a single platform.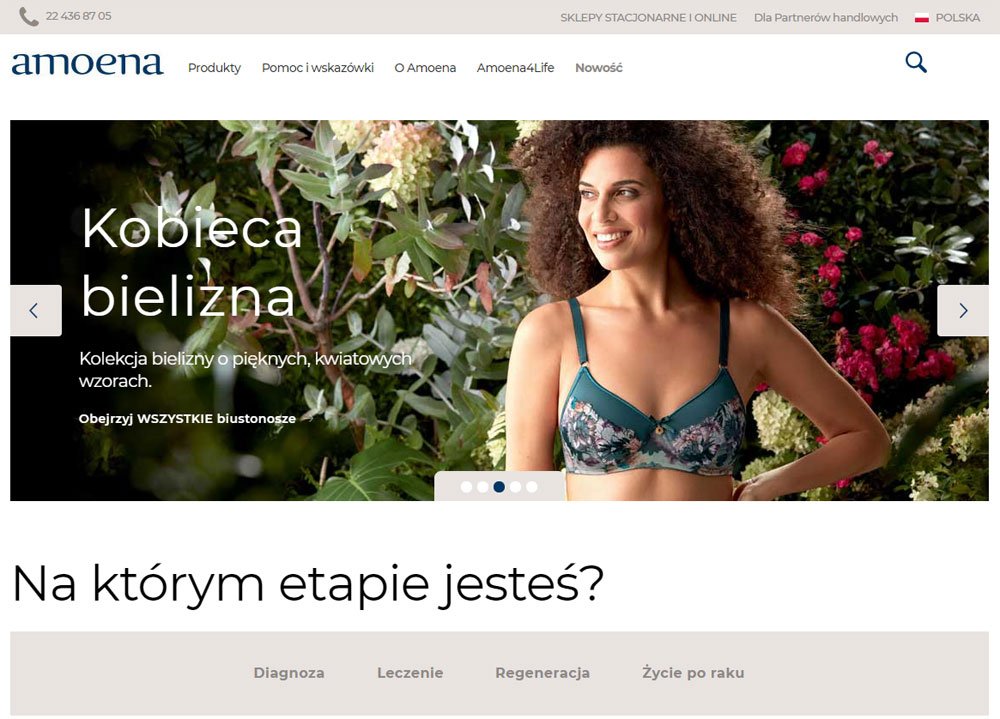 Amoena have used international ecommerce sites as a chance to expand their brand globally
Find out more about our launching International Ecommerce sites
Find out more about our work with Amoena
Catalogue only - no ecommerce
Those manufacturers who are looking for a really soft approach could remove the 'add to basket' button entirely. Creating a site using ecommerce tools to offer a full catalogue of products, personalisation, brand content and blog/community, is a great way to showcase their offering without causing any sort of channel conflict. It's also a great tool for fully explaining the history, craftsmanship or story of their brand and products and improving their SEO performance.
This does, however, have the potential to leave customers slightly frustrated if they are unable to buy, and may cause them to purchase from a competitor instead, so may not be the best solution. It also could mean that the manufacturer is undertaking a lot of work without reaping the full benefit, however many catalogue sites can have the full ecommerce functionality switched on with relative ease, so this could be the first phase in a two-phased approach which eventually leads to full ecommerce.
Drive customers to retail partners
In order to further reduce the impact of an ecommerce channel, driving customers to a retail partner's stores or websites is another tactic. There are a number of tools that can help with this including:
A sophisticated store locator for third party retailers, with postcode lookup, opening hours, address, contact details etc... This can sit alongside a retailer's own stores if they have any.
Promotion and co-ordination of resellers' in-store events, new store openings, product launches and demonstrations.
Provide dealers with downloadable marketing literature, product information and sales tools to help them sell a manufacturer's products.
Bowers & Wilkins
Alongside their 10 international ecommerce sites, Bowers & Wilkins have a comprehensive dealer extranet meaning they support their worldwide dealer network with product datasheets, marketing literature and technical information aimed at assisting them when selling their more technical products – particularly those that Bowers & Wilkins don't sell direct. They also actively drive their website users to those dealers, particularly for their more expensive and sophisticated products that aren't available online. Each dealer is segmented by the Bowers & Wilkins products they offer and the service they provide.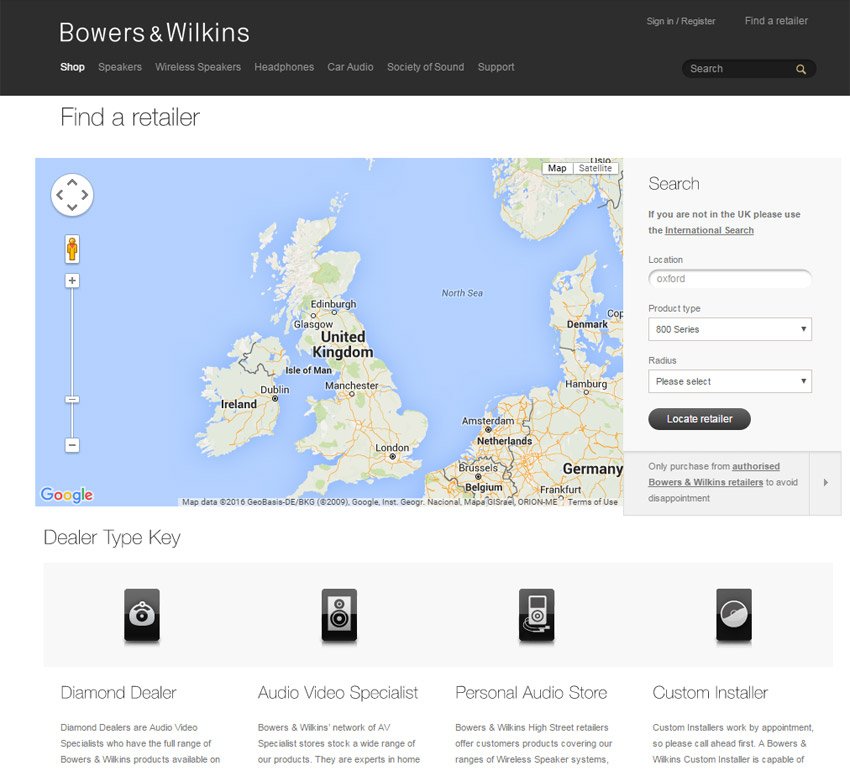 Bowers & Wilkins use their ecommerce site to drive users to a retailer for their high-end speakers, as they require a demonstration
Find out more about our work for Bowers & Wilkins
Pulsin
Pulsin actively encourage visitors to their retailers to discover and buy products. They list their large physical and online stockists as well as listing smaller localised retailers.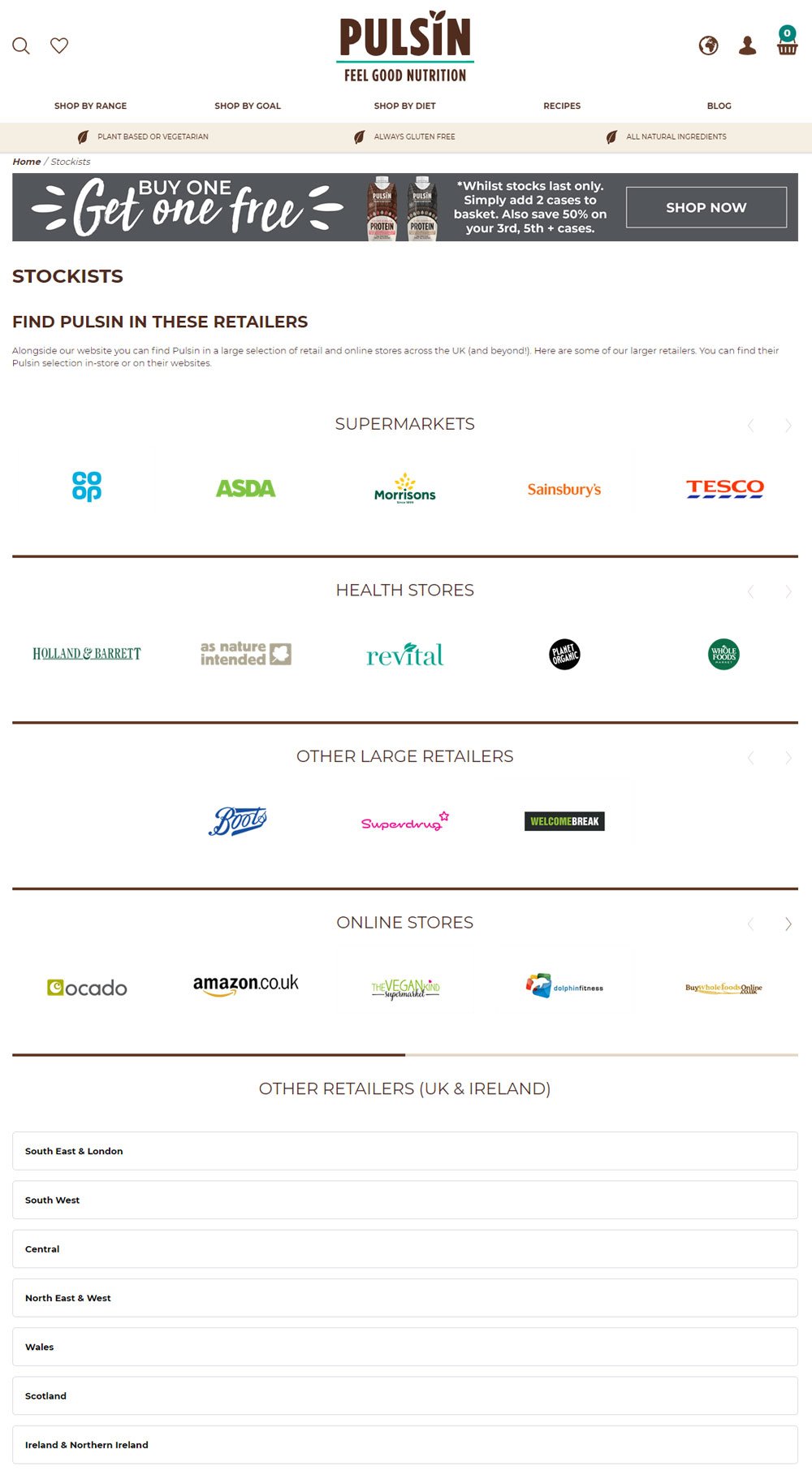 Pulsin use their website to advertise their retailers.
Visit Pulsin
Share the wealth - redirect fulfilment to a partner/reseller
Another solution to help negate the possibility of channel conflict is to create an ecommerce store but redirect the fulfilment of any orders to one or more partners/resellers, or redirect the entire process to a reseller or partner so users are pointed at their website to place the order. This could be set up to include a revenue share/referral for the manufacturers or could be solely attributed to the reseller(s). However, there is the potential for this to cause conflict amongst resellers if one is chosen to fulfil/process orders above the others so this may not be the answer for some manufacturers either. It is also eroding some of the profits.
Launching a Business-to-Business Channel (Internal Conflict - Inter departmental/office/store)
If a manufacturer decides that launching a B2C ecommerce channel to target their end users is not viable, or likely to cause too many problems with their third party resellers, they may still decide to take advantage of the huge benefits of ecommerce by creating an online store for B2B sales. However, this can potentially still cause channel conflict, albeit within their own company, so here are some things for them to consider when adopting the B2B ecommerce route.
Channel conflict isn't just restricted to a manufacturer and their external channels (third party network of retailers/distributors/dealers etc...), it can also potentially exist within the same organisation where different departments/teams/offices are effectively competing against each other. This may be telesales, external sales, ecommerce and retail stores all vying for the same sale, and potentially engaging with the same customer at different stages of the sales cycle.
Avoid omni-channel confusion
With the rise of omni-channel retailing there is an intentional move towards a single customer view and standardised experience across all channels. Most importantly this should create a great experience for customers across any touchpoint, but internally can create a slight blurring of the lines for awarding sales/commissions to internal teams.
The introduction of omni-channel retail services like Click & Collect, Click & Reserve or Endless Aisle in stores mean multiple touchpoints for the same customer, often running via the same system (their ecommerce platform), but who gets credited with the sale – the store or the ecommerce team? Not only that, research shows that those services which drive customers to stores result in an average of an additional £27 spend per visit – so which team's sales figures is that on? In cases like these, how do you manage the process and assign the sale or part of the sale to a specific department/team/store? As the use of Click & Collect, Endless Aisle and other omni-channel services grows the potential for confusion and conflict will only grow.
There is no right and wrong way of handling this and each organisation will be different, but ensuring that guidelines are clear for all can avoid any potential conflict down the line. Some companies may not differentiate between where sales have originated and treat sales as a whole but other companies, particularly with a large sales force or a number of retail stores, will treat every individual or store separately and measure their performance against targets for commission/bonus payments.
Office Outlet
As a retailer with over 90 stores, Office Outlet offer a swathe of services aimed at merging their online and offline channels. One of these services is Endless Aisle functionality where store staff are armed with tablet devices and can place online orders for customers from the shop floor. Despite these orders using their ecommerce platform and being processed by their ecommerce team, they are accredited to the store's sales. This is clear to all staff and ensures store associates are proactive in using the functionality.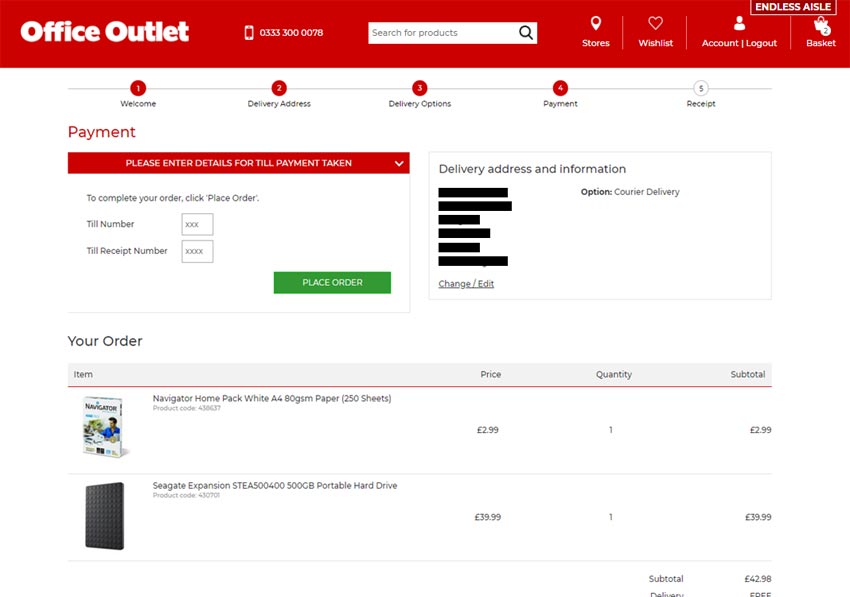 Office Outlet offer Endless Aisle across their entire store estate. Any online orders taken on the shopfloor are all assigned to that store rather that the ecommerce team.
Find out more about our work with Office Outlet
Hotel Chocolat
As a successful omni-channel retailer, leading chocolatier and cocoa grower Hotel Chocolat adopt a policy of trying to drive people to stores, so any online order that is collected from one of their retail shops is assigned to the store in question, rather than their ecommerce team. This makes it easy to manage and is clearly relayed to staff. Whilst Click & Collect is in its infancy this probably isn't too much of a problem but as the uptake of those services grows it may cause conflict down the line, so is definitely something that needs defining for such retailers.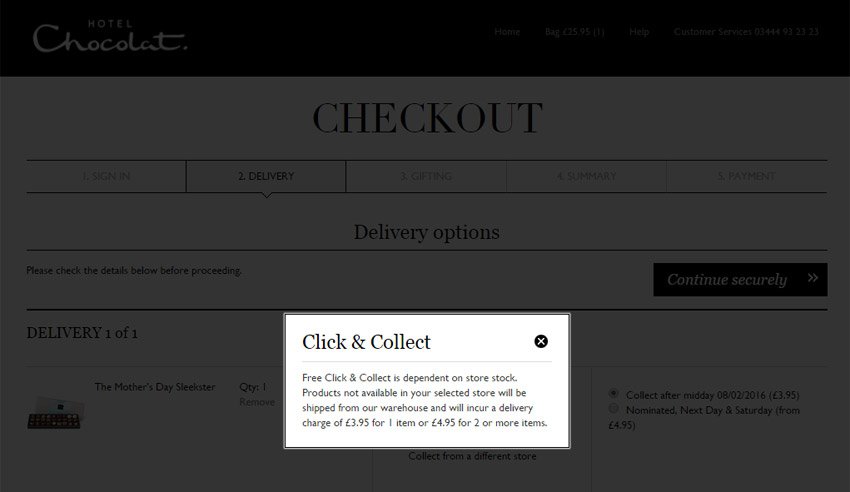 Hotel Chocolat offer Click & Collect from their network of retail stores. Sales collected in store are all assigned to the store or stores the order is collected from.
Find out more about our work with Hotel Chocolat
Collaborate internally (share data)
The data that organisations can glean from their ecommerce site is worth its weight in gold. Information about what their users search for, what they look at, what they buy, when they buy it etc… can all be easily obtained from a website. By sharing this information with either channel partners, or internal sales and marketing teams it can be used as a collaborative tool rather than a source of conflict.
For instance, in a pureplay ecommerce business, users who abandon their basket before processing an order will most likely receive an email asking or incentivising them to complete it. By using ecommerce in a multichannel environment this information could be passed across to a sales team to follow up. This effectively provides the sales team with a warm lead and knowledge of what the user is interested in, providing a great opportunity to up- and cross-sell when contacting them. This may be more effective than even the most sophisticated of ecommerce platforms and is something they would not be privy to without the information provided by the website data. This collaborative approach is another great way of avoiding channel conflict.
Online quotation management
Particularly relevant when trying to avoid internal channel conflict is the concept of an online quotation system as part of the ecommerce website. This allows customers the ability to fill an online basket with products before submitting it for a quotation and can either operate independently of or as part of a full ecommerce basket solution. tradeit's call centre tools (see below) can also be used to generate quotes on a customer's behalf. The salesperson can login as the customer then create a quote for them (adjusting the pricing of each SKU as they see fit - they can even see the margin on each item as they adjust the pricing) before pushing it via email and through the customer's My account to them. The customer can then access it online and place the order. This is a great way for salespeople to still manage their accounts but keep order processing in the customer's hands, freeing up their time. It also provides them and their customers with an online record of all quotes. Salespeople can have access limited to only their accounts as part of the call centre configuration
Hardware.com
Hardware.com is a global provider of technical solutions for enterprise, mid-market and managed service providers who have harnessed the power of an online quotation system to avoid channel conflict. By allowing users to submit a quote request online, their internal sales team can pick up any requests and then submit pricing back to the customer online. The customer can then either convert the quote to an order by checking out or reject it entirely – the length of time a quote is valid for can also be defined.
This means that there is less processing of information by the sales person, as both customer and product details are completed online, with a lot less wasted time on the phone, but they are still in control of their pricing, margins and customer relationship management. It also means that at any stage in the cycle, the salesperson has the option of picking up the phone to discuss a customer's request with them. It is an ideal marriage of the online and offline worlds for B2B ecommerce.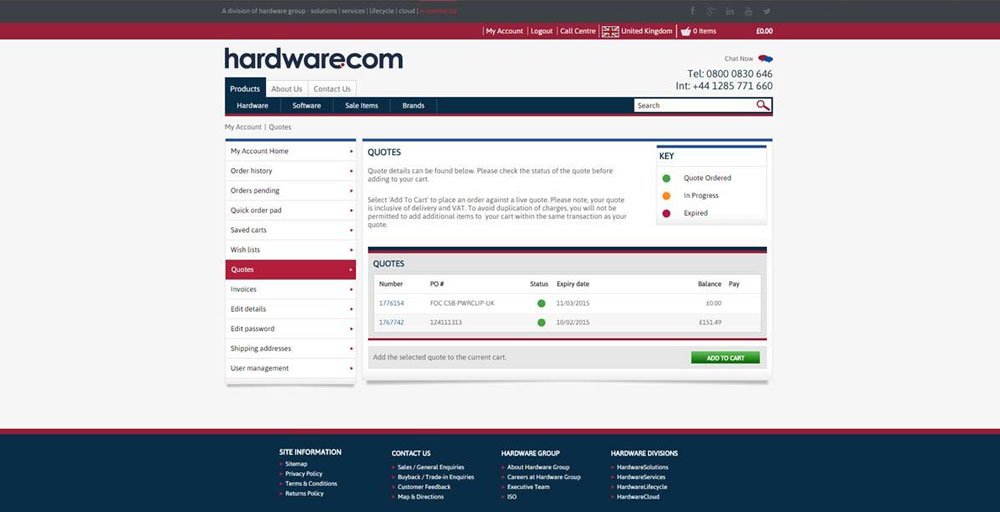 Find out more about our B2B Ecommerce solutions
Call Centre (Single Customer View)
By using an ecommerce platform that includes a Call Centre/MOTO engine, it allows companies to obtain a single view of their customer's online and offline activity meaning they can gain even greater knowledge about how their customers choose to order with them and via which channels. This helps in the spread of information and sharing of data within an organisation. Whether it is directly online, via email, mail or over the phone, using the call centre functionality as part of their ecommerce offering enables organisations to replicate everything their end users see, create a consistent experience across all channels, provide them with a far superior level of customer service and avoid internal channel conflict.
We also have some B2B customers who use the Call Centre/MOTO tools within tradeit proactively. By assigning account managers to each user they use the functionality of the website to manage their customers (handling quotes, pushing orders through the system and having a view of all activity in one place) freeing up more of their time to chase and acquire new business. They can even use the system when speaking to customers on the phone in real time and change individual prices on the fly (on top of any existing pricing structures that maybe in place with that customer) to try and close business.
Do it anyway
This last option is not really a way of avoiding channel conflict and is more likely to create it to be honest. However, some manufacturers may not be concerned enough about their channel partners or the internal conflicts that a new ecommerce channel could potentially create, so may launch one anyway. There is a groundswell of opinion that ecommerce is changing the landscape for these businesses and that it will become inevitable sooner rather than later, so they may as well launch it now and try and get ahead of their competitors.
Conversely, some resellers may also not be concerned about a manufacturer going direct to market, particularly if they only sell a niche range or only sell at RRP. They may think that their long-established channel, customer relationships and ability to discount will not be affected by the manufacturer selling direct, particularly if the manufacturer is actively driving business to them as well.
See the webinar
What to learn more about how to avoid channel conflict with ecommerce and see how some of the UK's leading companies are managing it? Then register for our webinar today