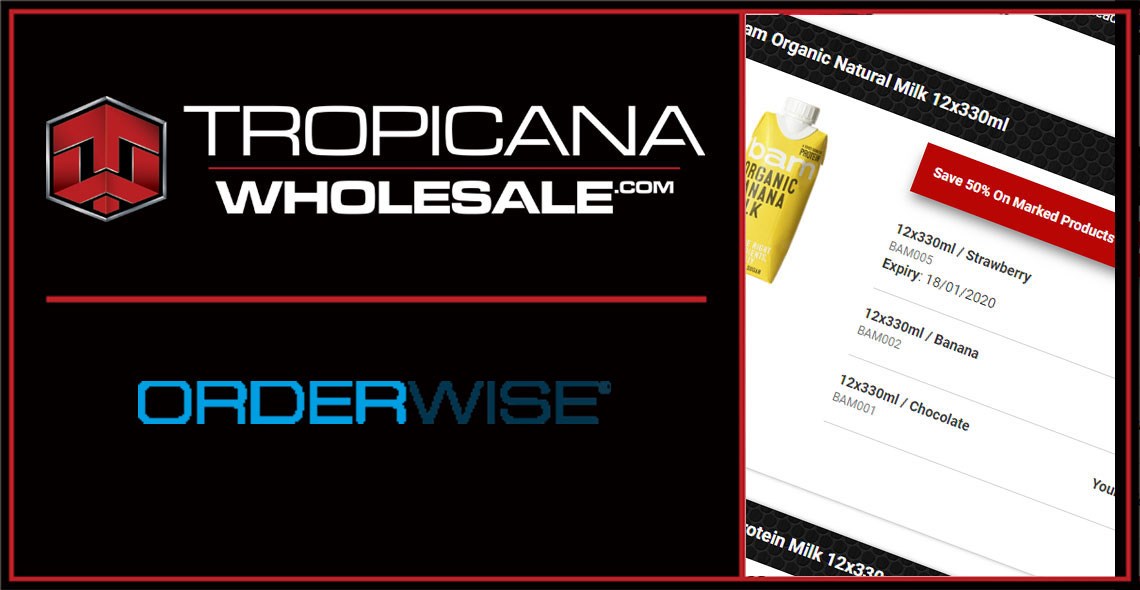 insights
CRO Lab - Optimising ecommerce promotions for FMCG and short shelf life products
Friday, 18 September 2020
As expert integrators, we understand the huge benefits that a merchant can gain through seamlessly integrating their ERP or back office systems with their ecommerce platform. However, using the power of the tradeit ecommerce platform some merchants can take it a step further by fully automating processes to enhance their merchandising and promotions online through integration with their ERP.
For example, Tropicana Wholesale are the UK's leading sports supplements distributor and wholesaler offering many products with a short life span so have an extremely aggressive promotion policy, running multiple offers and discounts across many of the brands they sell. They have three product categories dedicated to promotions and run hundreds of different offers at the same time which often overlap. Managing those across the thousands of products on their site can be quite challenging so any automations they can set up to make things easier are a great help.
They run a OrderWise system integrated into the tradeit ecommerce platform with stock and batch information passed regularly between the two systems, including the expiry date of each batch and the number of products within that batch. Due to the nature of the products they sell, many of them carry expiry dates so ensuring a regular turnover of stock is important to make sure they are not left holding huge amounts of out of date stock. In order to address this potential issue they have created some automatic procedures, promotions and merchandising based on the movement and expiry dates of stock. This includes:
Automating the adding of products to their 'clearance' category based on the expiry date. In this instance, if the expiry date of any batch of those products is within a pre-determined time limit they are automatically added to the clearance category and a discount is applied (as defined by the merchant). Once the products from that batch are sold, they are moved back out of the clearance category and the discount is removed.
Setting up products to automatically be moved to a 'flash sale' category if sales have not reached a defined level within a certain time period, with a discount automatically applied. If any of that product is then bought, the product will move out of the flash sale category the following morning. If the product remains in the flash sale category without being bought, once the expiry date falls within the defined time period, it then is added to the clearance section (as above) as well, and the discount is increased with that greater discount taking precedence over the flash sale.
Where free gifts are available as part of an offer, if they aren't in stock, automatically removing that offer from the site until the free gift becomes available, then re-applying the offer once it does. If multiple free gifts are available as part of an offer, only those free gifts that are out of stock will be removed and if all free gifts are not available the entire offer will be removed until one or more of them are back in stock where it will be reapplied.
Automatically adding brand restrictions based on country, so if a brand is not available in one country it will not show to any user whose billing address is based there.
Make products live/not live based on their lifecycle status. When all variations of a product have no stock, make the parent product not live and if all the parents within a brand have no stock, make the brand not live.
Removing products from the new products category based on their flag expiry date (merchant definable). For example, if a product is flagged as 'new' for 3 months, after that time it will be removed from their new products category
Automatically pushing credit notes and invoices from OrderWise to the relevant customer's account. Customers can then view and pay invoices online, including using credit notes to pay outstanding invoices or future orders online.
The tradeit ecommerce platform has been integrated with numerous ERP systems including the likes of OrderWise, Microsoft Dynamics NAV, SAP Business One, Winman, Microsoft Dynamics AX, Sage 200, Sanderson Elucid, Access, Pegasus Opera, Hansaworld, Intact, Linnworks, Caliq and many more. Get in touch to see how we can help automate your online processes through integration to your ERP system.
---
Ecommerce for the Health & Nutrition Industry
With proven results in the Health & Nutrition industry, our highly evolved tradeit ecommerce platform can help you take the next step. We work with some of the leading brands and have implemented flexible, robust and scalable ecommerce solutions to help them succeed.