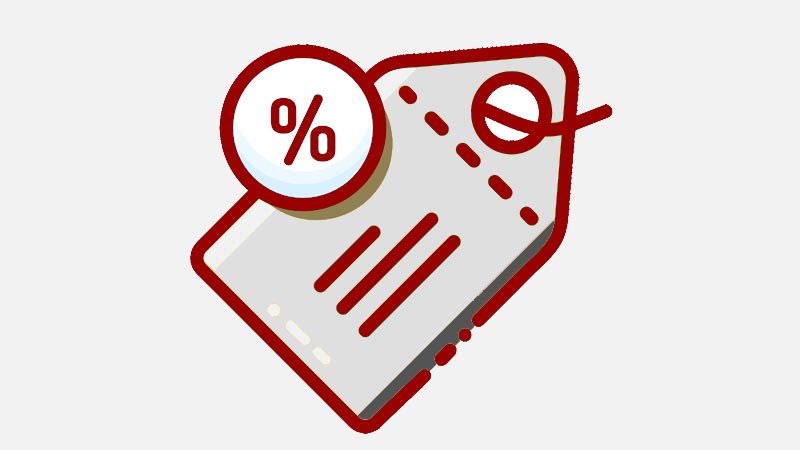 insights
Why a class-leading promotions engine is essential to your online success
Tuesday, 19 February 2019
Much like physical stores, promotions have been a recognised marketing strategy for online retailers since the early days of ecommerce. While the techniques and options available to merchants have evolved significantly, their aim is still the same: to get users to purchase, purchase more, and come back to purchase again.
It's commonly accepted that promotions and offers drive sales but with increased competition the capability of a sophisticated promotions engine, like that in the tradeit ecommerce platform, is crucial in providing the scope and creativity needed to distinguish yourself from your competitors. Let's examine all the reasons why.
Why use an ecommerce promotions engine?
To grow revenue
Like we've already mentioned, online promotions and offers drive sales, and anything that drives up your sales is good right? Right. As long as you're not discounting so much that it's affecting your bottom line. With a competent reporting tool you should be able to see how many people took advantage of your offer and then calculate whether the increase in sales negated the cost of delivering that offer. By analysing each promotion you run, you can determine which are most effective. Constantly testing and honing your promotions is key to success.
Increase conversions
We're all aware of the cost of gaining new business so when visitors hit your site it's important to try and convert them, there and then. The reality is that the large majority of your visitors won't convert so a small increase in those that do can have a significant effect on your business. Promotions aimed at converting visitors can be extremely effective when delivered properly. Common promotions include discount on your first order or pop-ups when a visitor is about to leave the site incentivising them to stay and convert (We'd always be wary of overusing pop-up ads as they tend to alienate most users). Automatic, triggered emails on abandoned baskets is another common and successful technique, particularly when combined with a promotion or offer, to re-engage and help convert visitors.
Drive strategy
Many ecommerce businesses schedule their promotional activity around key dates in the calendar, often linked to holidays and events such as Christmas, Easter, Valentine's Day & Mother's Day, so basing your strategy around these is a good way to plan your promotional activity for the year out in advance.
Help engage with users
For many retailers, promotions offer a direct way of communicating with their audience in much the same way that a shop assistant may tell you about offers in a shop or inform you about the location of a sale rack when entering a physical store.
Example discounts & offers
We've seen the value in setting up and using ecommerce promotions and one mark of how powerful your ecommerce promotions engine is, is the scope and breadth of discounts and offers it can offer. Not only that, it should always have the ability to add exclusions (whether they are products, customers, times etc…) to whether offers are available or not, giving the merchant greater flexibility over promotions.
Percentage off an order
One of the most commonly and widely used promotions is % off an order. It's a great way of clearing unwanted or overstocked items and is often used by merchants during sale seasons. It's can also be used as a reward for an action such as newsletter sign up. This can also be linked to spend by only being eligible when you spend a certain amount (i.e. get 10% off your order when you spend £50 or more).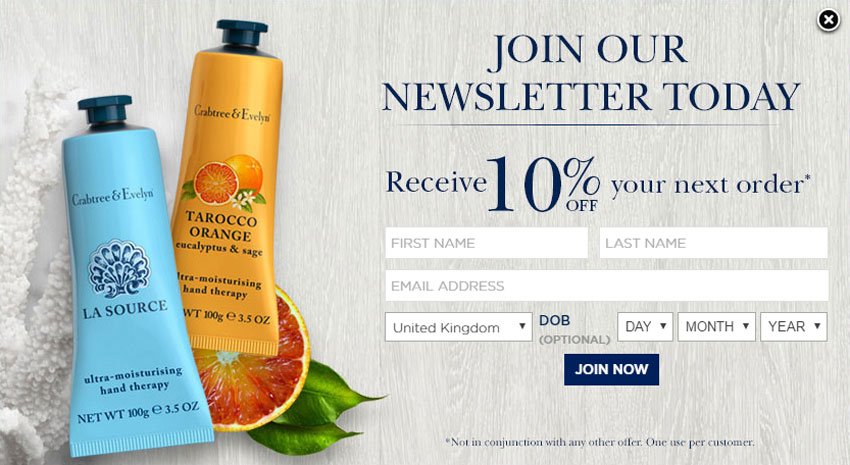 Percentage off a product(s)
A more selective promotion which allows you to discount more precisely against individual products or groups of products. It's often a good way of helping to get rid of stock that is hard to shift without giving away unnecessary discounts on better selling items. (i.e. 10% off all T-shirts). Again this is likely to have a minimum spend associated with it.
Amount off an order
Instead of giving a percentage off an order, you can offer a fixed amount. This could be a different amount for different currencies or even different for different users depending on how powerful your promotions engine is. (£10 off all orders).
Amount off a product(s)
If you don't want to give money off an order but still want to try and move some particular items, you can offer a fixed amount of money off an item or items. Again this could be a different amount in currencies or for different users (£10 off any pair of shoes).
Fixed price product
You may have a unique product you want to push or have received a special rate from your supplier on a particularly item, so offering a product for a fixed price is one way of promoting this. (i.e. All 500g protein powders now just £29.99).
Free product/gift/sample/wrapping
Sometimes a complimentary item, or additional service, offered for free, can help push users over the line. (i.e. Free shaker with all 500g protein powders or Free gift wrapping on all orders today).
Free shipping
Possibly the most common promotion of all but one that is proven to deliver results. According to research, free shipping is the most effective promotion when trying to get people to convert, although there is an obvious cost to your business. For this reason, as with other promotions, it is often linked to a threshold spend, helping to drive up average order value too. (i.e. FREE shipping when you spend over £50).
Promotional bundles
Another common promotion type but with a range of possibilities. It could be simple offers such as multiple products for a fixed amount such as (buy 3 DVDs for £10) or multiple products with one free or discounted (i.e. Buy One Get One Free or Buy one get one half price) or combinations of different products, brands, or groups offered in conjunction with each other. Offers can also be aggregated so that buy 3 get one free can mean buy 6 get 2 free, buy 9 get 3 free etc… although that is not common.
Product bundles
Alongside the usual promotional bundles, with a more sophisticated promotions engine, like that found in tradeit, there is scope to offer pre-configured bundles or kits, whereby items are grouped together and offered to the customer at a discounted rate. There is some flexibility with item variations within them such as different items, sizes, colours and flavours but for the most part they are pre-selected by you.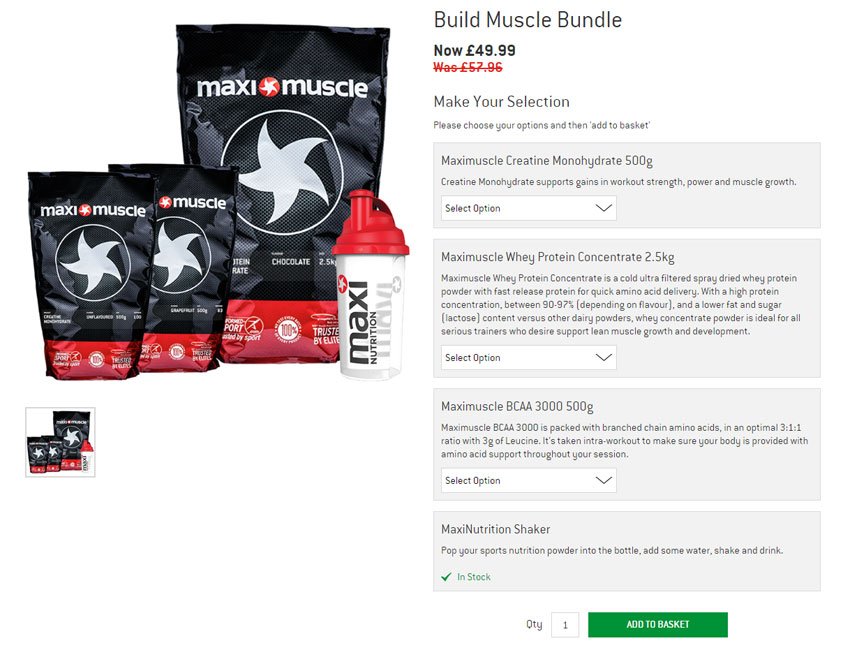 Coupons
Another common promotion type but with a range of possibilities. Whilst the offers can be the same (percentage off an order, free shipping etc…) the key difference with coupons is that they require some user interaction in order to trigger the promotion. This means that you can keep more control over who uses the coupon (it can be limited to one-time use per customer or to a fixed number of uses across the site, only sent to a select number of people, or only valid on certain user's accounts) and who is available to take advantage of the offer.
Tiered spend and save discounts (thresholds)
This is a great way of incentivising users to spend more than they would have by basing the percentage discount, or amount of money off, on the value of their basket (i.e. spend over £50 and get 5% off, spend over £100 and get 10% off; or spend over £50 and get £5 off, spend over £100 get £10 off). Using analytics to understand your average order value is a good place to start from. Setting the threshold above your existing AOV is a great way to drive it up. (i.e. If your AOV is £40, it could be worth offering a promotion on orders over £50 to try and drive your AOV up).
Our tips for ecommerce promotions
Get creative & personalise
Most savvy online users now almost expect promotions every time they visit websites, either through affiliates or directly on your ecommerce site. However, it's important to still try and be creative not only in terms and types of offers, but also in how you present them to the user and how beneficial they are to you (i.e. do they end up costing your company money – in which case try something else!). Sending the same 10% off your order email every week is quickly going to lose its appeal and reduce the perceived benefit to the user.
If you're a looking at running more complex promotional strategies, the capability to personalise offers to different users should form a key part. By targeting existing customers or cookied users from previous visits you can adjust your promotional strategies based on who they are, what they've bought (or not bought), what they searched for, which products they viewed, what's on their wish list etc...
By analysing the results of any promotions you run, you can see which are the most effective or which need tweaking or improving.
Often enough, but not too often
The frequency of promotions that you run will likely depend on the types of products you sell and your online strategy, but you need to be wary of over saturating your users whilst still remaining on their radar. As previously mentioned, tying promotions to specific events and holidays is a common strategy which can help give an overall timeline to the offers you run, but you should also include scope for other opportunities to drive sales such as flash sales, first time orders, abandoned baskets etc...
Ease of use
Although it's definitely beneficial to get creative with your promotions, having offers that are too complicated or full of caveats and exclusions is only going to confuse users and stop them converting. Anything that requires too much effort or is difficult to understand will not deliver the results you want.
Whilst it may be necessary to enforce certain exclusions or limitations on some of your promotions, where this is the case it is vital to inform users as soon as possible. There's nothing more frustrating and more likely to stop conversions than for users to get all the way through the checkout before finding out that they don't qualify for the offer, the item they have added is not included in it, or the promotional code they have is not valid.
Avoid distractions
Whilst it's important to make users aware of your offers throughout their journey it's important not to distract them when they are about to check out. Making them aware of discounts or offer codes throughout their journey also helps avoid them having to go back or check emails to find out discount codes just when they're about to buy. Many retailers opt for an enclosed checkout to avoid any distractions.
Create urgency
Fear of missing out on a special discount or lower price can help drive sales. By putting a time limit on any promotions or offers it helps to create the necessary urgency to get users to convert at the special price, or take advantage of the offer. It can help give them the last little push over the line and help retailers convert.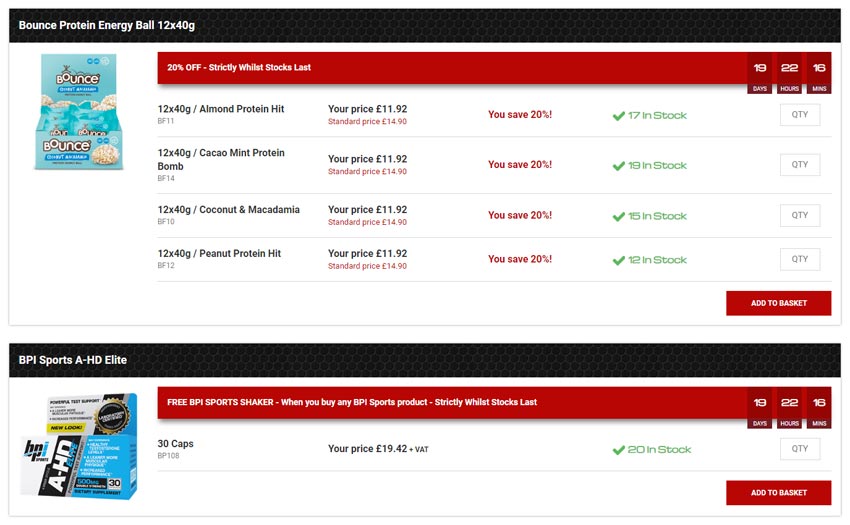 Tropicana Wholesale use countdown timers on each individual offer so customers know exactly how long the promotion will last
Choose when to engage
Depending how smart you want to be, you can begin to communicate offers to users as soon as they land on your site (remember over half of your visitors will leave your site within 15 seconds so it's good to strike early). A common approach is often to use a pop-up advert as soon as they arrive or go to leave but these are often ignored and seen as an annoyance, so you may need to get creative with your approach.
Another useful tactic to employ (on known users whose email address you have) is to send promotions and offers to any abandoned basket email campaigns to drive conversion. However this tactic needs to be used sparingly as consumers will soon get wise to it if a discount is provided every time they abandon their basket.
To find out more about tradeit's class-leading promotions engine and how to go about devising your ecommerce promotional strategy, then contact us.