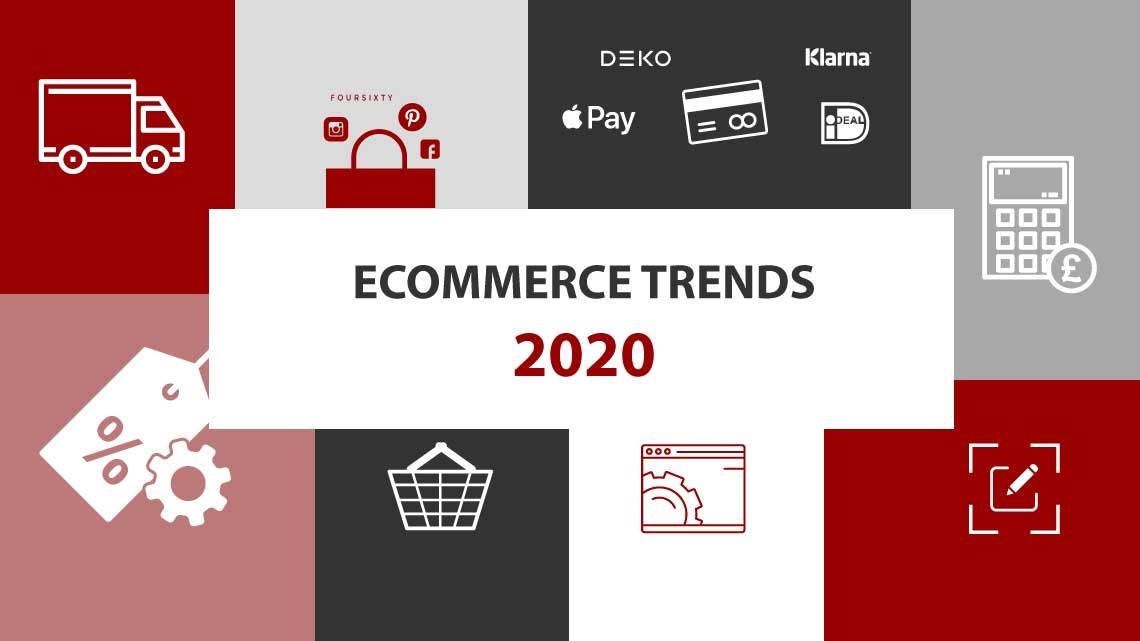 insights
Ecommerce Trends 2020
Thursday, 02 January 2020
As it's now the start of 2020 our team of experts have put together their shortlist of the trends they expect to gain traction or emerge in ecommerce this year.
Automated Promotions & Merchandising
Offers and promotions have been part of retail and ecommerce for years and with increased competition across most industries, their prevalence has only increased. However, promotion-rich sites can be quite labour intensive and take a fair bit of managing, particularly if different offers are layered on top of each other. This can often result in customer confusion, internal mistakes, or over complication. 2020 will see more companies moving to automating online promotions based on certain factors or rules.
For example, Tropicana Wholesale are the UK's leading sports supplement distributor supplying thousands of gyms, websites, personal trainers and sports supplement stores. Many of the products they sell have short life spans so it's vital to their business to ensure a regular turnover of stock. In order to help this process, they have automated promotions whereby if a product falls within a certain time period near to its expiry, it is automatically added to their clearance section with a discount applied. Once the items have been sold, they are removed. They have also automated the addition of products to a sale category where they haven't sold for a particular time period to keep the movement of stock and increase cash flow. They have also automated promotions of certain brands products to certain customers to try and encourage them to buy more.
Increased Fulfilment Options
Poor or inflexible fulfilment options are still a major cause of basket abandonment and one of the main barriers to checkout. This particularly applies to shipping costs, fulfilment times, and available options that a retailer offers, and how they are communicated to their customers.
Delivery is an area that can bring a lot of complication, but the flexibility of tradeit means that all options can be catered for. For example, large-format printer support services supplier, Papergraphics, enable their customers to choose from a number of fulfilment options including 2-3 working days, next working day, next working day before 10:30, next working day before 9, collection from their warehouse, and arranging their own carriage. Not only that, the price shown for each service will be affected by whether you are a reseller or end user, where you are shipping to, and what you are buying (consumables, equipment, mega rolls) which is all calculated in tradeit.
If your fulfilment model includes stores, tradeit can also deliver click and reserve or click and collect fulfilment options at the basket. For example, F.Hinds offer reserve online, buy in-store at each of their 115+ locations with the availability and movement of items between their warehouse and any stores all calculated on the fly and communicated to the customer during checkout. This enables the customer to see where any product is at any store and the exact time and date from which that item would be available for collection at their chosen store.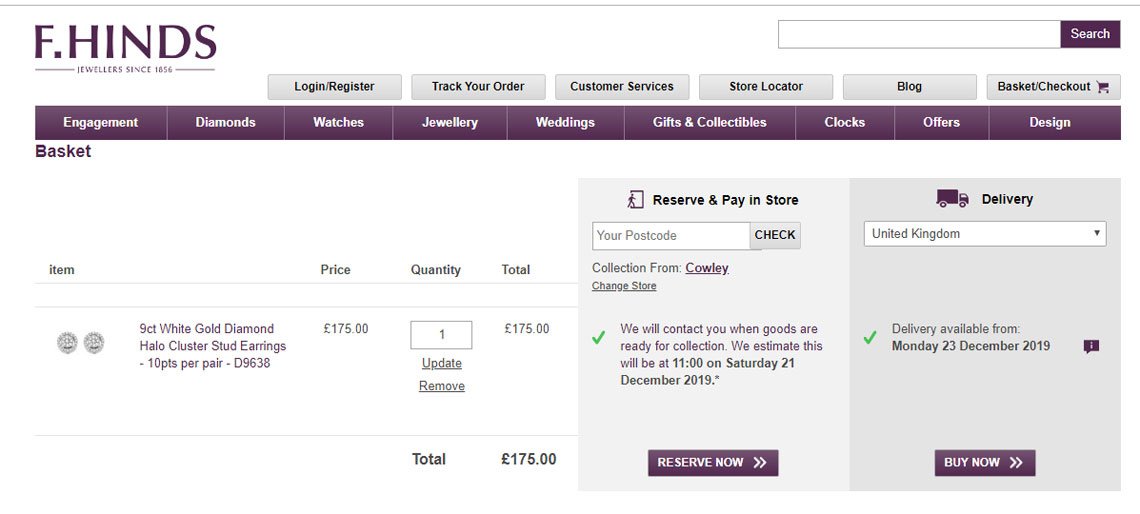 A frictionless checkout with flexible fulfilment options that are clearly communicated to the customer is essential to reduce basket abandonment.
Social Commerce
Social commerce has been seen as the next big thing for a few years now and with approx. 2.95 billion people (1/3 of the world's population) using social networking in one form or another it's easy to see the attraction. Instagram's 'checkout' function and Pinterest's Buyable Pins have been around a while now and have made the ability to buy from the page easier than ever. However, there are numerous tools available to help purchasing from the page within the confines of your own ecommerce site meaning you have even more control over the relationship.
For example, leading gift retailer and wholesaler Sass & Belle highlight products within their 'SB Style' content pages that users can then purchase directly from their site. It's a great way to cleverly combine content and commerce, but still keep users on their own ecommerce site.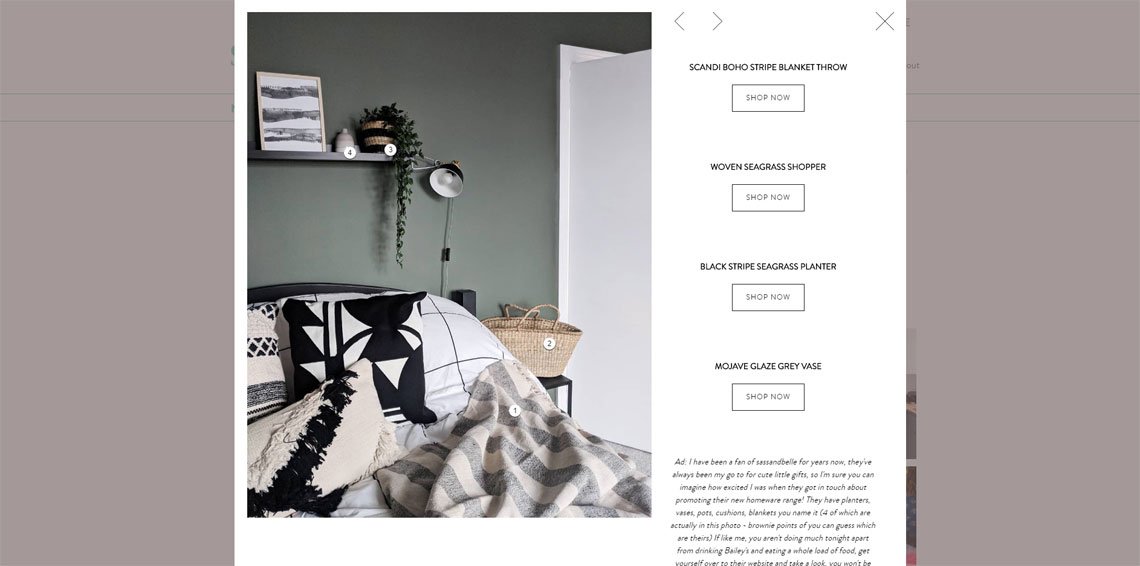 D2C Ecommerce
The growth of D2C ecommerce will continue as more and more manufacturers realise the benefits of selling directly to their end users. With less reliance on more traditional sales models, companies will invest more in D2C ecommerce giving them greater influence over their end users, provide a 24/7/365 sales channel, and offer the ability to showcase and sell their entire product range in one place, amongst other things.
Learn more about why we think manufacturers should be trading direct online.
One side effect of this growth is that it should force wholesalers and distributors who are being circumnavigated by this process, to improve their ecommerce offering and service in response. That should mean more functionally rich, faster ecommerce stores with improved service levels from those distributors and wholesalers who want to stay relevant.
We work with numerous manufacturers such as Electrix, Winsor & Newton, Amoena, Sass & Belle, and Morphy Richards who all operate a successful D2C ecommerce channel as part of their online strategy.
See our insight into avoiding internal and external channel conflict with ecommerce to learn more about what potential problems to look out for when selling directly to the end user.
Pricing Management
In the same way that content is being personalised more and more, pricing will begin to be personalised for different customers to try and generate the most margin but still close sales, particularly in a B2B environment.
For most B2C sites price management is fairly straightforward but in the world of B2B ecommerce things are significantly different. With different customers entitled to different prices on different products and brands, as well as functional differences like quantity breaks, MOQs, and quantity steps, managing pricing is not a straightforward process and often involves numerous price lists being carefully curated and managed offline before being imported to an ecommerce site. This is extremely labour intensive and difficult to manage so tradeit now features a price list manager that allows merchants to set a % value (discount or addition) against a single parent price list for products, product group and customers. That means that all pricing, no matter how unique or bespoke, can be determined and managed from just a single price list significantly reducing the resources and complexity involved in managing hundreds of different price lists for all customers.
Increased and More Flexible Payment Options
Whilst it is unrealistic for all merchants to cater for all payment options to all different types of customer, ensuring they are providing most customers with the options they want is becoming ever more important. Expanding payment options beyond just credit/debit cards is becoming the norm. Thus 2020 will see more retailers expanding the payment options they offer to include many of the new payment options that are growing in popularity such as e-wallets (Apple Pay, Google Pay etc…) and financing services that allow customers to buy now and pay later (Klarna, Deko etc…) . If you trade internationally, being aware of preferred local payment preferences can also help you succeed in those markets.
For example, on their Dutch channel, Amoena offer customers the ability to pay using iDEAL which is the most popular online payment method in the Netherlands and used by over 84% of the population.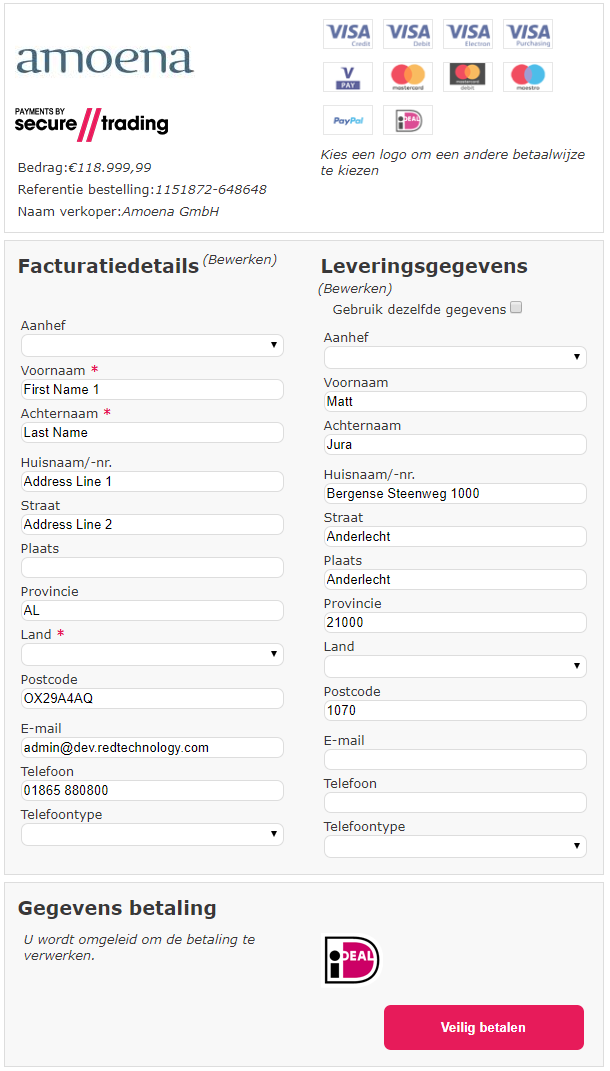 Learn more about how payment flexibility can be crucial for increasing conversions, AOV and serving international markets.
Dynamic Content
Our experts believe that the long awaited move towards personalised content will finally gain more traction in 2020. Harnessing the power of AI, this means that users will be served content, including adverts and promotions based on their actions and their profile (if they are known or logged in) meaning each experience delivered to customers can be unique.
tradeit features dynamic content across webpages allowing merchants to create conditional content based on any component within the system. This enables them to serve any type of content they want, to any user they want, based on a huge range of conditions and/or data. So for example, different adverts, promotions, and product carousels can all be served to different users based on who they are and/or what they do whilst on the site. tradeit supports a number of components and conditions giving merchants huge flexibility with both the design and makeup of the content they serve.
Product Personalisation
There's still a demand for personalised products online as being able to customise the product means users are much more likely to convert if they go to the trouble. Not only that, offering personalisation services is a point of different for retailers from their competitors.
For example, greetings card retailer, Scribbler, offer customers the ability to personalise any of the cards they sell with unique messaging printed within them.