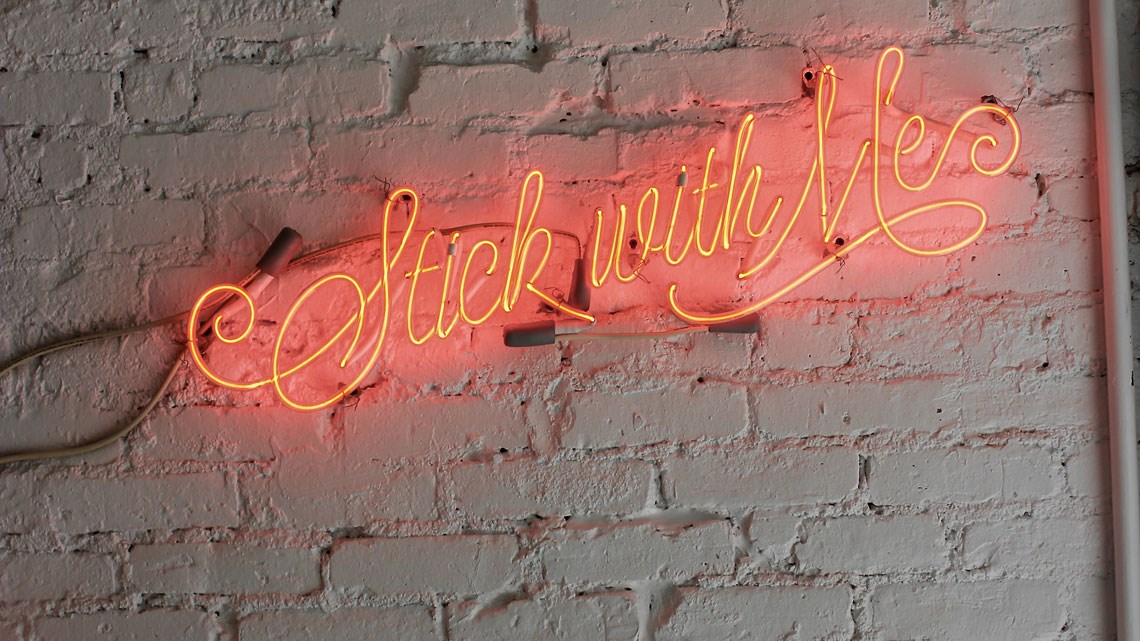 insights
Why a loyalty scheme MUST be part of your ecommerce armoury
Wednesday, 21 November 2018
Great products, customer service and pricing might not be enough to keep you ahead of your competitors any more. With competition for customers increasing all the time, and threats cropping up in even the most unlikely of places, a loyalty scheme is a great way to entice your users to return and keep returning. The advent of the new GDPR has also made it more expensive, difficult and time consuming to acquire new customers, so retaining those ones you do have, and getting them to spend more, is now even more important than ever. An online loyalty scheme should be a vital part of your ecommerce armoury, so let's learn some more about them.
What is a customer ecommerce loyalty programme?
A customer loyalty programme is aimed at rewarding customers through various benefits for their repeat business. The make up of those benefits can take many forms but should have the same purpose of trying to drive customer loyalty through converting new customers to repeat customers, and ensuring repeat customers continue to buy from you.
Loyalty programmes have been in existence since 1896 when the S&H Green Stamp company sold stamps to retailers who gave them out to their customers, and grew in popularity through air miles and supermarket loyalty schemes more recently. However, the advent of ecommerce means rather than collecting physical stamps or using a plastic card, everything can be driven online, making them much easier to administer for both retailers and customers.
The value of ecommerce loyalty schemes
It's a well-known fact that the cost of acquiring a new customer is six or seven times greater than the cost of keeping an existing one. It's also been shown that loyal customers spend up to 31% more than new ones and are 50% more likely to try new products too. What's more, 83% of customers agree that loyalty programmes make them more likely to continue doing business with a company and over 75% of those loyalty programmes generate a positive ROI.
When the statistics are that clear, it seems blindingly obvious where retailers should be spending most of their marketing buck. However, only 51% of retailers offer a loyalty programme to consumers, so what are they missing out on?
Advantages of an integrated ecommerce loyalty scheme
Loyalty programmes help create a better customer experience
They focus your attention on the most valuable and profitable segment of your customer base
Help distinguish you from your competitors
Your members are more likely to eulogise about you and recommend your products and services
They're suitable for almost any industry vertical, product or service
No complicated integrations or management of yet more suppliers or third party systems
Can be fully administered by existing staff
Encourage users to return to purchase further items, building a strong base of regular customers and referrals
Being part of your ecommerce platform means it works alongside other functions such as promotions, triggered emails etc…
Helps produce great lifetime cost per acquisition ratio from your customers
Increase your ROI
The make up of a loyalty programme
Loyalty programmes are not always the same and can often work in different ways. Let's examine the typical things to consider when deciding on whether and how to run your loyalty programme:
1. What actions will be rewarded?
Some loyalty schemes offer customers rewards for various different actions such as recommending a friend, registration, social sharing, writing a review etc…. However, the most successful programmes reward purchases, and repeat purchases, and only that. Rewarding customers for other actions becomes difficult to manage and is more open to abuse. We recommend only rewarding purchases. For variations, you can offer different one-off promotions attached to your loyalty programme, such as double points days or free delivery for loyalty programme members, rather than blur the lines into rewards for non-transactional actions. What's more, it's important to debit any rewards/points from purchases that are returned by customers, as they are no longer eligible to receive them.
2. What rewards will customers earn?
The most common and easiest to manage programmes are always the simplest. Anything that requires much (or any) manual customer input, convoluted sign-up, or restrictive terms and conditions is just not going to work very well.
One of the loyalty programme options in tradeit is a simple points-based reward scheme (used by the likes of Maximuscle or Zeus Packaging) where merchants can define the value of points for collection and redemption, meaning points are credited to every customer, every time they buy. Once registered on the site, they are automatically enrolled in the programme, and are automatically earning points for everything they buy without having to take any action themselves.
The platform also features another option of a 'Spend and Save' programme (used by the likes of Tropicana Wholesale) which also enrolls customers automatically and is aimed at incentivising them to spend more than during a previous time period, with the reward of a discount off a future order. The third form of loyalty scheme, albeit less obvious, is pre-payment. Using this option, customers can buy credit (usually at a discounted rate) against their account which can be used to make future purchases (used by the likes of Scribbler). Using this method means that customers are tied into spending that money with you in future, rather than elsewhere.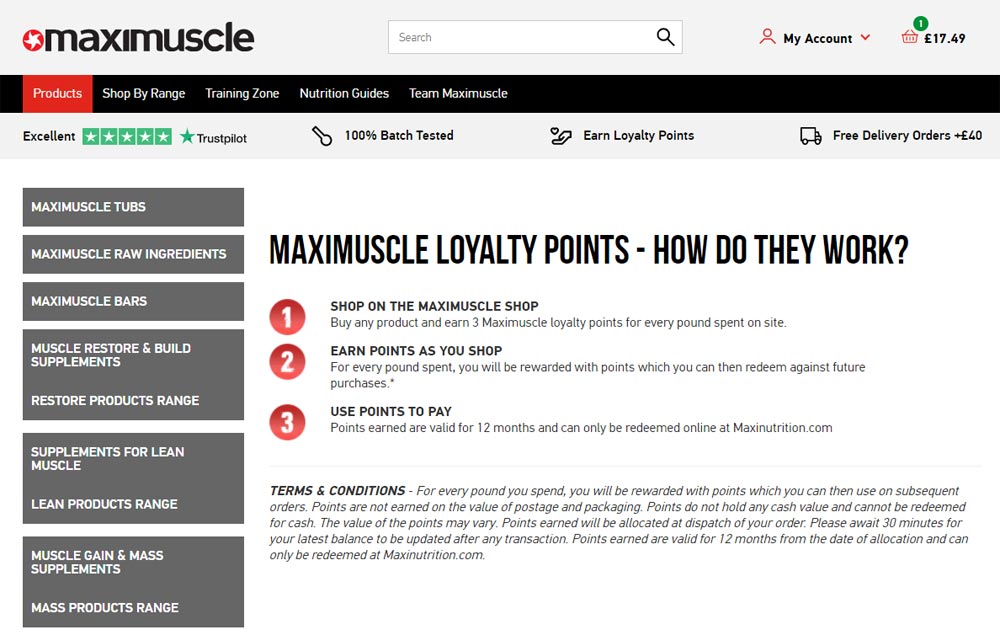 Typical tradeit, points-based loyalty scheme, as used by Maximuscle
3. How will customers redeem their rewards?
As with earning rewards, redeeming them needs to be simple too. The tradeit loyalty programme enables merchants to use previously earned points as a form of payment, or part-payment, on future orders, or earn a reward on a future order, perhaps in the form of a coupon code. Both are simple for the customer to apply and redeem. If using the pre-payment option, credit can be applied to pay or part-pay for any order.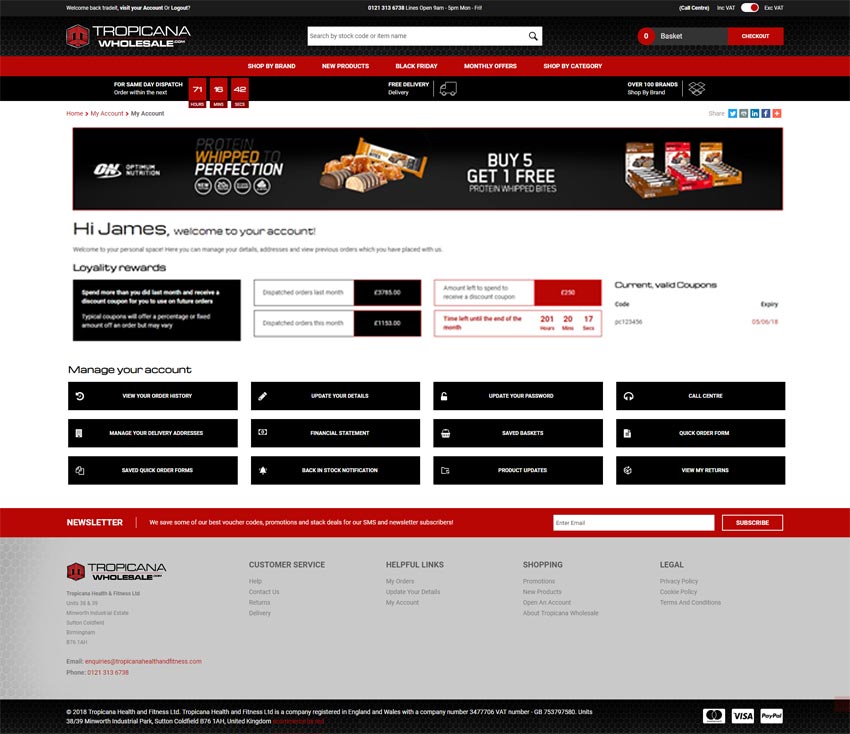 tradeit's spend and save loyalty scheme, as used by Tropicana Wholesale, showing in the the user's My Account
4. What are the rules/limitations of the loyalty programme?
There may be some basic rules and limitations to those who qualify for inclusion into the programme which you need to determine. There may also be some basic caveats regarding the collection and redemption of points to avoid fraud or abuse. For example, they might only be valid for UK customers, those who have registered (not guests), they're non-transferrable, and won't be valid on VAT and shipping costs etc... or if using the pre-payment option it would be reasonable to stop customers buying further credit using their existing credit (and therefore getting further discounts).
Whilst it is not unreasonable for a merchant to add some basic terms and conditions, including too many restrictions will alienate and annoy users. If you apply an expiration date to points/rewards it's vital to ensure this is communicated to customers so that they don't lose rewards they have earnt. Losing hard-earned rewards for loyalty because of hidden Ts & Cs will have the opposite effect, it will only decrease customer loyalty.
Measuring the success of your loyalty programme
There are a number of metrics that you can measure when evaluating the success of your ecommerce loyalty programme. All metrics should be measured pre and post the introduction of a loyalty scheme to give you an idea of any differences. The size and type of business that you operate, alongside the KPIs that you are already measuring, and the resources you have available, will determine what is relevant or practical to measure, but could include:
Customer retention/negative churn rate
Measured over a given time period (monthly, quarterly, yearly etc…), the customer retention rate measures the number of customers you have retained during that time. To calculate your retention rate take the number of customers you have at the end of your defined time period, minus the number you had at the start of your defined time period, excluding any new customers acquired. To calculate it as a percentage just divide that number by the total number of customers at the start, and multiply by 100. You can also examine the difference in retention rate between those customers enrolled in your loyalty programme and those who aren't, to see if it is helping to retain customers. Given what we've said about the cost of acquiring new customers, this is an important metric to measure.
Repeat Purchase Rate (RPR)
The Repeat Purchase Rate is the percentage of your customers who come back to your website/store to make another purchase. This tends to be over a defined start and end date between visits to give you the RPR over a defined time period. To calculate this metric divide the number of repeat customers by the number of total customers. Then just multiply that number by 100 to get a percentage. Obviously, the higher the percentage, the better.
However, what you sell and the quantities you sell it in will heavily influence this metric, so what's classed as a good score will vary massively between different businesses and industries. For example, for a company selling subscription-based products this number should be high, but for rarely purchased items like white goods, this metric wouldn't really show much or add any value. The number of items you sell would also influence the data as department stores like Amazon or John Lewis will have a higher rate due to the sheer number of items they sell when compared to a niche business selling only a handful of products.
An extension of this is to not only look at the repeat purchase rate but to also examine how many of those people order not only a second time but a third, fourth, fifth etc… this will give you an even better idea of your most valuable and loyal users. This is important as the chance of a customer continuing to return rises with each visit.
Activation Rate
The Activation Rate measures what percentage of your customers are actually using the programme. This gives you an indication of whether your customers see much value in it. If the activation rate is low then you may need to increase the marketing of your programme or rethink how it works to get more customers using it.
Redemption Rate (RR)
Redemption rate reveals the number of customers that have redeemed their rewards by cashing in their points or free offers. This is easy to calculate, just determine the number of customers that have redeemed their rewards and then divide this by the number of customers that have earned them.
Average Order Value (AOV)
You should already be tracking Average Order Value as it's one of the most important KPIs there is for your ecommerce site but it's worth examining the difference in AOV between those customers who use your loyalty scheme and those who don't. Average Order Value is simply calculated by dividing revenue by the number of orders.
Net Promoter Score (NPS)
The Net Promoter Score is a relatively new metric that can be used to estimate customer experience. The NPS is found by asking the simple question, "How likely are you to recommend this service to a friend?" It is a score on a scale of 1-10 that demonstrates how much a person would recommend your business to others. A score of 1-6 is given by unhappy customers (detractors), 7-8 by those who aren't happy or unhappy (passives) and 9-10 by those who are happy customers (promoters). It is measured by subtracting the percentage of detractors from the percentage of customers who are promoters. You will need to conduct a survey to obtain the results but adherents swear by it.
Customer Lifetime Value (CLV)
This is a really useful and important metric in helping to predict the value of a customer to your business. To calculate the CLV of a customer you will need their Average Order Value (AOV) and then multiply that by the purchase frequency to give you the Customer Value. Once you have that then multiply it by the average length of a customer relationship (in years) minus the cost of acquiring them.
Obtaining this information can help your business in so many other ways too. It can be a very useful guide in determining which is the most profitable customer type or profile for you to target, how much you should be spending to acquire them, and which products those customers buy.
Return on Investment (ROI)
As with most other marketing activities there is a cost associated with delivering a loyalty programme. tradeit's loyalty programme is included in the software but a lot of other companies charge for theirs, particularly if they are third party plug-ins. Therefore it's important to analyse the cost of delivering your loyalty programme in terms of software costs, marketing, resources and any discount-related expenses versus the extra revenue it brings.
Conclusion
Ecommerce loyalty programmes, like those in tradeit, are absolutely paramount. Keeping hold of your customers and getting them to spend more are the imperatives of a successful ecommerce business, particularly as competition increases. With an advanced ecommerce platform like tradeit, you have the flexibility to set up and administer your ecommerce loyalty programme to best match your business needs, and your customer requirements, enabling you to get the most out of it. Get in touch to learn more about implementing a successful ecommerce loyalty programme.