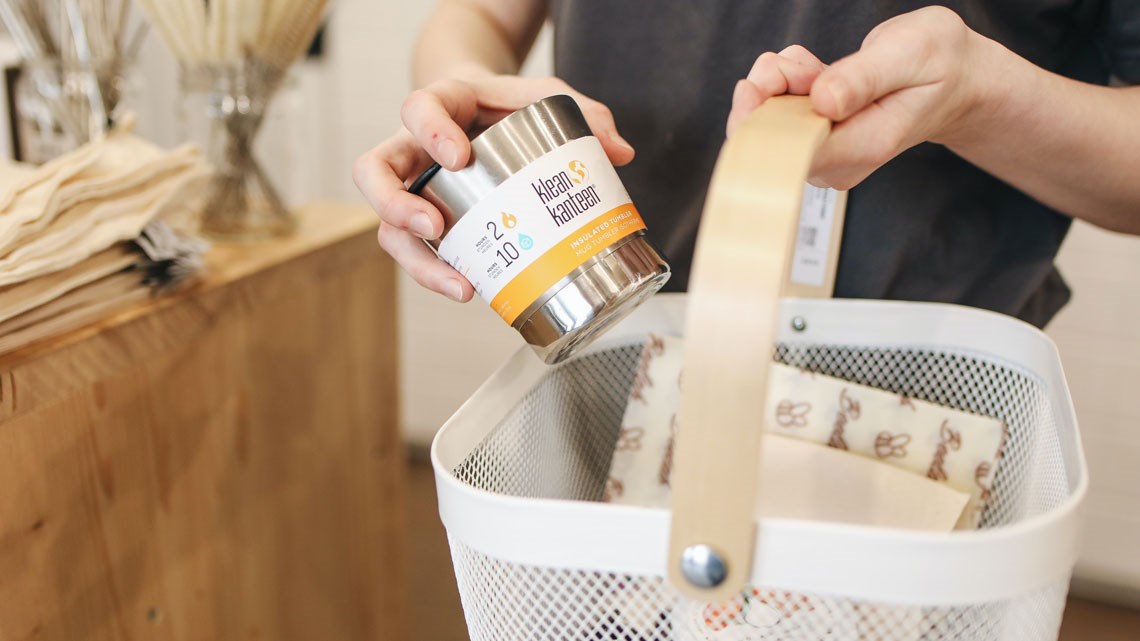 insights
CRO Lab - 9 Advanced tools for increasing AOV
Monday, 18 September 2023
The cost of acquiring new customers is well documented. It's really expensive! This presents businesses with two distinct challenges. Firstly, the need to retain customers and secondly, the importance of increasing the spend and average order value of those customers that you do retain.
In this insight, rather than look at ways to retain customers (although this may be a welcome side effect of some of the suggestions), we're going to specifically look at some different ways to increase Average Order Value. Now, your ecommerce platform and/or 3rd party apps will determine exactly which of the suggestions you are able to implement (if any) but we'll look at a number of options that could be worth considering.
What is Average Order Value?
Average Order Value is one of the key metrics by which ecommerce sites are measured and refers to the average amount spent by customers per transaction. It is calculated by dividing the total revenue by the number of orders over a defined period (week, month, year, lifetime etc…). For example, if you want to measure your Average Order Value for a year and your annual revenue was £50,000 from 5,000 orders, your average order value would be £10.
In that scenario, a £1 increase in average order value doesn't sound like much but would grow revenue by 10% to £55,000 without increasing the number of orders at all. Implement a few of the tools below alongside other increases in your key metrics (i.e. number of orders) and you can start to see some serious growth!
Increasing your AOV in practice
We are going to look at some different ways that you can help increase your average order value. We'll also see some real-life examples of how companies are driving up theirs.
However, just to be clear, we'll specifically focus on things that drive up that order value, rather than look at things such as standard discounts or offers (i.e. 10% off) which could help close a sale, but will actually drive your average order value down. Let's look at what you can do.
Cross-selling/Up-selling
Older than ecommerce itself, is the concept of cross-selling and up-selling. Using the three tenets of urgency, value, and/or excitement they are proven to increase average order values, but there's lots of different ways to populate them depending on the capability of your platform.
Most ecommerce platforms will display similar or complementary products on each product page, based on either the merchant's suggestions, or automatically driven by other users' purchasing habits (which we wouldn't recommend). What they output is quite basic so you may find you are severely limited by your platform or recommendations engine's capabilities.
tradeit features an advanced system that can serve a number of different recommendation types. These can be based on tradeit's pre-defined metrics (a score against each product is automatically calculated based on six key metrics), manually adjusted, or a combination of both. The weighting of those six metrics can also be applied to adjust the importance of each to provide the merchant with further control on which recommended products are displayed.
tradeit also features a dedicated recommendations component that can be added and configured wherever you want across the site, not just on product pages.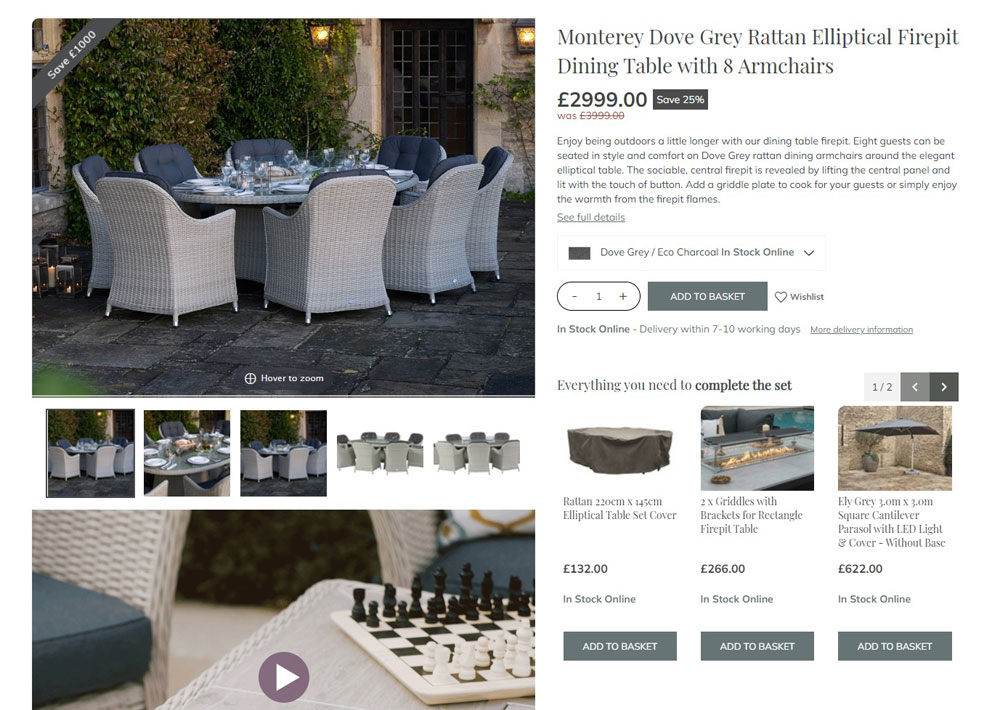 Bramblecrest deliberately show recommendations right by the add to basket button on each product page.
Where the design of a product is intrinsic to its sale, image-based recommendations can be used, meaning items are served based on how similar they look to other items. This is great for industries such as fashion, jewellery, homeware, furniture etc... where design is absolutely key. F.Hinds, the jewellers, have seen AOV rise considerably since implementing image-based product recommendations.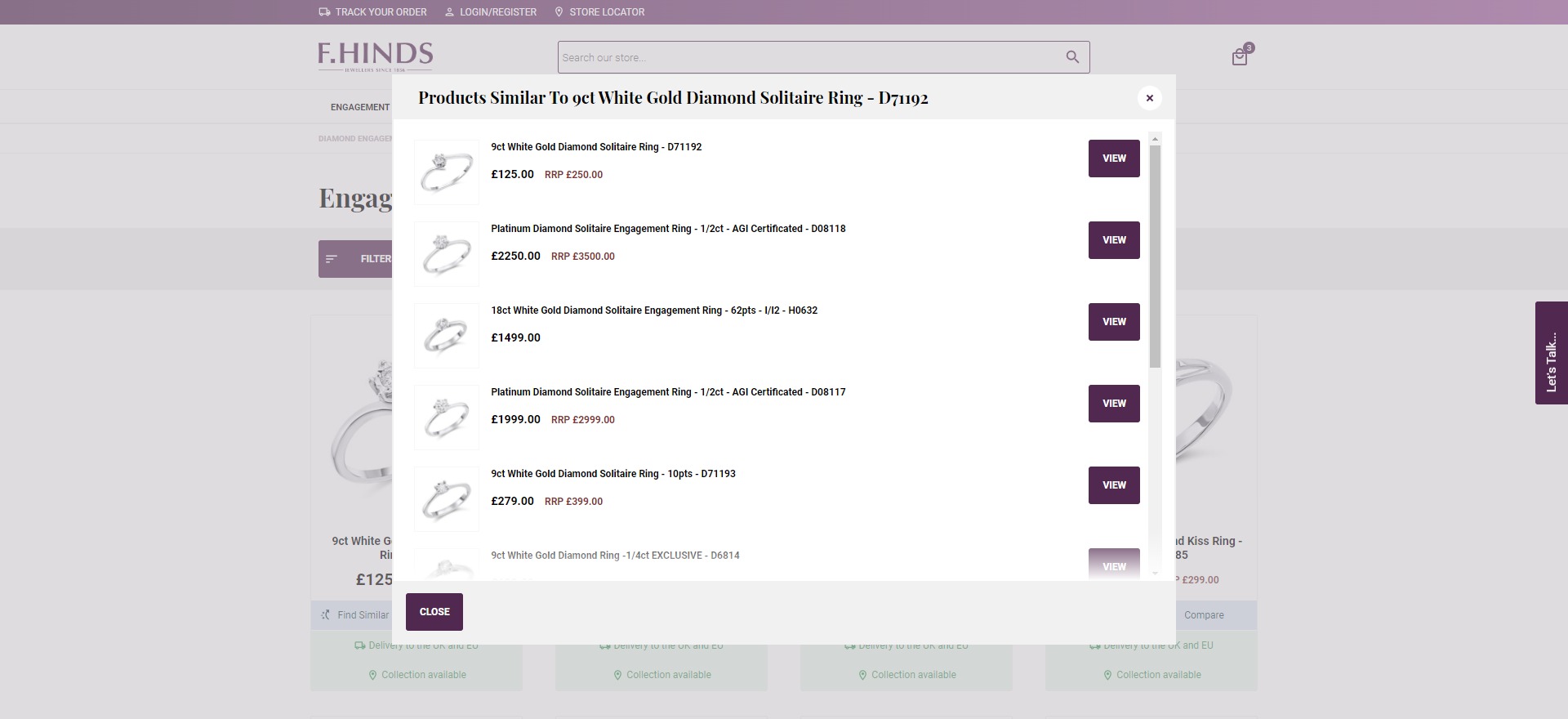 Image-based recommendations show the user the ten most similar looking products to the item the user has selected
Something Different Wholesale have extended the capability of their cross-sells even further by placing them in less conventional places such as users' accounts and on checkout. They sell to the trade meaning users have to log in so can be targeted based on who they are, what they've bought before, how often they buy etc... this information helps them populate their recommendations with products more personalised to the user and has already driven significant increases in AOV.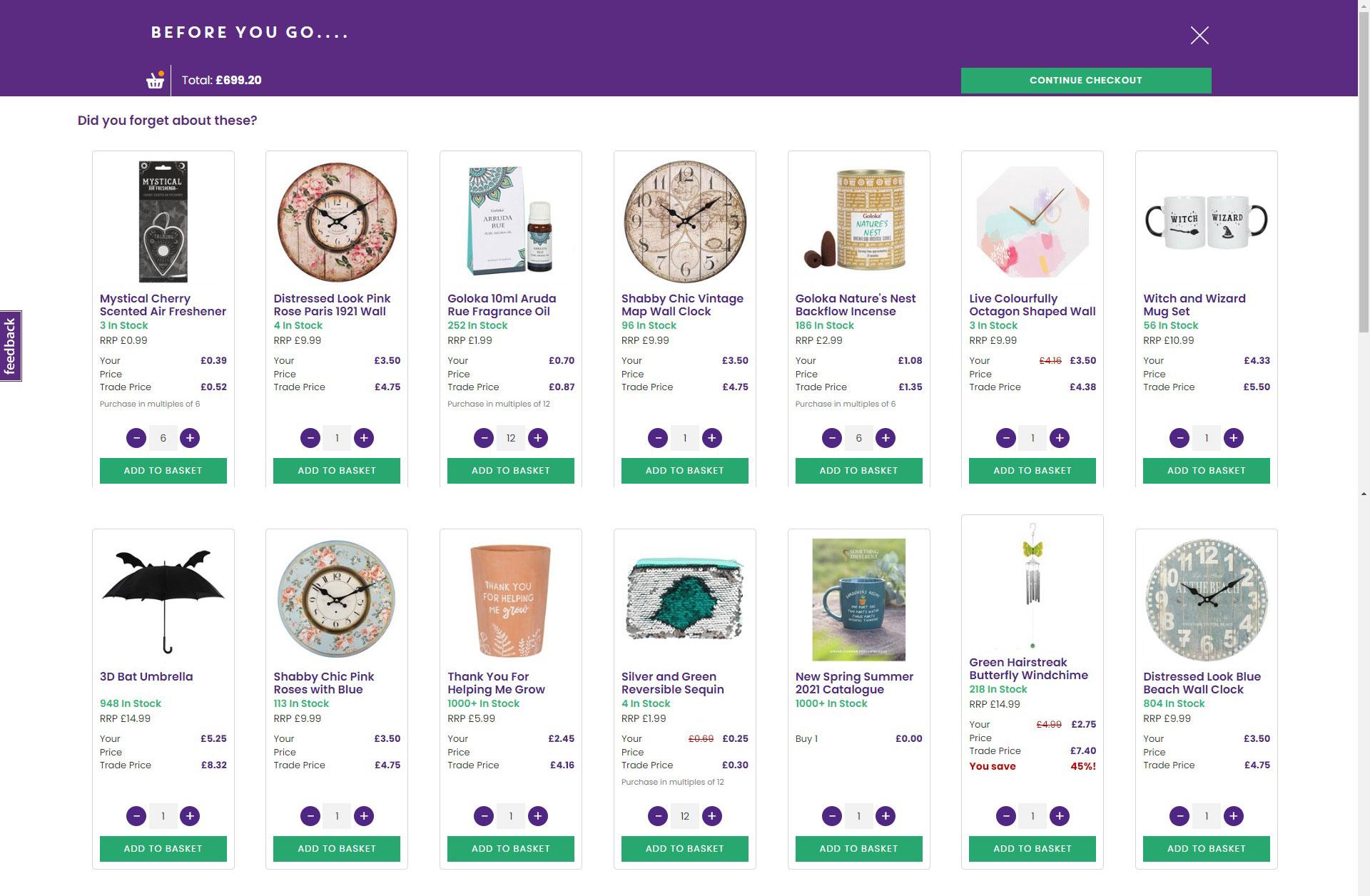 Example of how Something Different Wholesale use cross-sells in the basket.
See how Something Different Wholesale increase AOV through cross-sells.
Spend & Save Loyalty Scheme
Unlike most loyalty schemes that use points, the Spend-and-save loyalty scheme in tradeit is specifically aimed at driving up spend. Traditionally, a loyalty scheme is designed to reward your best customers, and studies show that points-based loyalty schemes do drive up AOV by approx 15%.
However, the spend-and-save model is designed to only reward customers for an increase in spend over a defined period. For example, if a customer spends £100 in month one, they may be set a spending target of £110 in month two in order to receive a reward, or benefit, which is merchant-definable. The time threshold for qualifying spend helps create a sense of urgency that can also increase both number of orders and average order value.
Discover how Tropicana Wholesale are using tradeit's spend-and-save loyalty scheme
Tiered Rewards/Minimum spend discounts
You've probably seen this type of offer before and its great for driving up average order value. You've most likely come across merchants offering a sequence of minimum spend discounts to try and drive up the average order value such as spend x and get 10% off your order, spend y and get %20 off you order, spend z and get 30% off your order etc...
However, there are other ways to deliver this type of offer. For example leading catering company Culpitt have made tiered rewards more interesting with each different threshold unlocking a new reward based on the current value of the goods in the basket. Once a user reaches the threshold to qualify for one offer, the next offer is unlocked and the required spend to reach the next threshold is displayed. These rewards and their thresholds can be defined by the merchant using any of the promotion types available in tradeit. This is displayed in a sticky basket banner at the bottom of every page the user visits across the site, as well as in the mini-basket to help prompt the user to increase their spend.



Different rewards are unlocked as the value of the user's basket increases in line with the merchant-defined thresholds.
Bundles (Bundle builder)
Bundling products together (particularly when applying a discount against the individual product prices) is a proven way to increase average order value. It's also a great way to introduce customers to complimentary products they might not have tried before.
There's lots of different ways to execute bundles from simple packs to more complex customer-created sets. The types of bundles you are able to offer is often dependent on the capability of your ecommerce platform and back-end systems. tradeit caters for anything from the most basic of bundles to fully customised options using our bundle builder functionality with selectable variants across product ranges, categories or brands, with or without price discounts.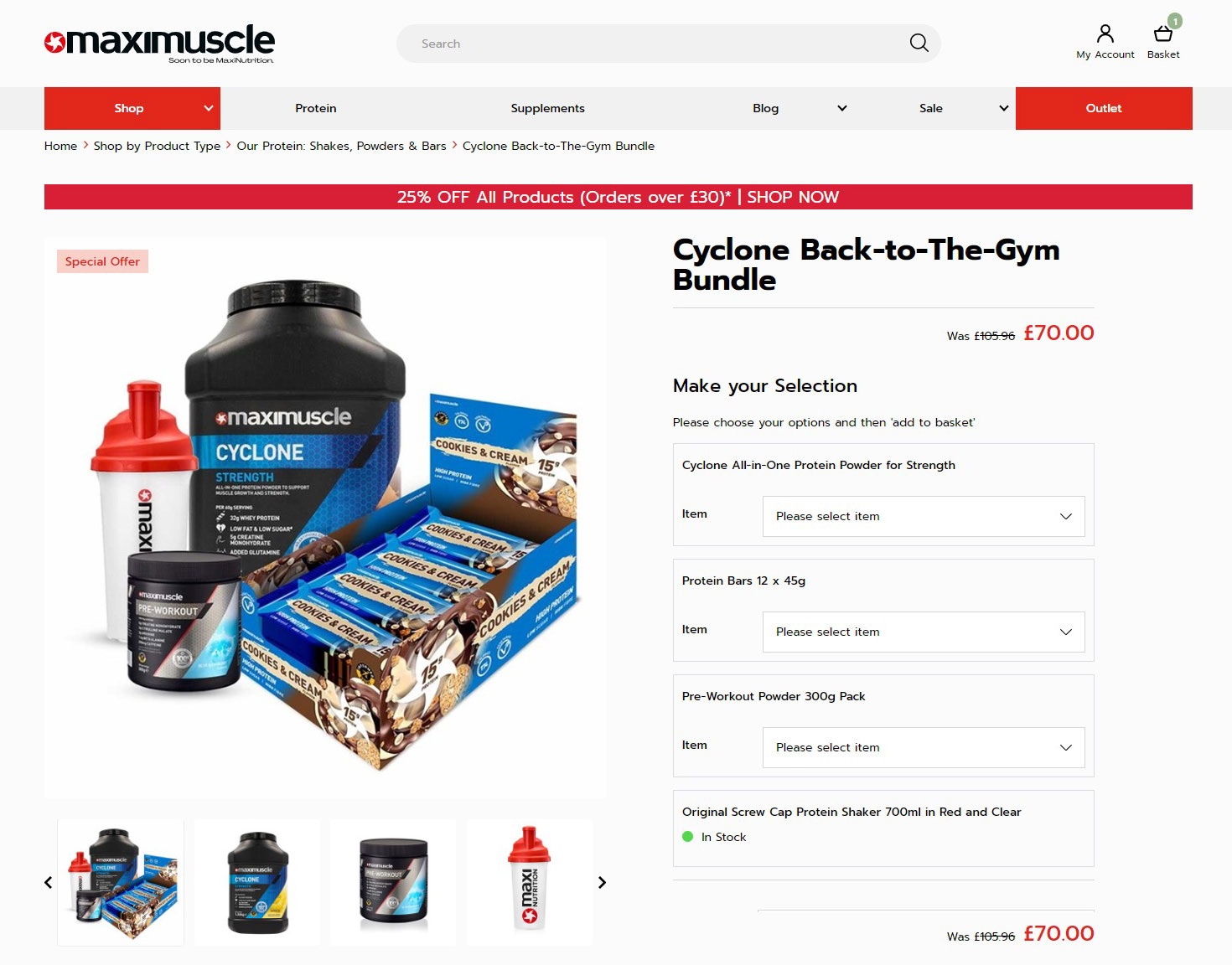 Example of how Maximuscle use bundles with product variations to give consumers more choice.
Learn more about different bundle types and how to implement them with tradeit.
Offer nearly applied
This is a tried and trusted method of driving an increase in AOV and although similar to the concept of tiered rewards (above), this works on just a single offer, rather than a sequence of them. A really common example is merchants offering Free Shipping when the customer spends over a certain amount. If they add something to their basket that falls below the threshold, they are encouraged to spend more to meet it.
tradeit gives you complete control of these types of offers by allowing you to determine how far short of the value (as a percentage) the user is before that messaging is displayed. It doesn't always need to be free shipping though, there's lots of different offer types where this can be applied such as minimum spend discounts (see above), 3 for 2, free gifts, 2 for £20 etc…
Merchandising
It sounds obvious but getting the right products in front of the right people at the right time is absolutely key to increasing average order value, and the more products and more customers you have the harder that becomes. That's why great merchandising capability within your ecommerce platform is absolutely non-negotiable and where many more basic platforms and merchandising tools really fall down.
We talked about cross-sells/up-sells above but merchandising extends to include on-site search, sorting, and facets which are equally important, tradeit's merchandising capability is built on the power of Elasticsearch meaning product results are returned more quickly and with more intelligence. It also provides a plethora of tools enabling merchants to boost, weight, pin, aggregate, personalise, split, rank and prioritise those results as they see fit.
Learn more about the power of Elasticsearch with tradeit.
Points-Based Loyalty Scheme
We talked about a spend-and-save loyalty scheme above but tradeit also features another option which is a more common points-based system. As we've already stated, studies show that these types of schemes are shown to increase AOV by 15%. They also have the added benefit of encouraging customer loyalty.
Points can also be used as a promotional tool by offering additional points (double or triple for example) against certain products (perhaps ones you want to get rid of) or against a minimum spend which further helps drive up average order value.
Personalisation
The more personalised and more targeted your content is, the higher your average order value will be. For example, this could be something relatively simple like targeting users with offers for products or brands they've never bought before (based on their order history), or it could be targeting users when an item on their wishlist is reduced in price. The possibilities are almost endless and the beauty of these types of personalised campaigns is that once they are set up they are driven automatically meaning emails are sent, adverts displayed, and promotions created without extra resource.
However, that's just two examples amongst a host of possibilities using tradeit's personalisation capabilities. By combining the marketing & merchandising functionality of tradeit using promotions, conditional components, Elasticsearch, triggered emails and much more, users can be segmented and reached based on both historical data and real time action or inaction with numerous types of content. There's huge scope for trialling and testing different activities (in isolation or in combination with others) to see what works best for you in order to drive up average order values.
Learn more about different bundle types and how to implement them with tradeit.
Out of Stock/Pre-Orders
How you manage stock will affect your AOV.
It's inevitable that from time to time, products might fall out of stock. However, how you convey that to customers and how you can then restock them is important. In the short term allowing customers to order items that are not in stock, or on pre-order, will drive up your Average Order Value, providing you are able to fulfil those orders in good time, and providing you notify the customer of their expected delivery date BEFORE they order.
You can also consider implementing functionality like Something Different Wholesale who are able to display similar in-stock products to those that are out of stock (where possible) in order to not lose a sale or part of a sale. This can help potentially avoid the issue of managing back orders.
However, if you begin to have problems fulfilling back orders and pre-orders or the delays drag on, then you will likely see an increase in cancelled orders. Theoretically this might not affect your AOV (although chances are it will), but it will definitely affect your revenue and customer retention.
Learn more about why personalised content is key to increasing AOV
In Summary
Some of the tools we've outlined might not work that well in combination with each other whilst some of the options will also be much better suited to some businesses than others. For example, if you sell something that is a long-term purchase like furniture or white goods, then a loyalty scheme is unlikely to add much value, however cross-sells, bundles, and personalised content could still provide great opportunities to increase your average order value.
It makes sense to try different options individually and measure their results, then you can determine which ones are worth implementing on a longer-term basis for your business.
Are you looking to increase your AOV? Is your current platform not able to support your ecommerce growth? Speak to us about how tradeit can help.