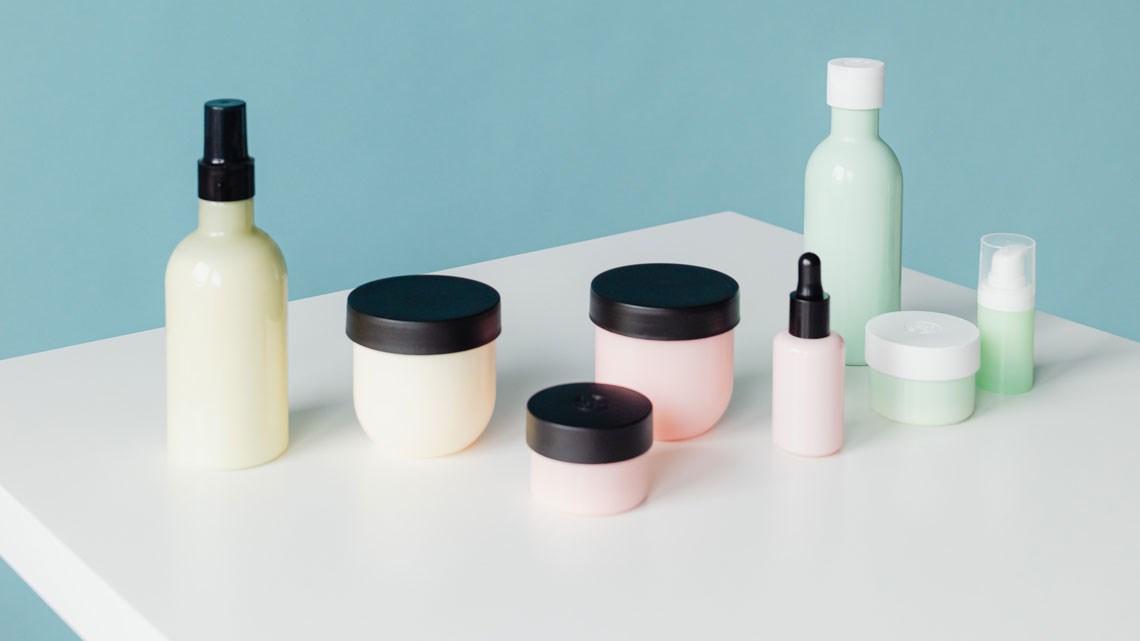 insights
CRO Lab - Bundle your products and Increase conversions
Monday, 24 October 2022
Product bundles are a great promotional tool which are often used by merchants to increase average order value. They normally consist of a group of products that are put together and then discounted when purchased as one.
It's a win/win, the customer gets a relatively cheaper price and the merchants sells more products (albeit at a reduced margin). However, not all bundles are the same and there can be different levels of complexity with how they are put together and managed, with many ecommerce platforms unable to deal with the potential levels of complexity they present. Rather than look at offer type bundles such as 3 for 2 or 4 for £30, which are controlled by a promotions engine, we'll specifically focus on product bundles in this article. So, lets look at the different options available in tradeit.
Fixed Bundle/Kit
The simplest way to create online bundles is to put the individual items together, give them a completely separate SKU, and sell them as a pack. This is likely to be the easiest solution for your ERP to handle too.
However, for this to work well logistically, you need to ensure that all of the items within a bundle are stocked together under that SKU to give your customers accurate stock numbers, and ensure you are able to fulfil any orders for them. If not, depending on how well the individual SKUs and bundles sell, you might end up using stock of individual SKUs for bundles that don't sell as well as the items individually. This could create a situation where you have less stock available to sell of popular SKUs, so needs to be carefully managed. However, if you don't store the bundle items together, then it's very difficult to manage the stock levels of the individual products that make up the bundle and risk selling out of those different component parts of the bundle.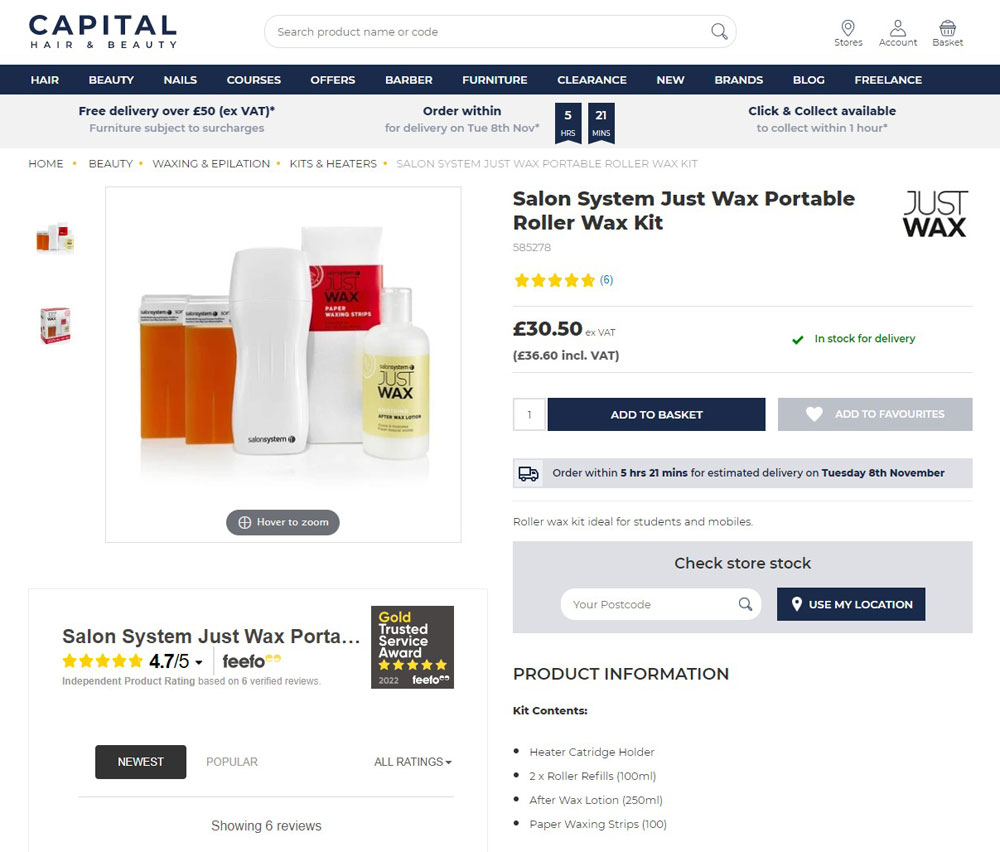 Example of a pre-configured bundle on Capital Hair & Beauty
Standard Bundle
The next option would be what we would consider to be the start of being able to deliver proper product bundles. This is where the products all remain as separate SKUs but are combined to form a product bundle on a dedicated page, using what is effectively a virtual stock level and virtual SKU which don't exist in your back end system.
This means you have the ability to create a new bundle product made up of whichever SKUs you want and specify any pricing discount the customer would receive when purchasing that bundle. It also means that stock continues to be held individually of each SKU, and any rules regarding the management of out of stock items apply to the items within the bundle too.
So, if when an item is out of stock you prevent orders against it, this would also apply if any of the separate SKUs that make up the product bundle are out of stock, meaning the bundle couldn't be ordered.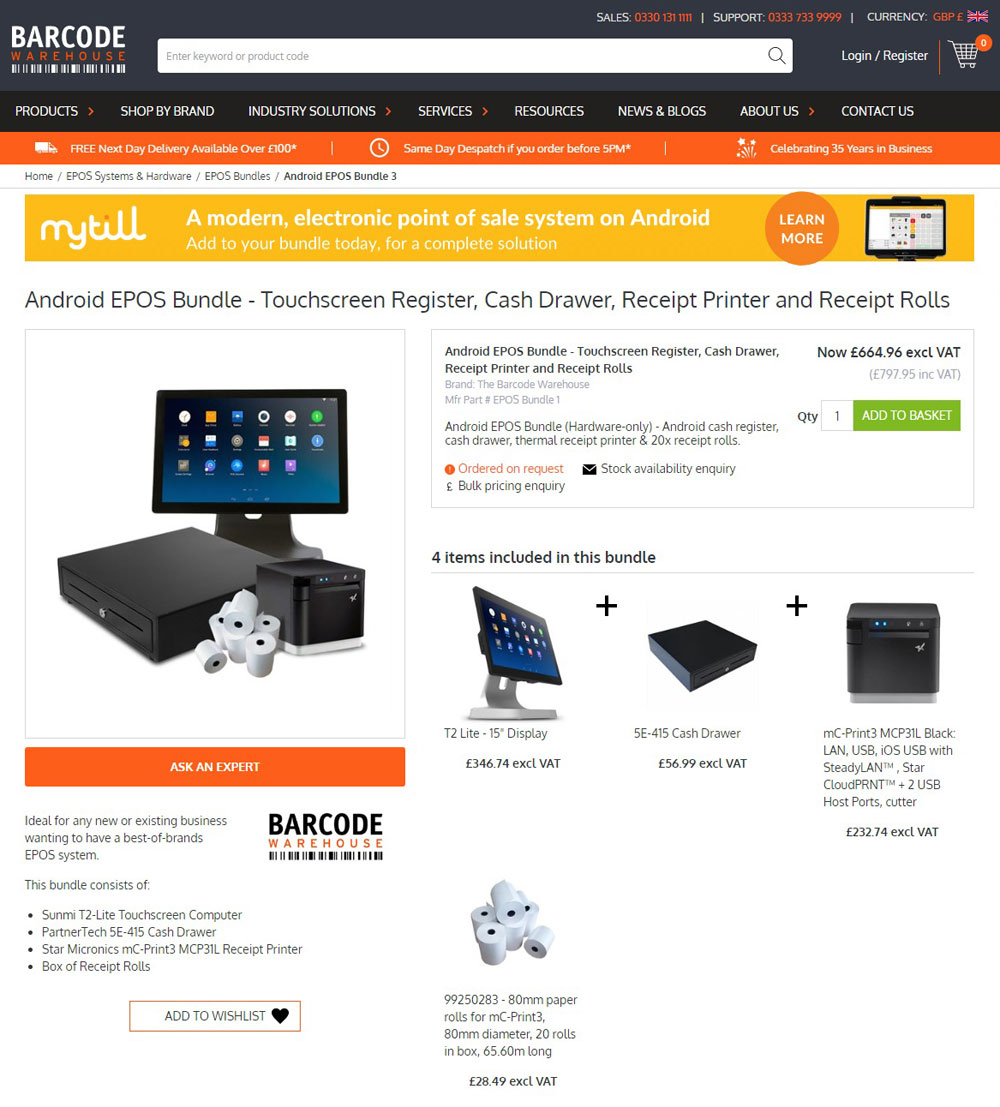 Example of a standard bundle on thebarcodewarehouse.co.uk
Selectable Variations
Whilst the above options are easier ways to create and manage bundles, they also offer both you, and the customer, the least flexibility, particularly if you are wanting to include any products with variants such as size, colour, flavour etc…
This is where many basic ecommerce platforms will begin to struggle as they are unable to deliver these more complex bundle requirements. They will either resort to using a third-party app (which will differ in flexibility, quality and stability) or offer a fixed option (as above) and ask the customer to define their selections in the notes when ordering, but this presents a really poor customer experience.
In tradeit, you are able to offer customers the ability to select any different variations as part of a bundle which is created using the individual product variation SKUs. This can include multiple variations of a single product such as a different colour AND size for each line item within the bundle. You can also include other items without variants as part of the same bundle.
Although not that common as bundles tend to have a fixed price – helping to highlight any discount over the regularly priced items they contain - if you are offering different priced variations as part of a bundle these can also be catered for via dynamic pricing. Therefore, depending on user selection, the selling price of the bundle will be determined by the user's selection rather than listing a fixed price, giving merchants another flexible option when creating product bundles.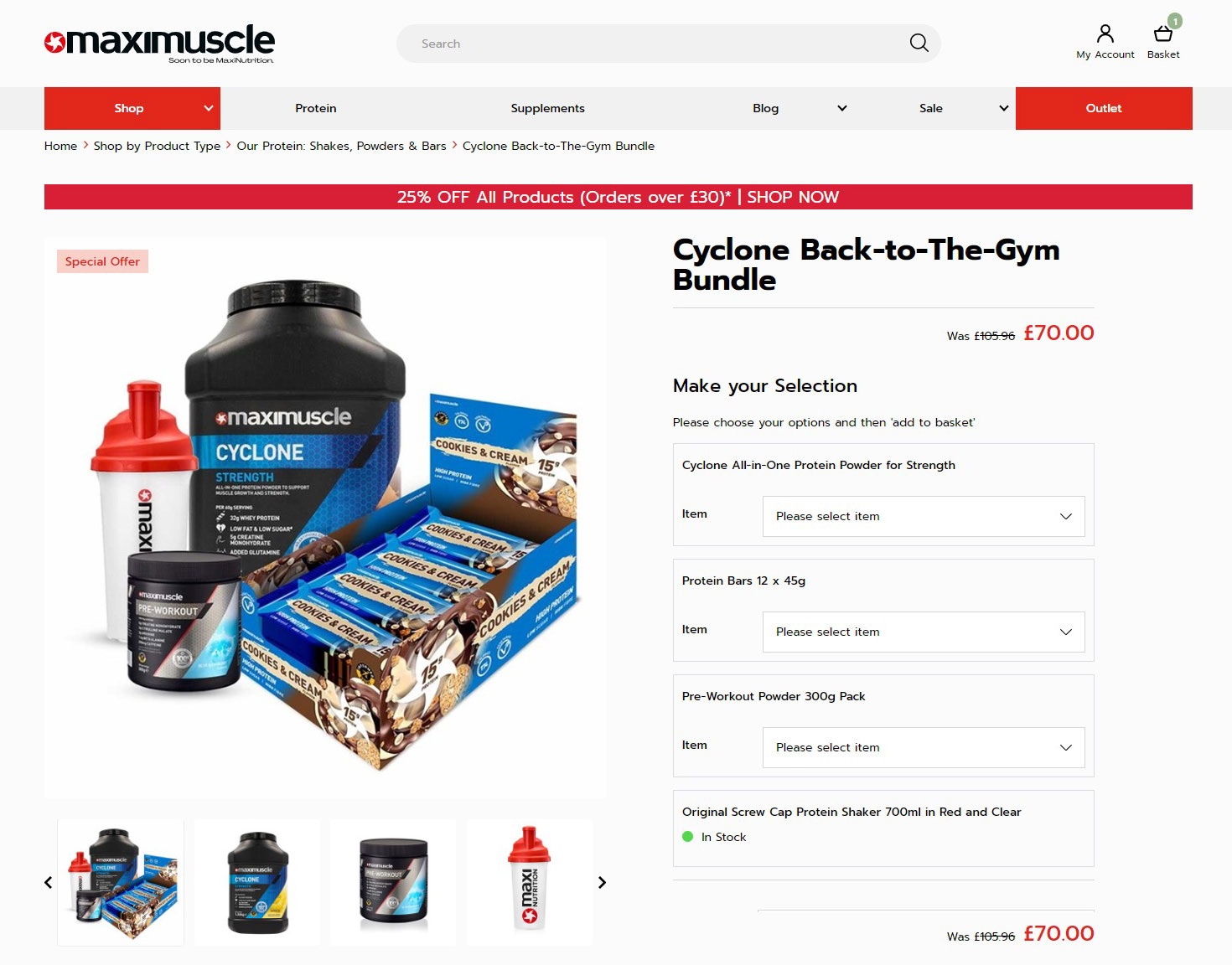 Example of a bundle with product variants alongside a fixed product on maximuscle.com
Bundle Builder
An advanced option is to use tradeit's bundle builder which allows you to create bundles from any product and/or variant on your website (regardless of whether they are related products). This enables you to effectively build bundles on the fly from any selection of products you want, rather than restricting you to one type of product in each selection (as above).
For example, an IT company may put together a back to school/university bundle that consists of a laptop, mouse, laptop bag and printer for £1000. However, within that bundle they could let the customer choose from a selection of different products, all from different manufacturers. So, the customer could choose from different laptops, different mice, different bags and different printers, or any of those items could be fixed within the bundle, whilst giving a choice of the others. They could, of course, all be fixed too.
Also, rather than being fixed, the bundle price could vary depending on what products you choose to make up the bundle meaning you could have a selection of different priced items within the same bundle, such as a choice of differently priced laptops for instance. The flexibility is endless!
B2B Bundles
Another way the bundle builder can be exploited is to improve the user's experience when creating larger product bundles containing multiple quantities of items. The type of thing that's normally more common in a business-to-business ecommerce environment.
Take a hair salon for example. They might order a bundle of products from a supplier to stock-up or restock what they use and within that product bundle there could be multiple units of the same item, such as hair colouring.
Now, as is common in B2B ecommerce, rather than select each product and each variant as many times as they would like them individually, they can use the quick ordering interface within each product bundle to order the required variants and quantities. This gives the user a much quicker and easier way of selecting the different product variants they want to make up their bundle and order off the page.
Looking to deliver product bundles properly on your ecommerce site? Speak to us about how tradeit can help.