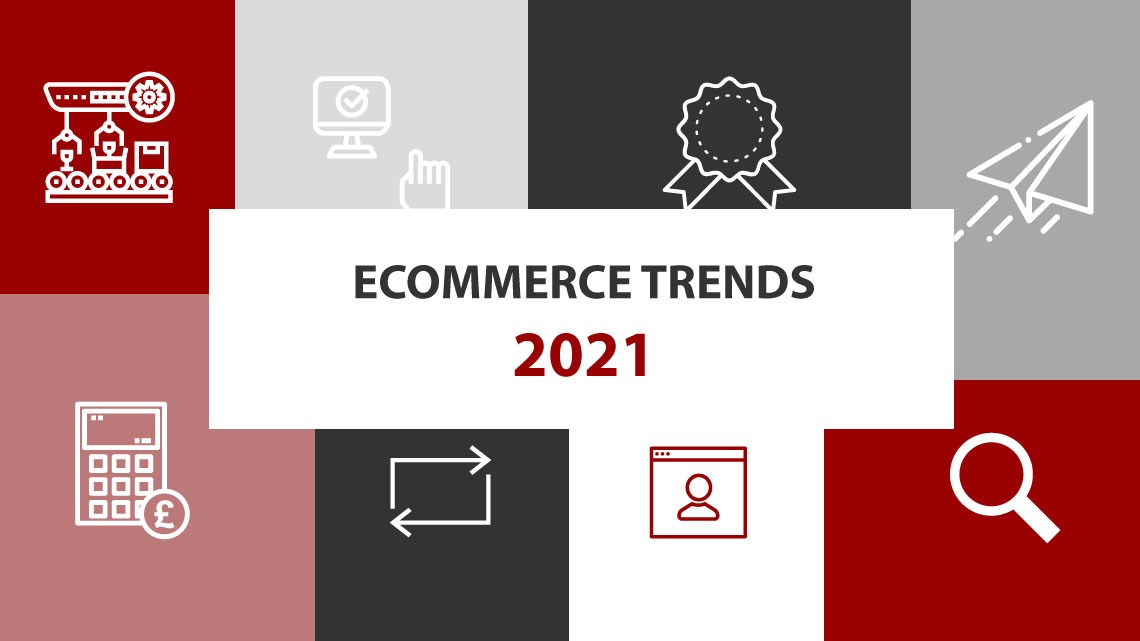 insights
Ecommerce Trends 2021
Monday, 11 January 2021
As is now traditional at the start of each year, our team of experts have put together their shortlist of the trends they expect to gain traction or emerge in ecommerce in 2021.
2020 saw unprecedented levels of ecommerce growth as the global pandemic forced consumers online with as many as 84% of them shopping via the internet, at least once, since the start of lockdown. Many of the trends that we expected to emerge during the year have perhaps been superseded by trying to meet demand or ploughing efforts into new online channels instead. 2021 will see much of the same, so there may be less innovation than you'd normally see, but there will be huge uptake, development and advances of many existing functions and services.
1. D2C Ecommerce
Whilst we rightly argued that D2C ecommerce would be a growing trend in 2020, not even we predicted how the pandemic would affect its adoption, with so many businesses turning to online trading to survive, or diversify, as their existing sales channels were ravaged by closures and lockdown. Whilst 2020 may have seen huge ecommerce growth and benefitted pureplays particularly, it also introduced increased competition as wholesalers, manufacturers and FMCG giants swiftly moved to sell online. With the pandemic set to continue well into 2021, we will see this trend continue to grow as businesses understand its importance, and those who adopted it as a quick fix during 2020, adopt a more structured and strategic approach to ecommerce having seen its growth potential.
Throughout the last 12 months, more and more businesses understood the importance of having better control over their own destiny through direct to consumer ecommerce. 2020 proved to be a sobering experience for many of them, with the realisation that their sales channels, and thus their fortunes, rested almost exclusively in the hands of other businesses over which they had no say. We expect further, significant growth in D2C ecommerce as many of those companies grab at least some control of their destiny and reach their end users directly online. Previous worries about channel conflict no longer ring true as businesses evolve and consumers change their shopping habits online. No longer can they worry about upsetting and protecting their 3rd party sales channels with their own existence at risk as a consequence. We believe the channels can still co-exist and thrive together, but it's no longer a question of 'should' you launch a D2C ecommerce site but how and when, if you've not already done it. It also needs to be a far more important and strategic decision with the appropriate resources and budget.
Learn more about our D2C ecommerce solutions
---
2. Customer Retention
Though it could be argued it's an ongoing requirement for any business, rather than a trend, rising competition online and the ever-increasing cost of acquisition, (particularly as huge manufacturers launch their own D2C ecommerce channels and drive prices up) will enforce the value of keeping existing customers. Though reaching new customers is important, tools that encourage customer loyalty will be another key area for growth. These include:
Loyalty Schemes
The most obvious tool for customer retention is some form of loyalty scheme, and whilst loyalty schemes have been around for years, 2021 will see a massive surge in their adoption. With 78% of consumers saying they encourage them to buy more from a brand, they're an almost guaranteed way to increase customer retention. The growth of D2C ecommerce has meant companies are finally building relationships with their end users, and loyalty schemes will be a strategic way for them to retain business without lowering prices and undercutting their reseller channels. The aforementioned increased growth of D2C ecommerce will bring with it an increase in the adoption of loyalty schemes too. Other retail and B2B ecommerce sites will also follow suit.
Learn more about tradeit's simple points-based and spend-and-save loyalty schemes.
Pricing
Adopting preferential pricing for different customers is another way to garner retention and reward customers that are more loyal. You could place different customers into different tiers depending on their level of spend, or deliver hyper-personalised pricing to individual customers. However, both options require managing multiple pricelists and keeping them updated which can become quite labour-intensive if you have too many different options.
The price list manager in tradeit makes the job of personalised pricing far easier to handle, meaning your best customers are rewarded, without you having to manage potentially hundreds or thousands of different price lists. The system works by having one master price list that customer are then assigned a discount (or markup) level against. This can by catalogue wide, or on a brand, product group or product level. Any tier-based system can be configured so that users are automatically moved between the tiers depending on their spend, without any manual involvement.
Learn more about enhancing your pricing strategy using tradeit's price list manager
Subscriptions
The last few years have seen a dramatic growth in online subscription services with companies like Graze, Netflix and Harry's enjoying phenomenal success, but that's just the tip of the iceberg. The 2020 lockdowns have driven demand for these types of services to unprecedented levels as consumers sought distraction and accessibility to home comforts. In fact, recent research has shown that over two thirds of British households are signed up for one service or other, and spend £552 a year on average for the privilege. 2020 also saw traditional vendors, like Unilever and Gillette, whose model had been upset by subscription start-ups, fight back by launching their own subscription offerings to claw back market share, or acquiring those companies themselves.
Adoption will continue a pace in 2021 with more consumers signing up, and more companies offering their services via subscription, including more large FMCG brands. Whilst not everything can be sold via subscription, there are inevitably certain products that are more suited to the model, but with three distinct types of subscription service available there's scope for more business to provide it than you might think.
Replenishment
Replenishment subscription services work by effectively automating the purchase of consumables such as razors, pet food, magazines, or health supplements, at regular intervals. Consumers are often rewarded with a discount in order to incentivise them to sign up, or commit to a longer-term subscription.
Access
As the name suggests, this type of subscription gives users access to a product or service for a recurring fee. These tend to be service-based and have become extremely popular for items like software, education, training, and streaming services such as Netflix, Amazon Prime, and Spotify.
Curation
This method is popular across beauty, fashion, food & drink, flowers etc... as well as many of the newer sectors who are trying to launch a service. At a regular interval, customers receive a 'curated' box of items from the relevant merchant. Some services let the customer choose which items (or selection of items) to include in their box, whilst for others, the decision falls entirely with the merchant. Examples include Hotel Chocolat's Tasting Club, Graze, and Birchbox.
Subscription services offer huge benefits to both the merchant and the consumer so their adoption will continue to rise across the board. Some predictions say that 75% of D2C ecommerce businesses will offer subscriptions by as early as 2023!
2021 will see many of our customers launch subscription services using tradeit
---
3. On-site Search
Increased competition online means consumers have less and less patience so if they can't find what they want on your website, they'll go somewhere else. Whilst search has always been crucial, with conversion rates up to 4-5 times higher for visitors who use site search, really effective search tools were often prohibitively expensive and thus the preserve of only the biggest retailers. Fortunately, in 2021, advanced search tools are much cheaper, and more widely available, and their adoption will grow rapidly as merchants realise their benefits in driving conversions.
tradeit features an extensive set of advanced search tools, all powered by Elasticsearch, which is already delivering enhanced results and with it conversions. For example in the very first month of adopting tradeit's enhanced search tools, F.Hinds the jewellers have seen an increase in revenue of over 25% from search and a huge reduction in the number of searches performed because results are far more accurate and don't need refining.
Learn more about tradeit's enhanced search tools.
---
4. Self-Service
It goes without saying that businesses that make it easy for buyers to make purchases, find what they are looking for, and provide a seamless user experience will enjoy more online success. Key to that success is empowering users to self-serve, particularly in B2B ecommerce, where time and resources are limited. In fact, 66% of buyers now prefer to self-serve!
That trend is set to continue so in order to meet your customer's ever-growing needs you need to provide them with the tools to self-serve. For example, once logged in, they should be able to access their account information quickly and easily where they'll find everything they need including:
Quick Ordering: Quick order functionality, regularly bought items list, tailored catalogue, ability to pre order, view order history and manage back orders.
Master & Sub user: Allow multiple users to order against the master invoice and set controls per user. E.g. what they can buy, does order need approving by master user.
Invoice Management: View invoice, download invoice, pay invoice, use credit notes.
Credit Limits: View credit terms & available credit.
Quotation Management: Request, view and approve quotes including turning them into orders.
Reporting: View business reports and graphs with time scope and filtering.
2021 will highlight that these tools are no longer a nice to have, but a necessity. Learn more about the self-service capabilities offered in tradeit's my account.
---
5. Personalisation
Online personalisation has been bandied about for years, with varying degrees of truth and varying degrees of depth. Outside of the truly giant retailers, the cost and resource requirements of undertaking such a programme given the amount of data that needs to be processed, stored and reported on is beyond prohibitive. It's just not functionally or economically viable. Issues surrounding the use and storing of cookies are also a red flag to many businesses with clampdowns on their use potentially on the horizon.
Despite this, we believe 2021, will see merchants still increase their efforts to deliver more personalised content and experiences to their users through tools like those available in tradeit. For example, tradeit's dedicated CMS features conditional components allowing merchants to deliver differing content based on over thirty conditions, each with definable rules, many of which require no knowledge or data on the user, and which are delivered on the fly based on action or inaction. These conditions centre around six key areas -
The User (is x, is in group x, is logged in, is not logged in, uses pricelist x, has not seen the content before)
The Basket (value, value range, content, offers, any nearly applied offers, delivery cost)
On-site Search (matches, contains, starts with, ends with)
Location (channel, language, invoice country, delivery country)
Time/Date (start, end, time)
Referrer (affiliate, email campaign, social media, other query string)
A combination of any conditions can also be applied giving almost unlimited scope for delivering unique and individual content.
Learn more about how tradeit's conditional components allow you to treat all your customers like you know them intimately, each and every time they visit your site.
---
6. Triggered Emails
Emails are still the most reliable and effective way of communicating with your customers and prospects. Personalised and relevant emails can drive 18 times more revenue so automatically triggering them based on user action or inaction is a sure fire way to increase conversions.
Whilst the adoption of triggered emails for things like abandoned basket campaigns has been common place for a while now, they've not really been exploited to their full potential yet. 2021 will see them become widely adopted for further personalisation purposes. Alongside abandoned baskets they will also be used for things like replenishment reminders (i.e. 25 days after buying 30 days' worth of x, an email reminder will be sent reminding the customer to top up their supply), loyalty scheme points, personalised onboarding programmes, calendar reminders, personalised offers, user inaction (not bought from us for x days) and much more.
Learn more about triggered emails in tradeit.
---
7. Integration & Automation
Integration has been commonplace in ecommerce for a while but 2021 will see it become a standard requirement as businesses try to streamline their operations and improve efficiencies through the automation of processes and reduction in labour-intensive work.
We pride ourselves on our integration expertise having integrated tradeit with hundreds of third party systems and software including numerous ERPs, CRMs, WMSs, PSPs, ESPs, reviews engines, online chat tools, reporting suites, analytics platforms and much more.
Having seen some early adopters harness the benefits of the aforementioned integrations with the automation of advanced merchandising and promotional strategies over the last 12 months, we expect this to become much more prevalent during 2021. With a broad scope of possibilities and the huge time and cost-savings involved when operational, the benefits can be enormous. It's vastly underexploited with just a small amount of configuration required to set it up, any costs are minimal.
For example, Tropicana Wholesale sell many perishable items with a short life span, when those items come close to their expiry date, they are automatically discounted and moved to the sales category on their website, whilst an email is triggered advertising the offers. Rather than being left with huge and costly amounts of out-of-date stock, their wastage is now been eradicated whilst sales and revenue increase.
We mentioned using triggered emails for user inaction and they can also be combined with automated promotions. For example, trigger discounts on certain products or brands that haven't been bought for x days in order to try and drive incremental revenue and then trigger an email to inform users of the offer, alongside advertising it in their my account on login. Not only that, once any offer has been used, it will remove the promotion automatically too.
Understand more about tradeit's integration capabilities.
Learn more about how customers like Tropicana Wholesale are using automation to reduce costs, save on resource-hungry tasks and avoid wastage, .
See how automated merchandising and promotions are key to driving up conversions.
---
8. Diversification
The pandemic has forced many businesses to diversify in order to survive, and the creativity and energy that some companies have shown has been matched by their newfound success. Whether it's been selling a completely different range of items (either in the short term or indefinitely) or reaching a different set of customers (perhaps going direct to their end users when their resellers have been forced to close) diversification has been crucial. More businesses will diversify as the uncertainty continues into 2021.
With its multi-channel capabilities, tradeit has been natively built to provide businesses with the scope to quickly and cost-effectively launch new channels to market, covering retail, B2B, D2C and international ecommerce as well as supporting MOTO and omni-channel capabilities from a single instance of the platform. Not only that, by supporting physical and digital products it also allows businesses to diversify across their online offering too.
Learn more about treadeit's muilti-channel commerce capabilities.