The value of triggered emails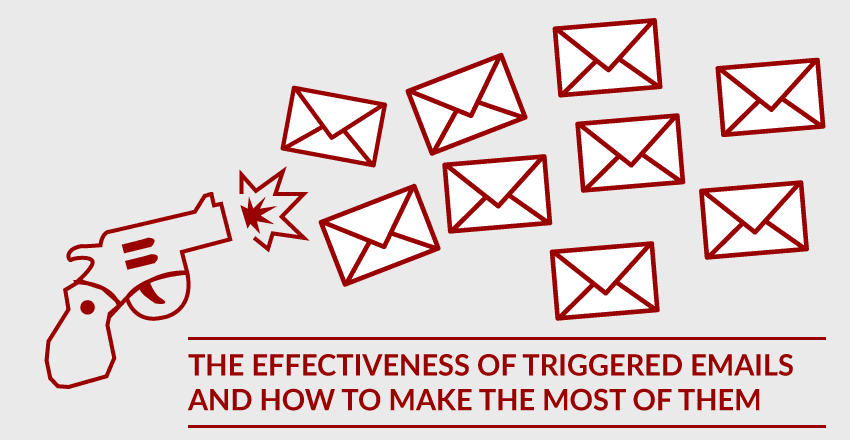 It's well known that the cost of acquiring a new customer is more than the cost of keeping an existing one, so any tools that can help re-engage with your existing customer base and get them to spend more will provide great value to your ecommerce business. If this re-engagement can be automated saving you time, money and precious resources then even better. A key tool for delivering successful, personalised re-engagement strategies is triggered emails which enable you to send automated emails based on user actions and events.
For instance, these events may include:
Customer registration
Customer places an order
Customer creates basket
Customer logs in
Customer abandons basket
Customer spends specified amount (can differ between price lists and/or currencies)
Once you have decided which user event or events/actions you would like to trigger an email, you can add any additional conditions which may determine when an email is sent. These conditions could include:
Send X days after the event
Send X days before subscription runs out
Send X days before birthday (if you know it)
and whether an email is sent
Don't send if customer has since placed an order
Only when customer orders
Only when customer creates basket
When customer logs in
Only if customer spends specified amount (can differ between price lists and/or currencies)
You can also determine who your triggered emails should be sent to, for example;
All customers
All people who registered on the site but not bought
Those customers in a specific group (Database segment, Merchant defined group, Tagged to merchant's facebook page etc..)
Existing subscribers
Only new customers
You can also define which product/product groups the event is valid for, for instance:
All products
Specific products
Specific brands
New products
Sale products only
Also, If you are running multiple sites/brands you can determine which channels to run your triggered email campaigns on, which email templates to use, when to send the emails (down to the specific time of the day) and how to personalise them.
The power of triggered emails is huge and should be a key part of any ecommerce re-engagement strategy. Emails are automatically sent each time the conditions you set are met which makes them perfect for welcome emails, ordering reminders or abandoned basket campaigns amongst others. When used effectively triggered emails can mean:
Higher engagement and re-engagement
Increased customer retention and satisfaction
Higher click-through rates
Increased conversions and AOV
To find out more about tradeit's triggered email capabilities and suite of marketing & merchandising tools, contact us.