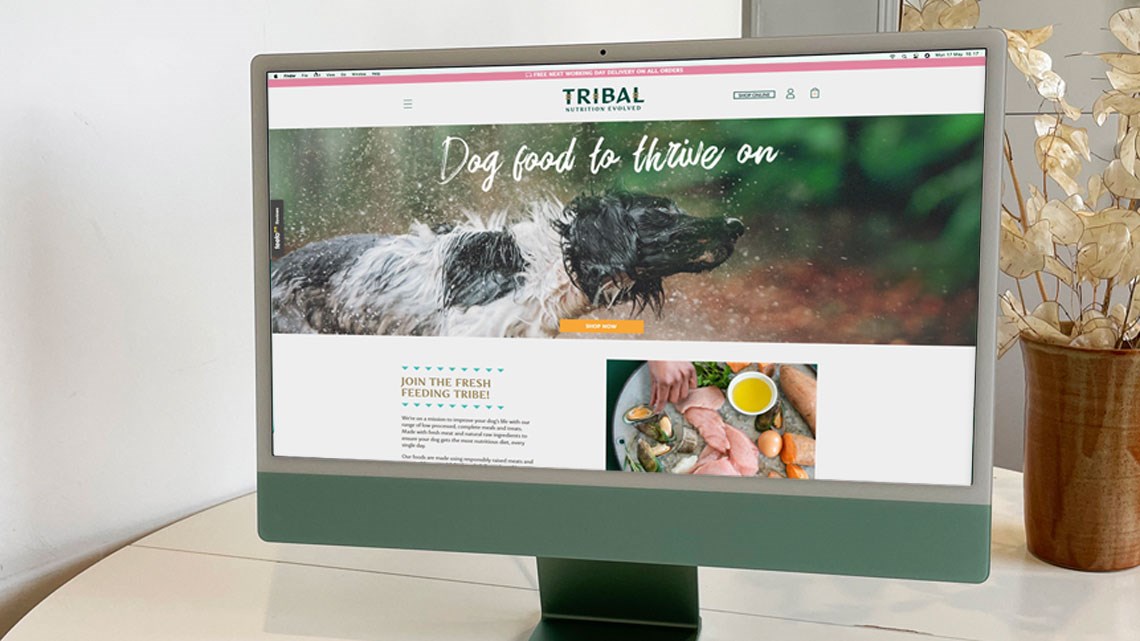 client news
Tribal Pet Foods launch their new D2C ecommerce site on tradeit
Thursday, 27 January 2022
Tribal Pet Food is the convenient alternative to raw feeding and the world's only cold pressed dog food made with fresh meat. Their philosophy is simple: truly nutritious dog food made with fresh, natural ingredients that have been minimally processed and formulated to FEDIAF standards by expert nutritionists to keep your dogs' fit, healthy and happy, so they can thrive and live their best lives possible.
You won't find Tribal Pet Foods on the supermarket shelves; they're only available through their own D2C ecommerce site or via specialist pet stores run by passionate people who can offer nutritional advice and information on the products they stock, such as which foods are suitable for dogs with allergies, or how to tackle fussy eaters.
Given these routes to market, their direct-to-consumer online presence takes on incredible importance. Not only does it need to offer clear and concise advice on their products, but also offer customers simple ordering and re-ordering (subscriptions) capabilities. The site is a vital representation of both the company and it's products, which is why they required a robust and fully-functional platform that is able to meet their current requirements and scale in line with their expansion plans, which include the development of international channels. They choose tradeit due to the inherent feature set, which includes an advanced CMS, rich marketing tools, built-in subscriptions capability (not an app or plug-in) as well as the ability to cater for multiple channels, all from a single installation. Integration with their back-office systems was also key to the project.
---
Ecommerce for the Pet Care Industry
With proven results in the Pet Care industry, our highly evolved tradeit ecommerce platform can help you take the next step. We work with some of the leading brands and have implemented flexible, robust and scalable ecommerce solutions to help them succeed.