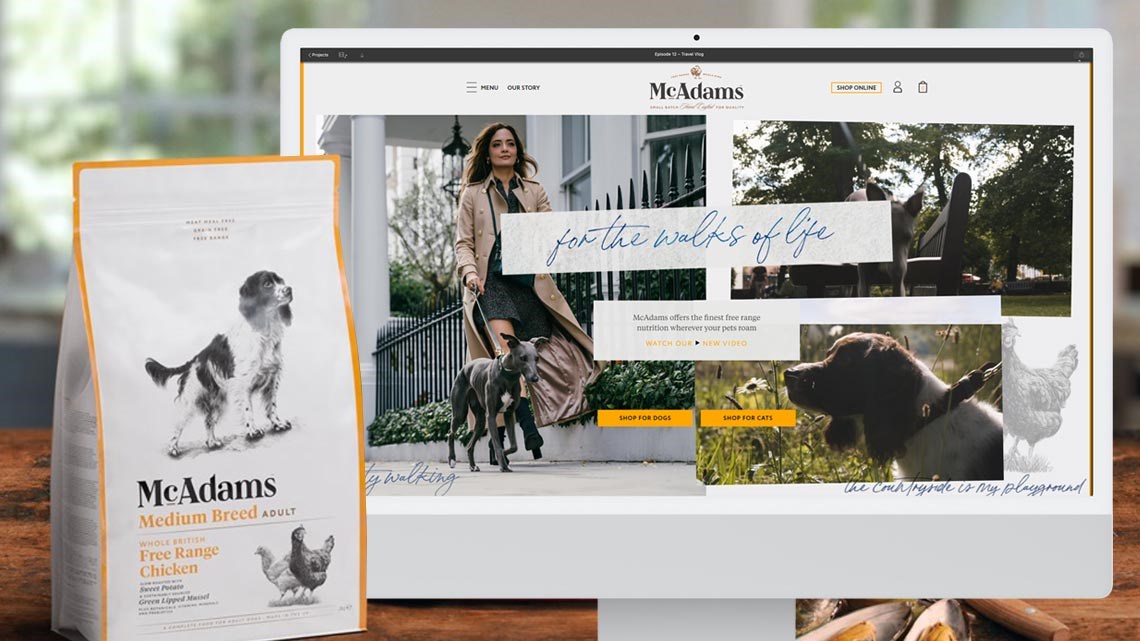 client news
McAdams upgrade their D2C ecommerce site to tradeit
Tuesday, 13 July 2021
McAdams is the one of the most prestigious manufacturers of dog and cat food in the UK and the only one using whole Free Range British chickens. With a range of products created using only these finest ingredients they are exclusively sold via specialist stores and their D2C ecommerce site due to the nature of nutritional advice the products require. You won't find them at the supermarket or at other online stores.
Given the importance of that direct-to-consumer online presence, having a best-in-class ecommerce site that represents their brand is a no-brainer. It's vital that the quality of the site represents the quality of the products they are selling and the nature of tradeit allows this. The site has been delivered on the latest 7.0.1 release of the platform featuring comprehensive in-site editing capabilities and customised conditional components enabling them to deliver stunning content pages alongside the class-leading ecommerce capabilities standard to tradeit.
Ecommerce Subscriptions
Pet food is a commodity item so offering subscriptions was an absolutely key element of their new site. It's a great opportunity to ensure future revenue without the added cost of acquisition, and helps drive a significantly higher CLV (Customer Lifetime Value) than from non-subscribers. Rather than rely on a third-party plugin or app like Autoship that they used previously and pay every month for the privilege, McAdams subscription functionality is inherent to the tradeit platform. That means it's developed as part of the core code by the same developers responsible for the platform, ensuring every element works perfectly.
McAdams are using a replenishment subscription model for their products but it's built to be flexible enough to support different business types and products so can cater for curated or access subscription models too. The commercial side is also taken into consideration to help avoid passive/delinquent churn with automatic customer notifications of any pending expiry dates on cards or failed payments.
It also offers customers a host of self-service tools to manage their subscriptions in their my account including:
Allows them to change frequency on a per product basis (these can be adjusted to remove any frequencies not possible or add additional ones)
Set a delivery address for the subscription (which can be updated at any time)
Choose a delivery day to suit them
Update payment card at any time
---
Ecommerce for the Pet Care Industry
With proven results in the Pet Care industry, our highly evolved tradeit ecommerce platform can help you take the next step. We work with some of the leading brands and have implemented flexible, robust and scalable ecommerce solutions to help them succeed.