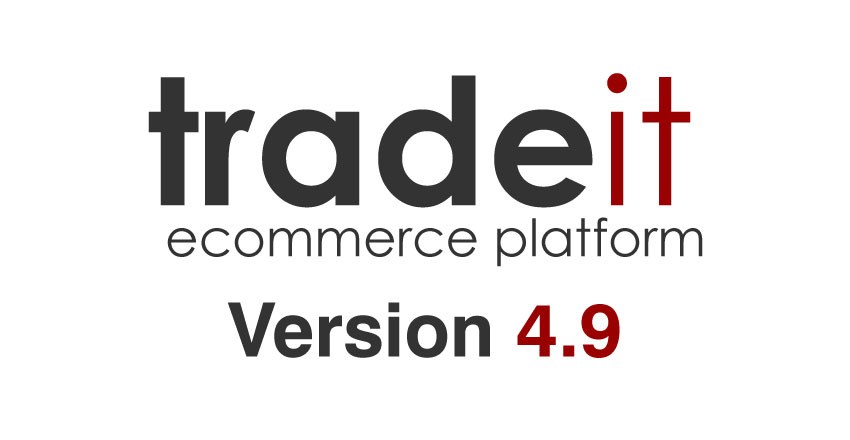 news
tradeit ecommerce platform version 4.9
Tuesday, 24 July 2012
Version 4.9 of the tradeit ecommerce platform brings with it a whole host of new features with a strong emphasis on the checkout
Checkout
Split deliveries NEW
Prior to version 4.9 each basket had one delivery address, one delivery option and one set of delivery instructions. Now a customer can:
Split single orders to multiple addresses worldwide.
Split a single order by item or group within the basket, or send the whole thing as a single delivery.
Schedule delivery arrival dates on an item, group or basket level. (Takes into account weekends, bank holidays, stock availability).
Automatically arrange items into one delivery group that represents basket items that are in stock and automatically arrange items into delivery groups that represent basket items that are available to pre-order that have the same release date.
Send items anonymously - great for surprise gifts on Valentine's Day.
Click and Collect NEW
As of version 4.9 you can either enter a delivery address or select a collection from store. If a customer selects a collection from store, the items will be delivered from the warehouse assigned to the current channel. A customer will also be able to collect certain items from store but deliver others to a destination of their choice, all from a single order, using the split deliveries option outlined above.
Gifting NEW
Prior to version 4.9 a customer could select a gift wrap option and enter a gift card message for their entire basket or select a gift wrap option and enter a gift card message for individual basket items. It is now possible for a customer to:
Select a gift wrap option and/or a gift card option, and enter a gift card message per delivery item, group or basket.
Include a 'Do not open until...' message with a specified date on an item, group or basket level.
Manage and maintain a personal address book with reminder service for important dates (Birthdays, anniversaries etc..). Set reminders days/weeks in advance.
Create wish/gift lists of desired products.
Delivery option costs NEW
Prior to version 4.9 the cost of the delivery option is stored against the basket. When exporting orders to 'back-end' systems it was necessary to create a 'fake' order line to represent the cost of the delivery option.
As of version 4.9 the cost of each delivery option is represented as an actual basket item and assigned to the relevant delivery group. This makes it straight forward to export orders to 'back-end' systems and in the long term will make it easier to refund delivery costs.
Miscellaneous NEW
Other enhancements include:
Add URLs for every step of the checkout, making it easy to track in analytics.
Check stock levels at individual stores.
---
Triggered Emails NEW
4.9 benefits from extremely powerful marketing functionality by using the built-in email engine to configure triggered emails, which can be automatically sent to customers and prospects based upon events that the merchant defines.
Customer registration.
Customer places an order.
Customer creates a basket.
Customer logs in.
Customer abandons a basket.
Customer places order over certain value (can differ between currencies).
You can then add event conditions which will determine whether an email is sent. These conditions could include:
Send X days after the event.
Send if customer has since placed an order.
Send if customer has logged in since event.
You can then define who will receive the email, for example:
All customers.
Customers in a specific group.
New customers.
You can also define which products/product groups the event is valid for. For instance:
All products.

Specific products.
Specific product groups.
If you have multiple brands or multiple international sites you can define which domains will be covered and also choose which email templates to use when sending, when to send the emails (down to a specific time of day) and how to personalise them (First Name/Last Name or Salutation/Last Name).
Set up the campaigns and emails are automatically sent each time an event is triggered without any more work, which makes them perfect for welcome emails, ordering reminders or abandoned basket campaigns.
---
Order Rules NEW
4.9 includes order rules functionality to aid with fraud prevention.
Merchants can now define rules to help improve fraud prevention and check for suspicious orders. These may include:
Customer places their first order.
Number of orders placed by customer during a certain period of time exceeds X.
Customer billing and shipping address is different.
Customer delivery postcode is X.
Customer billing postcode is X.
Order value exceeds £X.
Quantity of a single SKU exceeds X.
Once the rule conditions have been defined by the merchant, any suspicious orders will be flagged and highlighted in tradeit's administration system ready for review before being processed.