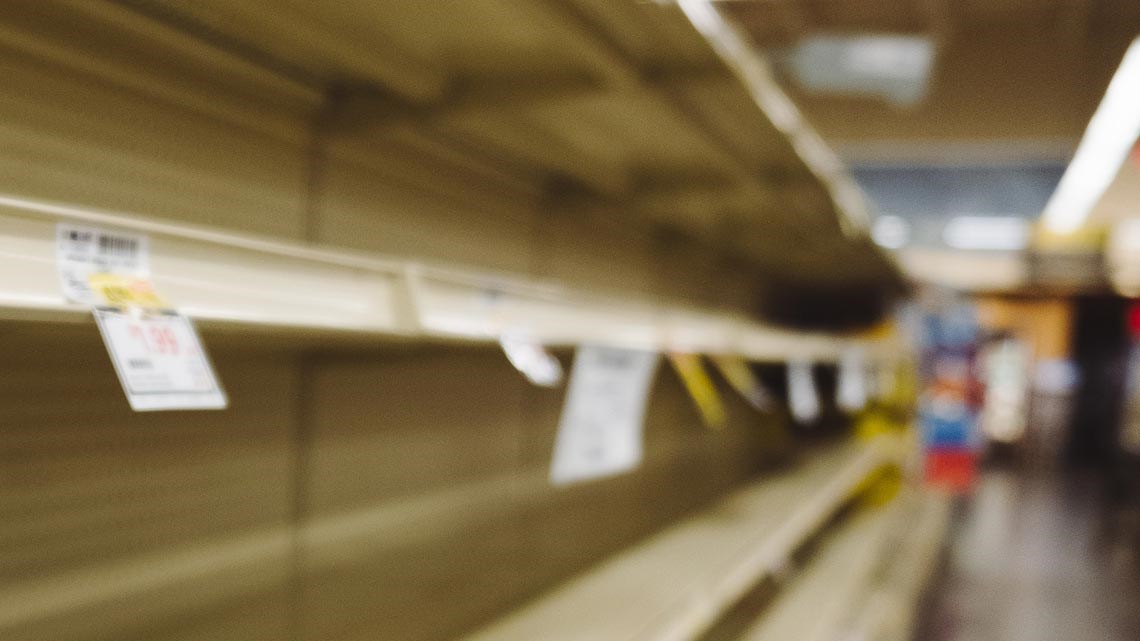 insights
CRO Lab - how to handle out of stock
Friday, 13 November 2020
One of the only drawbacks for ecommerce has always been its inability to closely replicate the in-store experience. The inability to actively sell to the customer, to fully engage with them, to deliver a more intelligent and personal touch, rather than just providing them somewhere to buy.
It's one of the few areas where bricks-and-mortar stores have a slight advantage. In their case, if a product is out of stock, an able assistant can recommend something else that will do the job, something that is in stock that the customer can buy there and then. That just doesn't happen properly online – not until now.
How it works
It's often difficult to handle items that are out of stock, and managed badly they can damage sales and create irate customers (or even potentially irate non-customers). In fact, the average out of stock rate for ecommerce sites is 8%, which is a huge chunk of potentially lost revenue. But still, most ecommerce sites handle out of stock items in the same number of different ways, including:
Taking the order anyway then telling the customer about the delay
Taking the order and NOT telling the customer about the delay but hoping they don't notice
Taking the order on backorder with the customer aware of any delay
Displaying a stock level of 0 and removing the ability to add it to the basket
Displaying the message "Out of stock" alongside a prompt to the user to add their email address to be informed when the item is available again
Whilst this last option is still worthwhile, particularly for merchants with a high turnover of stock, for items available from multiple vendors, we'd suggest this is rarely used, unless they offer a significantly lower price than their competitors. If the merchant doesn't have what the user is after, chances are they'll go elsewhere to get it.
Now, if the user wants an exact item and only that will do, there is little you can do about it outside organising and improving your purchasing, forecasting and stock management, but if they are happy to consider alternatives here's where tradeit can make a massive difference. Clearly merchants selling their own brand, or unique items, have a huge advantage in this scenario as the customer is limited in where they can buy the product, so might be happy to wait, or have no choice.
If the user isn't 100% sold on a specific item, there is still hope. Rather than resort to a back in stock notification and hope the customer waits patiently (that should be the last resort), it's about actively trying to steer them towards an alternative product that will do the same job, that is in stock, just like an able shop assistant would.
In practice
In tradeit this can be implemented across the site at every conceivable point the user engages with a product, rather than just where cross- or up-sells can be displayed. In fact it's not using traditional "customers also bought" or "you may also like" type recommendations at all.
"Users have found the functionality extremely useful"
Director, DK Tools (Amtech)
For example, DK Tools (Amtech) are one of the UK's leading manufacturers and distributors of hand and power tools for home, garage and garden use across over 60 product categories. With a range of over 2000 products they offer more than one solution to many a DIY problem. Rather than rely on customer patience and increase the risk of losing a sale, they actively deliver intelligent alternatives to their users, increasing conversions and average order value whilst decreasing bounce and abandonment rates. Here's how they do it.
Product Listings Page
On a product listings page, there are now three options on a product display box, depending on a product's stock status. They are, in stock and available to buy, out of stock with a prompt to be notified when available (as on most ecommerce sites), or the new status of out of stock but with alternative options, prompting the user to "VIEW ALTERNATIVE PRODUCTS".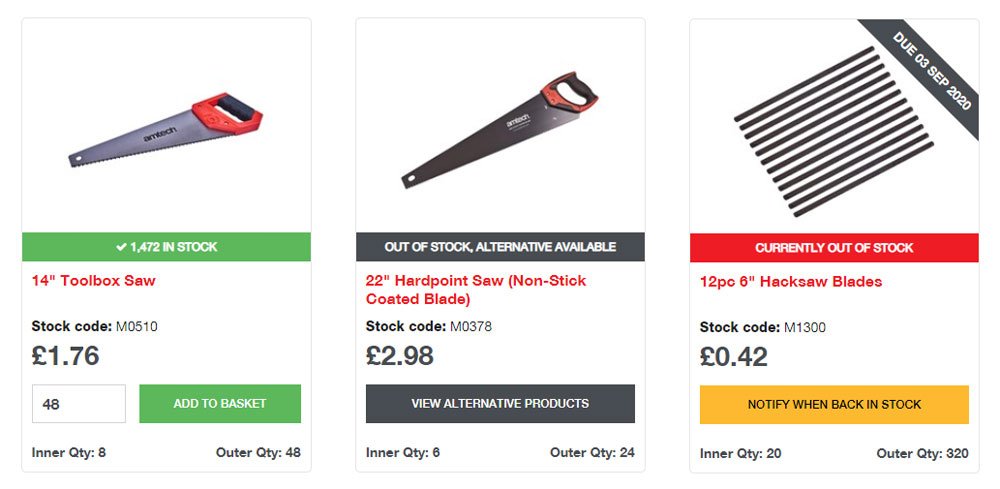 Users can now see three different product boxes displayed.
If the user chooses to view the alternative options, they are shown the most similar product matches that are currently in stock. If the stock level of an alternative is 0, or falls below the minimum order quantity that the user can buy, they are not displayed. If there are no alternatives, the messaging will revert to CURRENTLY OUT OF STOCK with the option to be notified once the item is back in stock. This adds the product to the user's Stock Notification List in their my account, and also triggers an email to be sent to them once that item is available.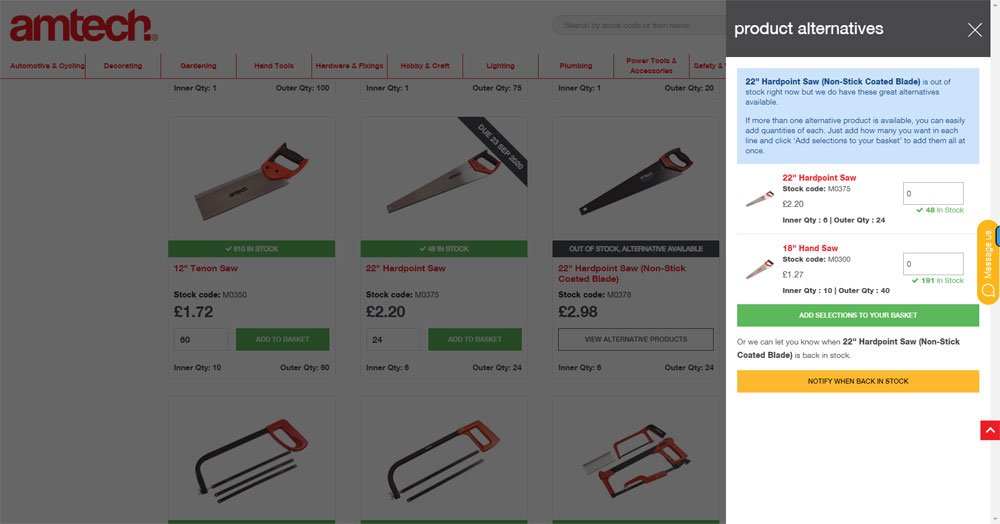 Alternative options can be displayed directly on the product listings page via the drawer overlay.
Product Details Page
This change has also been replicated in style on the product detail page. Previously, if an item was out of stock the user would just be displayed an out of stock notification which when clicked would add the product to their stock notification list and alert the user once it was available again. Now, they are informed when the item will be back in stock but also displayed any alternatives that are in stock with the ability to add them to the basket from that page. The stock alert notification is still there if the user is only interested in that precise product.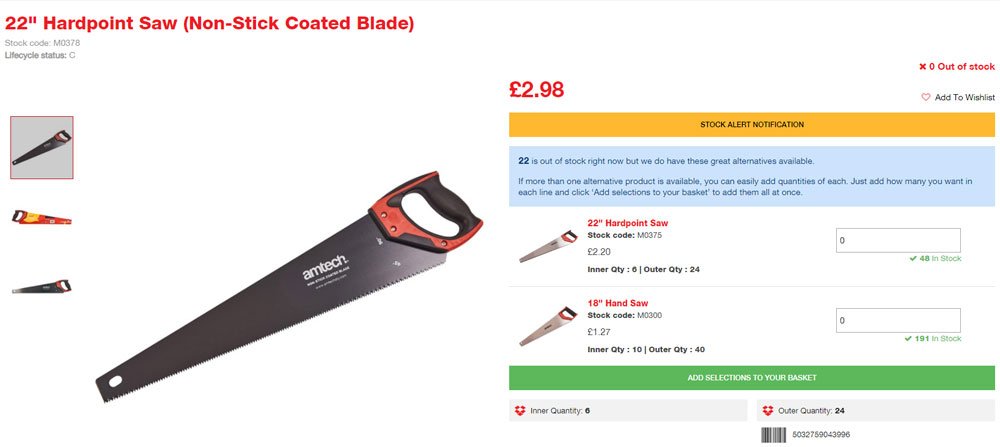 Alternative options with the ability to buy directly from the product page.
Quick Order Page
Being a B2B site, repeat and quick ordering is vital to their business, and many existing customers will go straight to the quick order form, so the functionality also needed to be made available in the user's my account. Not only that, users can also download a spreadsheet of those items with their alternatives listed for easy reference.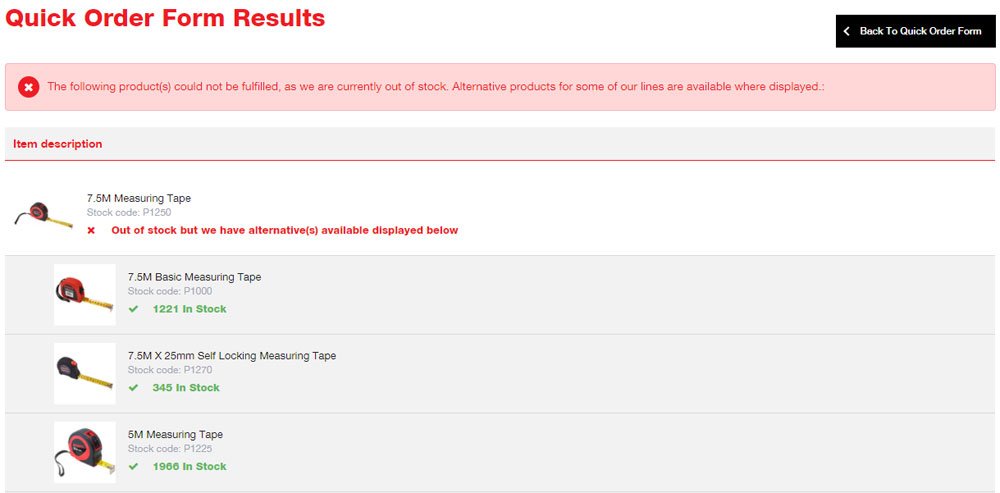 Alternative options are also displayed on the quick order form when items that the customer has selected are not in stock.
Get in touch to learn more about delivering intelligent alternative products that drive increased conversions and average order value with tradeit.
Award-winning
This project has subsequently won 'E-commerce Solution of the Year ' at the Retail systems Awards 2021 and been nominated at the upcoming Global Ecommerce Awards