Ecommerce Trends 2017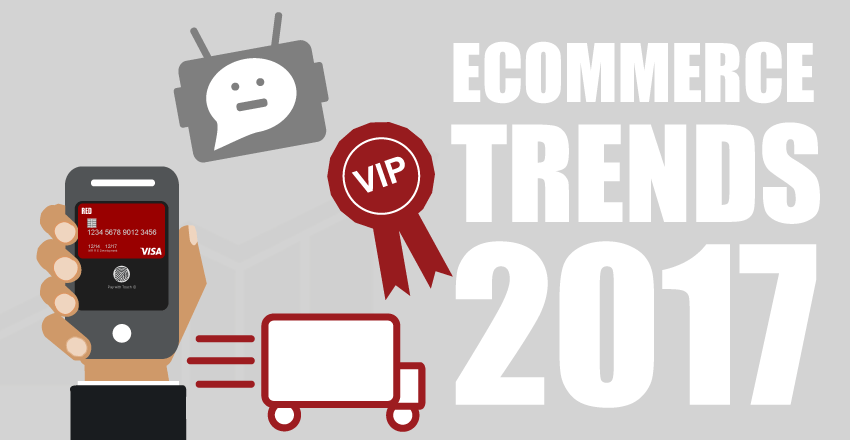 As ecommerce continues to evolve at a pace, we look at some of the key functionality that we believe merchants will be looking to add to their ecommerce and omni-channel operations in 2017.
Chat bots/AI
With the news that messaging apps are now more commonly used than social media (some 3.2 billion users worldwide), 2017 will see the emergence of chat bots, and other forms of artificial intelligence, across many ecommerce sites. With companies like Twitter, Facebook and Google already offering integrated bots, and with the capability to offer machine learning and natural language processing, the future is full of possibilities.
When you consider the ability to intelligently handle online search queries and take guided selling to a whole new level online, deal with customer queries or display order & shipping details for instance, the scope within ecommerce is huge. For instance you could use chat bots to:
Help users find exactly what they are looking for
Suggest alternatives
Add purchasing capability within a chat (conversational commerce)
Gather customer data for future use
Deliver remarketing based on previous conversations
Offer immediate discounts or promotions
Obtain customer feedback and deal with complaints
Answer any questions or queries
...and let's not forget, chat bots are available 24/7/365!
Personalisation
Personalisation has been around for years but merchants have really struggled to implement it and 2017 will see more retailers rolling out truly unique experiences to their users. The collection and analysis of user data allows merchants to now deliver customised content, recommendations, promotions, adverts, pricing and even products to their users based on their profile, location, order history, previous interactions, wish list and much more. This adoption of personalised online experiences will be a key differentiator for companies trying to get ahead of their competitors, helping to increase conversions and loyalty. As mentioned above, Chat bots will also be part of delivering the personalised user experience online.
Payment Options
The last few years have seen huge growth and diversity in new payment methods with the introduction of contactless payment cards, Chip and PIN, payment via mobile devices, and the growth of payment through wearables such as watches, wristbands and rings for offline payments. 2017 will see some of that technology transferred online, with the likes of Apple Pay, Android Pay, Google Wallet and Samsung Pay bringing their technology to the UK, as well as transferring that technology to online payments. This will give users the ability to authenticate their online payments through a mobile device or piece of wearable tech, which will give users more flexibility and security when paying for goods online.
Other payment methods like 'buy now, pay later' services from the likes of Klarna will also continue to grow as more merchants and users head towards cashless transactions.
Predictive Analysis
Predictive analysis is growing in popularity with retailers, wholesalers and distributors. With the ability to collect vast amounts of data about their users online, merchants now have a far better understanding of their consumers' buying habits and patterns, and potentially their next purchases. With technology now available to help them more accurately predict the future requirements of their users and the huge value of such information, the number of merchants implementing predictive analysis will grow considerably in 2017. Due to the volume and size of orders in B2B ecommerce, the scope for its use by distributors and wholesalers is greater still.
Further Omni-channel Growth
The last few years have seen many retailers make a deliberate move towards an omni-channel approach, aiming to seamlessly join up their online and offline channels. This is often delivered through the introduction of services like Click & Collect, online store stock checks, buy anywhere – return anywhere services, order in-store/endless aisle capabilities, fulfil from anywhere functionality, collection points, virtual rails etc...
Whilst delivering this type of functionality can often prove to be quite a challenge for merchants, those that don't evolve will continue to lose ground on their competitors. Those that succeed will look to continue to expand their capabilities and introduce new functionality to aid their quest for the mythical single customer view. This may mean introducing further channels to sell, such as pureplay retailers opening a physical store/showroom, or new technology to track and analyse consumer behaviour like advanced analytics, NFC or beacons. Either way, those that are succesful will continue to evolve their online and offline capabilities so 2017 will see further innovation in the omni-channel space.
D2C - More manufacturers selling directly to end users
There has been a long tradition of manufacturers in the UK using a distribution model/retail partners to sell their goods but the growth of ecommerce has changed that model forever. It is now easier than ever for manufacturers to sell directly to their consumers, cutting out the middle man in the process. Whilst this approach has huge benefits for both the manufacturer (sell at higher price, increase knowledge/direct relationship with end users) and the consumer (cheaper prices, access to entire range/spares/accessories), it needs to be carefully managed. That said, 2017 will see more and more manufacturers launching their own ecommerce channel and reaping the benefits of selling directly to their end users.
See our insight into Avoiding internal and external channel conflict with ecommerce to learn more
Mobile
With Google rolling out a mobile-first index and the fact that mobile traffic has been outgrowing desktop traffic since 2014 – with some estimates suggesting that two thirds of all online retail will be conducted via smartphones by 2020 - it's now more important than ever that your ecommerce site is optimised for mobile devices. Whilst most retailers having already moved to a responsive design, tailoring your site towards mobile users will become even more prevalent in 2017.
Loyalty Schemes
Price is the main driver for people purchasing goods online and as consumers become more savvy, with simple tools at hand to compare retailers and get money off coupons for purchases, trying to secure customer loyalty will become a factor in combatting some of these practices. Rewarding regular purchasers and delivering personalised offers and promotions will be key to retaining customers so loyalty schemes will come to the fore.
MaxiRewards is Maximsucle's own online loyalty programme that allows users to gain points on every purchase they make. These points can then be redeemed for money off future purchases, rewarding customers for their loyalty. However the key for Maximuscle is the insight they now gain into user's spending habits in terms of frequency, product type and quantity, something they have no knowledge of when consumers buy their products through third party channels like Tesco, Boots or Holland & Barrett. This enables them to deliver tailored messages, product recommendations, content (training guides, nutrition plans, videos etc..) and further rewards based on their behaviour, helping to increase further loyalty. 2017 will see more retailers and manufacturers delivering loyalty schemes like MaxiRewards.
Learn more about tradeit's own loyalty schemes