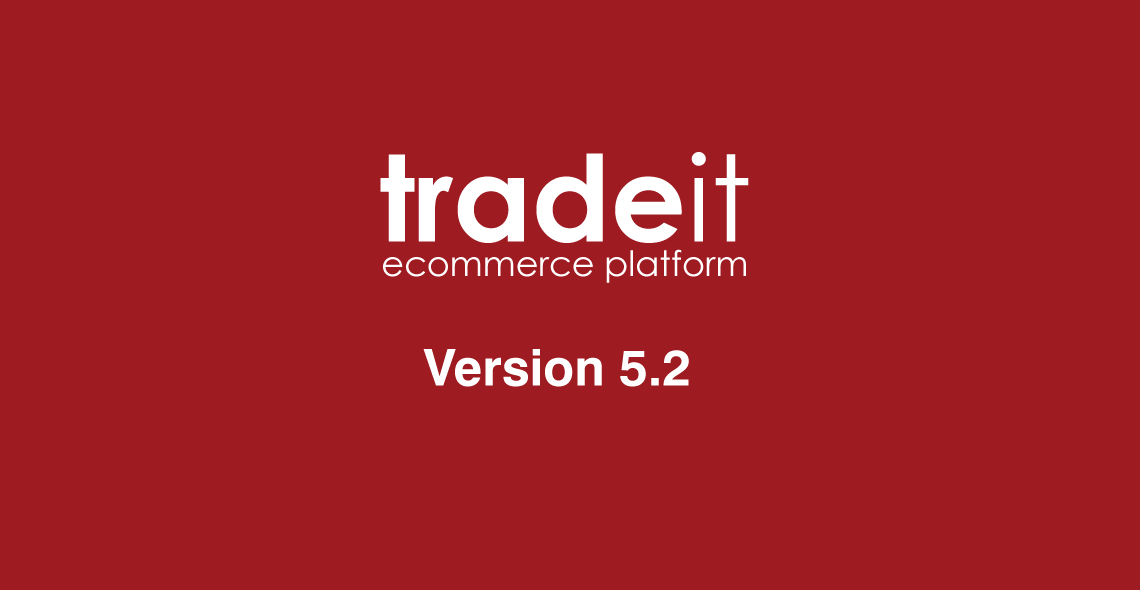 news
tradeit ecommerce platform version 5.2
Monday, 19 October 2015
The release of update 5.2 brings further enhanced functionality to the platform including:
Responsive Content NEW
With more and more of our projects now being delivered with a responsive design, tradeit has been updated to administer responsive content types which can then be used to populate designated advertising zones across these sites. This includes all types of advertising content but is primarily aimed at images and images overlaid with text, where the device type can make a real difference to how it is displayed to the user and whether any text is legible as it reduces in size. In order to combat this, merchants can now populate the same advertising area with a different sized avert for each breakpoint if they wish. This helps ensure that any text and images render perfectly for each device type. This could also be used to deliver different advertising content for each breakpoint. For instance, the smallest sized advert could display different, mobile-specific, content to that shown at the other breakpoints.
---
Basket
Basket Value Conditions NEW
tradeit contains a comprehensive and sophisticated advertising system within the platform which has been further enhanced (along with the responsive content above) to trigger the display of adverts to the user, based on the value of the items in their basket. A minimum and maximum value can be defined for every single price list within the system, so different adverts can display to different users/user groups based on differing basket values if required. This extends to different currencies, countries and channels too. If the value of the basket then sits between these two values, the advert will display (assuming any other required conditions have been met). A great use for this is for mini-basket/checkout page adverts that look to help increase the average order value. For instance, 'Spend another £x and get FREE delivery'. The remaining balance required to meet the defined threshold can then be dynamically generated, and displayed on a merchant's advert.
Offer Conditions NEW
Adverts can now also be displayed or hidden depending on whether an offer is applied to the basket. So, for example, if '10% off an order' is applied to the basket, the merchant may choose to display an advert of their choice. However, if 'free delivery' is applied to the basket, the merchant may choose to hide their advert.
---
Product Aliases UPDATED
Originally released in version 4.3, tradeit has the ability to provide product aliases for the same product, for different companies. This meant that when a customer assigned to a specific company logged in, they would see the SKU relevant to them. this has been enhanced so that product code aliases can still be added for products, but not assigned to a company, meaning multiple SKUs can be displayed within the storefront for anonymous customers.
---
Persistent User Actions NEW
The ability to now display adverts and validate promotions across user sessions arrives in 5.2. This enables retailers to personalise content to their existing users, based on their account history and previous interactions, even when they are not logged in. This is configurable in the administration system and means merchants can select whether or not to use this functionality and how long the user will be remembered for (in days), if they do.
Similar functionality has also been introduced for recently viewed products, which means that they can be maintained across sessions and displayed to a user when they revisit the site. The site's design and templates will determine where these are displayed on the site, but the merchant can control how many are stored within the cookie and displayed back to the user.
---
User Interface Design UPDATED
The administration system of tradeit has been redesigned in the latest version, with the main aim being to improve the experience for tablet users. Primarily, this involves being able to toggle between sections providing more space for the main content areas of the back office to be displayed in.
tradeit also features a comprehensive B2B feature set that itself has been expanded in the latest release of tradeit.
---
Back Orders UPDATED
Merchants can now further interrogate back orders by searching through them based on customer, company, order number, or product. There is also a new workflow related to this that allows various actions to be executed when the status of such an item changes including sending an email to the customer to inform them of a change in status of their order or increment/decrement of the items they are waiting for.
---
Financial Documents NEW
Using tradeit's dedicated B2B functionality, it allows the customers of our B2B merchants the ability to pay for items ordered online on account, as well as via other payment methods. The customer can then view full details of the invoice for that including invoice & shipping addresses, order date, payment due date, PO Number, all the product details for item ordered and the balance of each item and total order. However, if a customer has ordered items on account previously but now wants to clear them from their balance, they can bring up any outstanding invoices, add them to their basket and pay any outstanding debt (via credit/debit card) online.