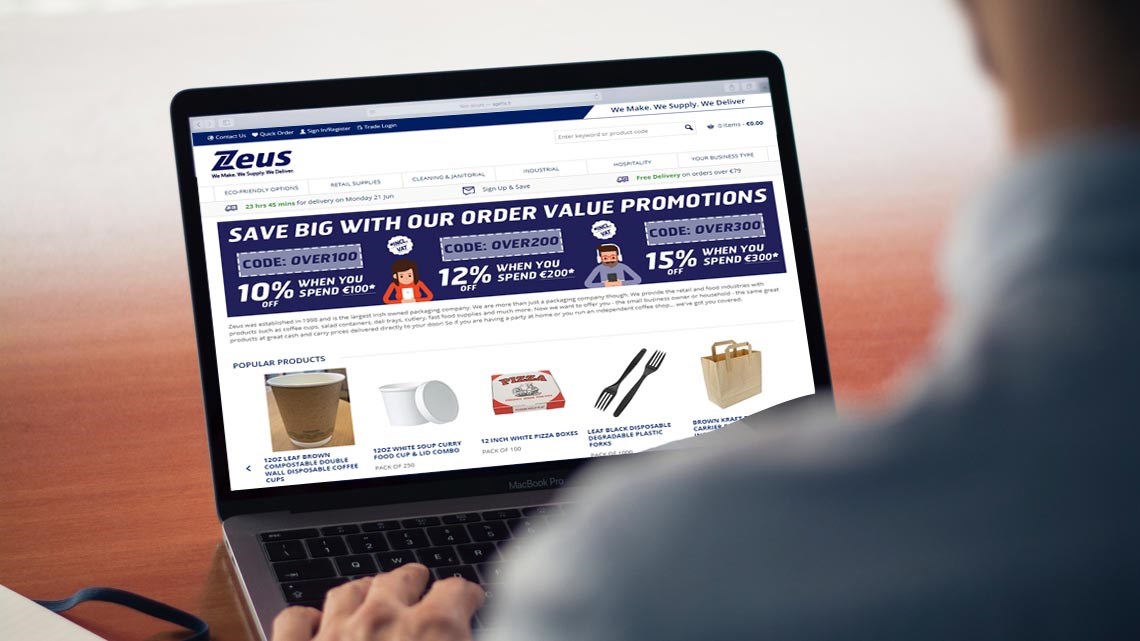 client news
Zeus Packaging begin B2B & D2C ecommerce rollout
Tuesday, 15 August 2017
Established in 1988, Zeus are the largest irish-owened packaging company with divisions covering retail, food & drink packaging, janitorial supplies, agricultural packaging, hospitality supplies and fashion packaging. With numerous sites across the globe they are constantly expanding their presence, so needed an ecommerce platform that could scale with their business internationally.
In order to meet their requirements of a platform that could scale their B2B & D2C ecommerce business internationally, they chose tradeit. Built to support any of their business customers or end users; from individual households, to the smallest coffee shop, to the largest international retailer; with seamless integrations to their SAP ERP system it's ideal for their current and future needs. Of particular importance is the built-in call centre functionality which enables their sales team to use the ecommerce sites as enhanced selling tools through the dedicated account management and customer service capabilities, alongside class-leading ecommerce.
---
Ecommerce for the Packaging Industry
With proven results in the packaging industry, our highly evolved tradeit ecommerce platform can help you take the next step. We work with some of the leading companies and have implemented flexible, robust and scalable ecommerce solutions to help them succeed.