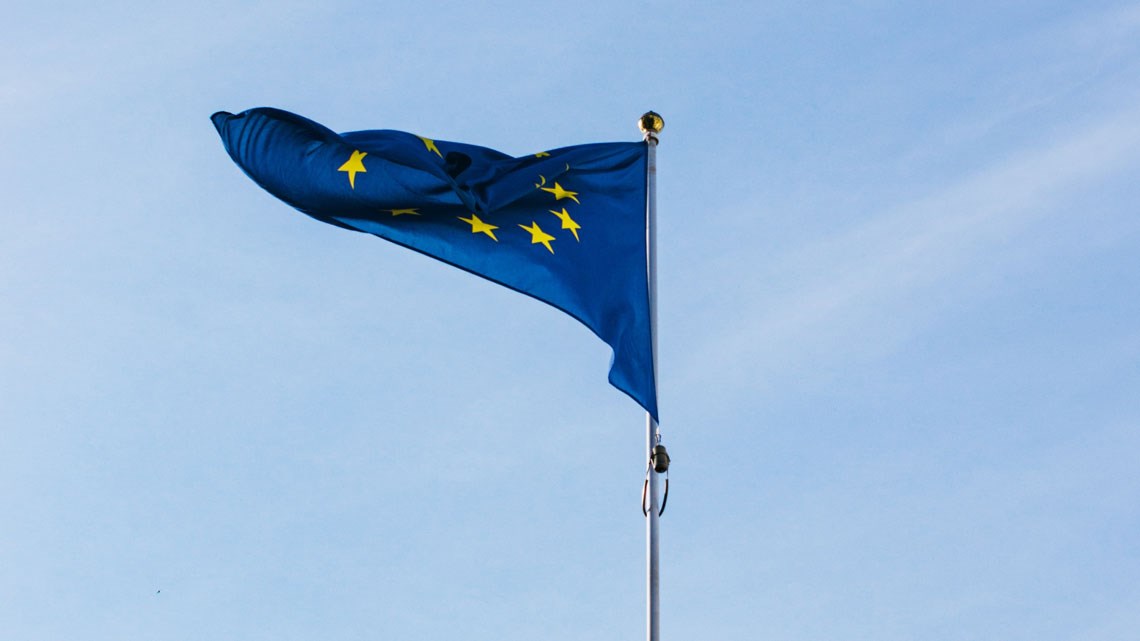 insights
Trading with Europe post Brexit - the ecommerce point of view
Monday, 18 January 2021
Following Britain's decision to leave the EU in June 2016, there are now new rules coming into effect on 1st Jan 2021. Regardless of where your business is based, sales to and from Great Britain (England, Wales, and Scotland) are now subject to new regulations, customs, and duties. The customs border has been reinstated between the EU and Great Britain, which brings new VAT rules for goods imported into and exported from the UK. Northern Ireland will remain part of the UK customs territory but also remain part of the EU for VAT purposes so is also subject to a few smaller changes which won't be covered fully in this article.
This guide, whilst no means comprehensive, should give you an idea of some of the things you might need to consider, some of the terminology you may come across, and some of the ways in which tradeit can help you sell internationally. However, it is not aimed at providing a detailed insight into the intricacies of European law, taxation systems or customs requirements. If in any doubt, please consult with a tax expert, accountant, freight forwarding company or similar.
For further detailed information, the government website provides clear guidelines that any business intent on dealing with those countries will need to follow.
EORI Numbers
In order to trade with those countries in the EU and beyond, your business will need to be VAT registered with HMRC and obtain an Economic Operators Registration and Identification (EORI) number.
An EORI number is used to identify businesses that want to import or export physical goods to another country. Those businesses who already traded outside of the EU may already be familiar with the concept. An EORI number is now required to trade between Great Britain and the EU and is a 12-digit number that begins with the two-letter code used to identify the country that issued the number – i.e. GB123456789000. It is often your VAT with 000 on the end.
To send goods to and from Northern Ireland, a second EORI number beginning with XI might be required. However, if your business is based in Northern Ireland and only sells goods domestically and in the Republic of Ireland, you will not need an EORI number.
For B2B sales, merchants would need to capture the EORI of the recipient when they place an order so that it can be passed down to their internal systems and applied to any shipping/customs documentation.
Customs Compliance
As per government advice, many businesses will opt to use a third party such as custom agent, freight forwarder or shipping company/courier to complete customs declarations on their behalf, however the agents will still need to know the EORI number to complete the paperwork. If there's no EORI number provided with the import or export, goods may be held up for customs clearance and there may be associated fees as a result (administration or storage costs for example).
For those choosing to do it themselves, you'll need to register for and use the National Export System (NES), which will let you make declarations electronically filled in for CHIEF (Customs Handling of Import and Export Freight) using the Customs Declaration Service, so you will need to know how to use the software.
The EORI number needs to be quoted in documentation such as customs declarations and clearances along with other information such as:
Commodity/HS Codes (see below) and product descriptions.
Total value of each product in the shipment (When filling in the value of your goods, use the price you're selling them for).
Country of origin or manufacture.
VAT registration number.
Amount of VAT collected on the shipment.
Total weight in kilograms, not grams, (i.e. 0.3KG rather than 300 grams) .
Reasons for export – Sale, Return/Replacement, or Gift.
Commodity/HS Codes
Commodity Codes or Harmonised System (HS) Codes are an internationally standardised system of names and numbers to classify traded products, which need to be applied when importing or exporting those items. HS Codes are organised into 21 sections, which are subdivided into 99 chapters. The 99 chapters are further subdivided into 1,244 headings and 5224 subheadings and are used to help determine duty on the products you are selling. Normally this data would be held in your ERP system, but if you're operating a web-first business, your product data can easily be enriched with HS codes in tradeit.
It's important to know the HS codes for each product that you're selling and ensure they are correct in order to ensure smooth transit. The government provides a searchable system online to help whilst the World Customs Organisation also provides more information on the system.
VAT & Duties
Imports
Businesses importing goods from the EU (as well as the rest of the world) now have to account for import VAT. However, In order to make things easier and speed up the process, most businesses will opt to use the new 'postponed accounting' measures meaning that import VAT on goods from the EU will be declared and paid via their normal VAT Return, rather than immediately at the border. However, this only apples if the value exceeds £135. For imports beneath this amount, there's still a need to account for VAT but you must use the new rules outlined below.
VAT on imports £135 and under
Foreign companies selling goods into the UK will need to charge UK VAT at the point of sale and apply to be part of the UK VAT system when supplying goods with a value of £135 or less to end consumers (B2C/D2C). Low Value Consignment Relief (LVCR) which previously exempted imports with a value of £15 or less has been abolished so all imports are now liable.
In B2B ecommerce, companies who buy goods of £135 or less will have to account for the VAT as part of the reverse charge procedure, declaring the VAT on their next VAT Return. The recipient business should notify the vendor of their VAT number, or the seller will have no choice but to treat it as if it is a B2C sale and apply VAT at the point of sale.
Exports
Exports to EU countries will now be treated like those to non-EU countries, which means they should be zero-rated for UK VAT, regardless of whether you are selling goods to a consumer (B2C/D2C), or another business (B2B). This is based on the delivery address of the order.
Adjust your tax settings in tradeit
tradeit allows merchants to configure 0% VAT rates via the admin system. Typically it is managed per group of countries, meaning you can apply the changes to all EU member states as one, so don't need to do it on a country-by-country basis (although you can if necessary).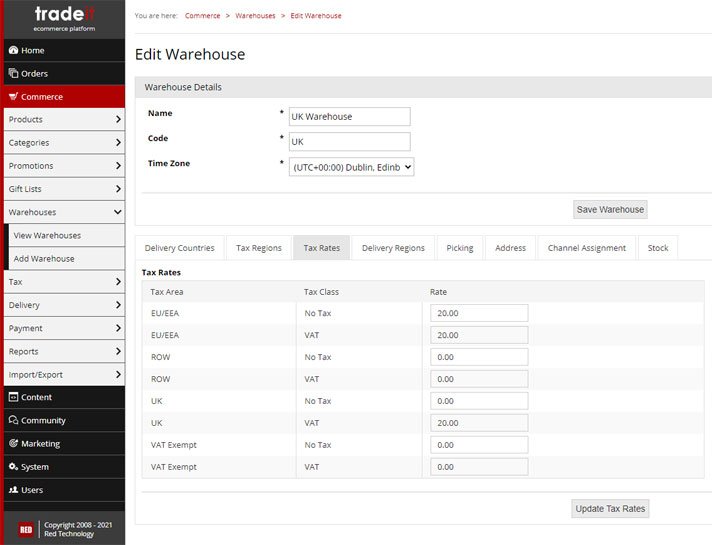 Merchants can easily set tax rates to %0 VAT for the EU.
Incoterms
One other obvious consideration is the payment of duties (including any customs charges), and who is responsible for their costs when shipping to customers overseas. Items sent to the EU from England, Scotland and Wales are subject to VAT and duties in the EU and may incur a customs clearance/handling fee in the receiving country. The customs authorities in the destination country and the customs thresholds in place determine if charges are due on imported goods, and the thresholds of charges vary from country to country. You will need to decide how the recipient will pay these as the parcel won't be released until payment has been received.
Now clearly this is possibly quite a contentious issue and merchants have to decide whether to calculate those costs and incorporate them into their prices (Delivered Duty Paid (DDP)), or ask their customers to pay them when receiving their goods (Delivered at Place (DAP)) but communicating that to your customers is vitally important.
Delivered Duty Paid (DDP)
The first option indicates that the vendor is responsible for any associated costs with the simplest option being to integrate with a duty calculator so the customer knows the complete landed cost when buying the item. You could try and make an educated guess or employ an expert to calculate them all for you but a third party tool is probably easier, albeit with its associated cost. This option might also be the best way of avoiding customer dissatisfaction if they receive a further bill when taking delivery of goods, especially if they aren't expecting it.
Delivered at Place (DAP)
The second option indicates that the seller is only liable for shipping the product and not responsible for any import costs associated. Whilst this obviously involves less work and cost for the merchant, the long term damage it would probably cause to customer retention, may well outweigh those savings, especially if your competitors aren't asking their customers to pay such costs. This option would also likely see many more delays and returns with many customers refusing to pay the charges causing further costs, administration issues and customer complaints.
Whichever route you adopt you will need to update your website terms & conditions, and shipping policy to outline who is responsible for the payment of any tariffs, ensuring the customer is aware if they are. Many UK companies (like John Lewis, Asos, Fortnum & Mason and Zooplus) have stopped shipping to the EU whilst they try to understand exactly how to charge for their goods. However, if a significant chunk of your sales comes from the EU then that is not really an option, but with many of your competitors potentially not willing, or unable to service the EU, there's an opportunity there too.
International Ecommerce & Warehousing
One other measure many companies are adopting is the move towards establishing an EU warehouse and one or more EU ecommerce channels through which to service their EU customers, thus avoiding many of these challenges. tradeit supports multiple B2B, B2C & D2C ecommerce channels from a single installation of the software with as much shared or unique content as you require. Each site can be localised to support the local language, currency, warehousing and taxation systems. Learn more about launching international ecommerce channels with tradeit.