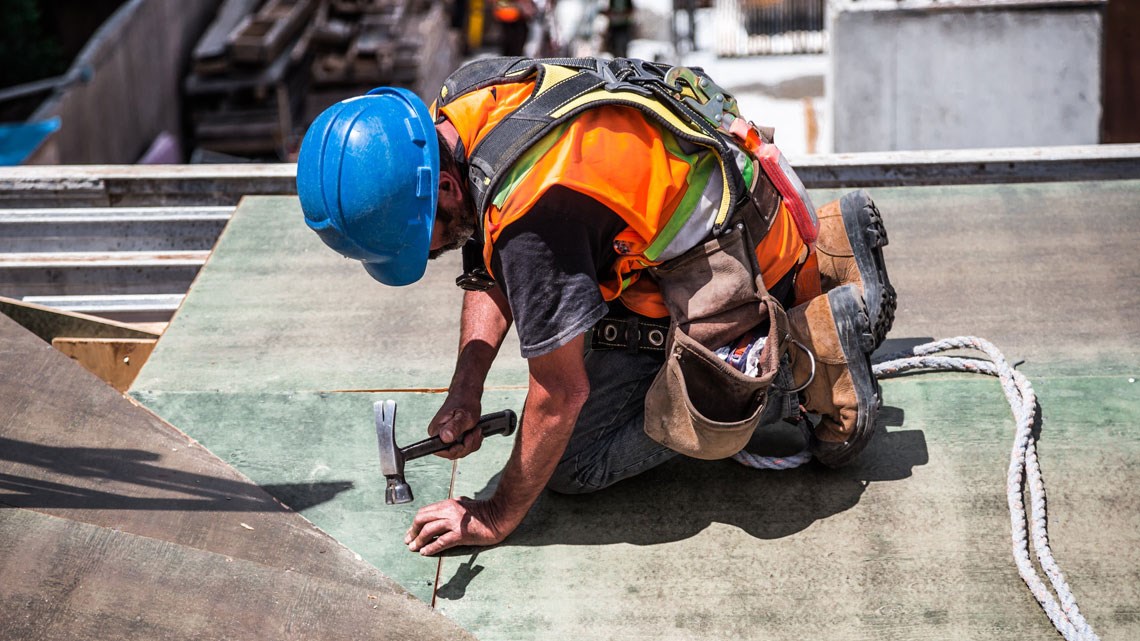 insights
How Builder's Merchants are driving their digital evolution with tradeit
Thursday, 19 January 2023
Whilst ecommerce has boomed across many sectors (particularly retail), due to the nature of their business, builder's merchants have been slower in following. Adapting to the digital transformation of the sector has been a more considered and complex process for most, given their product set and traditional customer base.
The types and quantity of products they sell, don't automatically lend themselves to being sold online, whilst most builder's merchants also pride themselves on delivering great customer service in branch, which is almost impossible to deliver online.
Traditionally, customers all visited a branch, meaning merchants got to know them personally and build relationships with them. Customers would also seek them out for expertise and guidance. However, the impact of Gen Z and their influence on the business owners they work for, the commoditisation of certain products meaning they become more of a retail than trade purchase, and improvements in fulfilment capability, mean that relationship is changing.
The challenge is how to harness that in-branch knowledge and use it to service customers in the traditional sense, whilst also providing online customers with those same benefits, but allowing them to self-serve when they want, or when branches are not open. It's about finding a perfect marriage of online and offline capability but not losing that personal touch and expertise that make the difference.
A feature-rich ecommerce platform
The starting point for delivering this is a feature-rich ecommerce platform that can support both retail and trade customers, adapting to the different customers builder's merchants now serve. Whilst traditionally serving the trade, many are now finding that their main customer growth is coming from DIY enthusiasts, or home builders, buying directly. Whilst there is some overlap, these targets also have many uniquely different requirements, and any site should be capable of supporting them both with the functionality they need.
Self-service
Unlike a traditional bricks and mortar merchant, a website runs 24/7/365 meaning customers will often be using it whilst you are closed, particularly if they have been working on-site all day. For trade customers this could be raising or converting a quote in the evening but may also include admin such as paying outstanding invoices online or downloading financial statements for their records.
Ensuring your site provides trade-specific functionality out of the box is key as many platforms are designed for retailers, they lack the important functions required by B2B users.
Speed
Site speed is vital no matter what your business, but with many of your target customers accessing your website via a mobile device, performance becomes even more important as loading times directly impact on conversions. For every extra second your site takes to load, you lose 4.42% more customers, most likely never to return. tradeit has been developed for maximum performance against Google's web vitals meaning site speed is excellent across all device types.
Click & collect
Click & Collect is a great way to drive customers to your physical branches and maintain those personal relationships, but are you offering the best version you can? Customers now expect flexibility and tradeit enables you to deliver click & collect from all branches, check stock of every product at every branch online, and even cater for the movement of stock between branches to fulfil orders as quickly as possible.
Complex Product Sales
Certain products within the building trade are notoriously complex to sell, such as timber, paving or aggregates, as a specific amount or size maybe needed for a job. Traditionally, this meant when selling those items online, merchants would only offer those products in fixed sizes, lengths, weights or amounts. This creates unnecessary waste, means the customer pays for more than they need and often has to fit the item to size themselves.
tradeit enables merchants to offer products like these that can be made-to-measure with the price adjusted in real time, depending on the quantity, size, length or weight ordered. This means customers can order what they want, when they want - all online.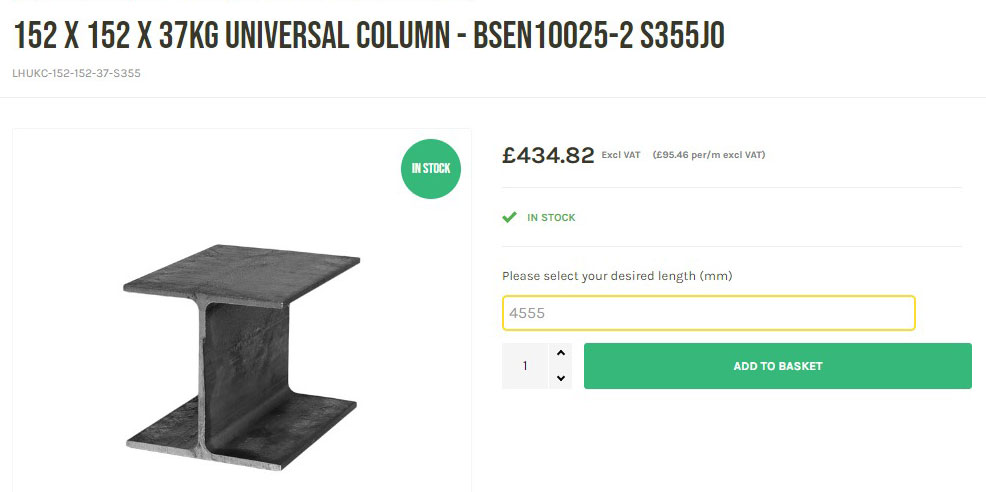 Example of a steel cut to size (to the nearest mm) and sold online by BM Steel
Search
With a product catalogue that is likely to run to thousands of different items, often with numerous variations, search is vital. tradeit's on-site search is powered by Elasticsearch meaning results are returned in split seconds whilst all search criteria can be configured using numerous metrics to help return better and more relevant results to the user without spending hours manipulating data.
Fulfilment
Fulfilment can be one of the key areas where you differentiate yourselves from your competitors with the range of options you provide, and quality of your service. Aside from offering enhanced Click & collect as mentioned above, do you have your own delivery capability? Can you use a local courier for some items? Do you offer drop-shipping direct from the manufacturer or supplier? Can you combine fulfilment types within a single order? Can you split single orders to multiple delivery addresses? can you ensure items reach site when they're meant to?
tradeit caters for numerous fulfilment possibilities to ensure that you stand out from the crowd and can cater to the high expectations of today's consumers.
Design
A lot of builder's merchants sites all blend into one another. They all look the same as they're all built on a standard template with just a colour and logo change. tradeit enables individual, fully customised designs in keeping with your brand and style meaning you can standout from the cookie-cutter look and feel of most of your competitors.
Live Chat
As we've said, one of the key challenges is to support web customers by offering them the same level of expertise online that you can offer in branch. Live chat is the most obvious way to replicate this, particularly if you are able to staff it with the same level of expertise you have in branch. tradeit has been integrated with numerous chat providers including tawk.to, Live Chat, Liveperson, Who's On and many more.
In Conclusion
The digital uptake of your customers is vital to your success, whether that's just browsing online but still buying everything in-branch, buying online and collecting in-branch, or completing the entire sales cycle online, from research to purchase, to delivery and payment, all online.
As ecommerce evolves and your business evolves with it, further digital capabilities will be introduced and become more prevalent. Your customer profile will also continue to evolve as users who've grown up in a fully digital world become the norm. Match their requirements with a proven ecommerce platform ideal for the building & construction sector.
Are you a Builder's Merchant looking to enhance your digital offering or wanting to start your online journey