When they acquired Staples UK, Office Outlet also acquired millions of pounds worth of stock. As a new business, it didn't make commercial or economic sense to have such a large stock holding, so they set about significantly lowering it. Not only that, they didn't want to support and service the huge stores that Staples UK had been operating, so also reduced the average store footprint from 20,000 ft² to 5,500 ft². Whilst these moves helped the business become leaner and more agile, the introduction of Endless Aisle across their stores ensured they weren't at the expense of sales by:
Increasing product availability in stores using technology.
Providing customers with multiple purchasing options both online and in-store.
Demonstrating an ROI.
Merging online and offline channels and becoming more customer centric.
Trying to convert every single customer who entered a store with purchasing intent.
Webinar Details
Date:
Apologies, but due to unforeseen circumstances we have had to postpone the webinar.
Time:

10:30 AM - Webinar will last approx. 20 minutes
Featured Speaker:
James Candy
Business Development Director, Red Technology
Register Now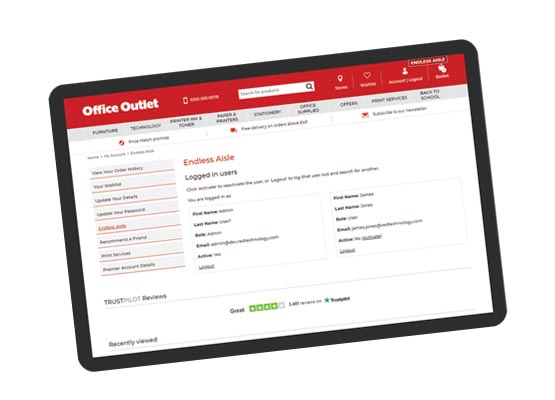 This webinar is a must for anybody looking to
Understand: how to deliver a superior omni-channel retail experience online.
Discover: how one of the UK's leading omni-channel retailers used technology to help drive sales in stores.
Learn: best practice for delivering an endless aisle solution.
If you are unable to attend the webinar but would like to know how Office Outlet reduced stock and store size, but grew sales using Endless Aisle, then please get in touch.