Will ecommerce cause the demise of the Salesperson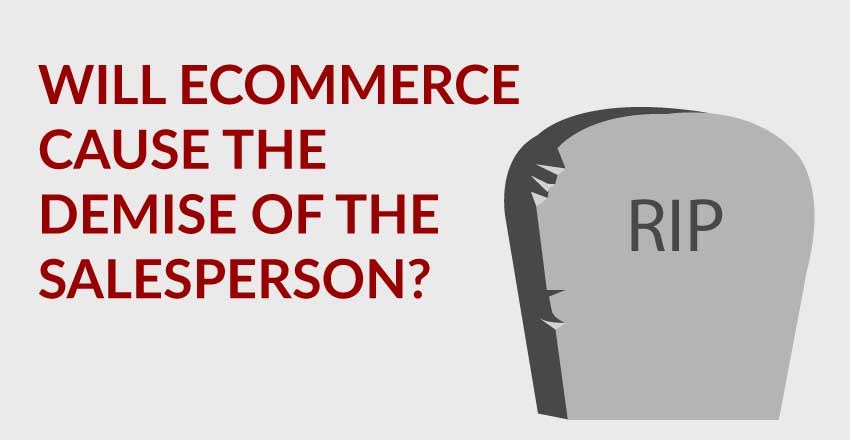 The growth of ecommerce, particularly in B2B, is meaning consumers are engaging less and less with sales people during the buying cycle, particularly on lower value, regularly ordered or commodity items. At the end of the day, the people who are ordering on behalf of companies are used to buying online in their personal lives so it's nothing different. The ease of ordering online, and sheer volume of information available, means there is no need for pre-purchase interaction. More advanced online portals offering sophisticated self-service tools are becoming more prevalent and making the customer purchasing experience both richer and simply circumnavigating the need for people.
Content-rich ecommerce sites will also be providing any additional information to drive these purchases, further reducing the need for salespeople, particularly in lower skilled roles. In fact, Forrester Research predicts a 22% reduction in B2B sales roles by 2020 as a direct result of the impact of ecommerce, with the majority coming from these lower skilled positions.
Even though more complex products and services have been demystified to a certain extent, by their very nature they are likely to require some form of interaction during the sales cycle. The longer buying process and more complicated requirements mean expert consultancy and advice will be key to driving the sale. This can still be supported by technical documentation and tools online but its bespoke nature may make it harder to replicate the process using ecommerce. However as ecommerce platforms and integrations become ever more sophisticated their ability to replicate more complex processes also increases.
So whilst ecommerce won't cause the complete demise of sales people it will have a serious impact. With subtle changes or different approaches, what seems inconceivable to purchase online today may well be the next big thing. The last ten years have taught us not to discount the possibility of anything in ecommerce as companies emerge using a digital approach to an existing or new market as the USP in itself, such as selling houses or buying cars.
If you're thinking about providing your users with the advanced self-service functionality they require or are looking to free up your salespeople to spend more time targeting higher value and more complex deals contact us to see how tradeit can help.
Learn more about the B2B ecommerce capabilities of tradeit