Using and attracting online reviews & ratings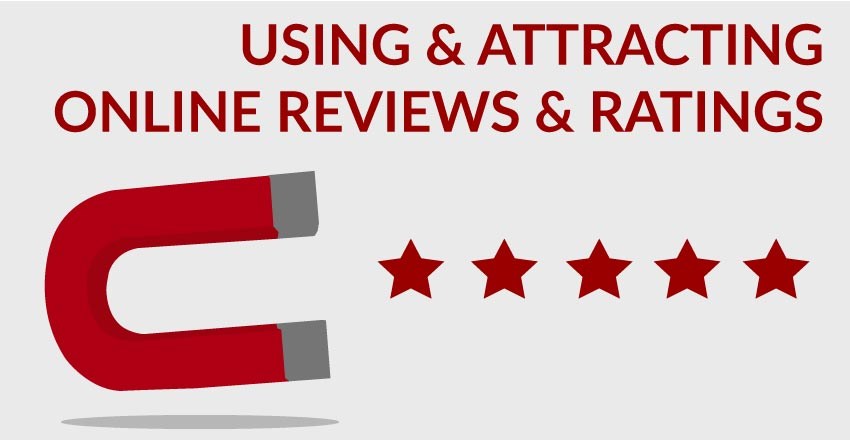 In a previous Insight we outlined 5 reasons why you need ecommerce reviews and ratings on your ecommerce site, but how do you go about using them?
A ratings and reviews engine
It's obvious, but the very first thing you need is to ensure that you either have a reviews and ratings engine built into your ecommerce platform, like tradeit does, or you have integrated your platform with an independent, third party system such as Trustpilot, Bazaarvoice or Feefo, or a syndicated review service like PowerReviews. With up to 60% of users likely to read reviews before making a purchase online, their importance cannot be overestimated.
There are pros and cons to each system so think about which would work best for you. If your ecommerce platform includes a ratings and reviews engine that might be a good place to start, rather than incur the additional cost of integrating and using a third-party service. However, if you feel a third party service might suit you better there are loads to choose from with many people suggesting that reviews provided by a third party are more trustworthy than those provided by the merchant's own site. On the flip side, syndicated services can often receive a negative response as users see the same reviews of products from lots of different sites, but there is no right or wrong solution. Some companies my use a combination of both where by the ecommerce platform handles the product reviews and a third party system handles the more generic company/service reviews.
Whichever option you choose, it helps to make it as simple and user-friendly as possible and once your ratings and reviews engine is in place, it's time to start collecting them, so let's examine where and how.
Depending on the number of products you sell and how frequently they are purchased, it may take time to build up enough reviews to provide a reasonable sample size for users to make a judgement from. This is often a reason why merchants may use syndicated reviews services but there's lots of ways you can look to drive those reviews yourself.
Use them on EVERY page
Whilst it's important to know how good your service, delivery, and ease of ordering is on a broader level, users will also want specific product ratings and reviews so it's important to display them against each and every product on your site.
Depending on how it is managed, the downside is that people can potentially review products that they haven't purchased (at least from your site). However they are ways to negate or circumvent this such as only allowing verified purchasers to review the product, restricting reviews to only logged in users, or flagging reviews from verified purchasers so they stand out more than other reviews. It's also vital to ensure any reviews are monitored before they are published to ensure they are suitable.
Request them on post-delivery emails
Once you are sure that the item has been delivered it's a great idea to email the customer and ask them to review the product they've bought. With an enhanced ecommerce platform like tradeit, triggered email campaigns can be set up to automatically send these emails out at a certain time after each order is delivered (3 days later, a week later etc...) to ensure that the item arrives before the review request and that the customer has had time to use it. Depending on how you manage your order processes you can also add conditions to prevent any email being sent if the item is returned within the time period before the email is sent.
There is no point asking for a review of a product that the user hasn't received yet, or has sent back as that is a waste of time and will reflect badly on your operation. However, it still needs to arrive whilst the purchase is relatively fresh in the user's mind.
Request them in the user's 'My Account'
On almost every ecommerce site the user's order history will be available in their 'My Account' so take advantage of this by requesting a product review next to a user's order history. The option to leave a review will display each and every time they examine their orders and provide a constant prompt.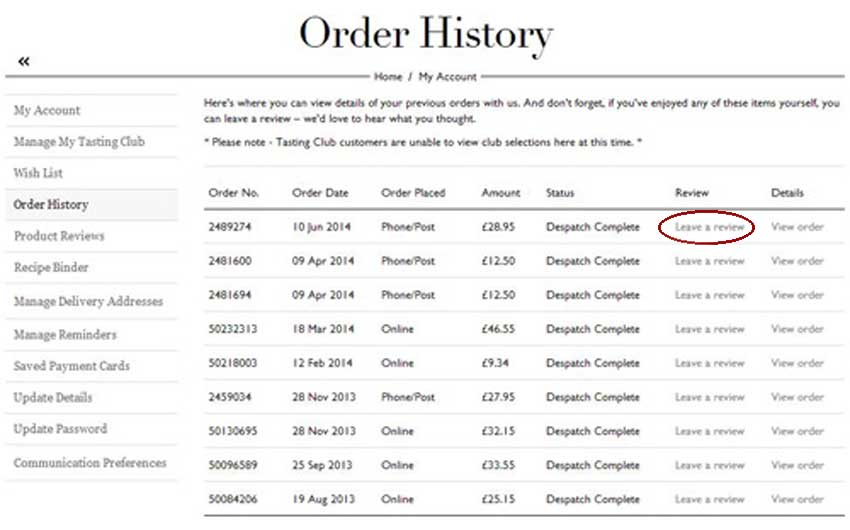 Within their My Account, you can also give users the chance to see previous reviews that they have left.

Use them in facetted navigation and sort options
The average rating can also be used in your facetted navigation and sort options, allowing users to search for the most highly rated products or filter by only those products with a certain rating and above.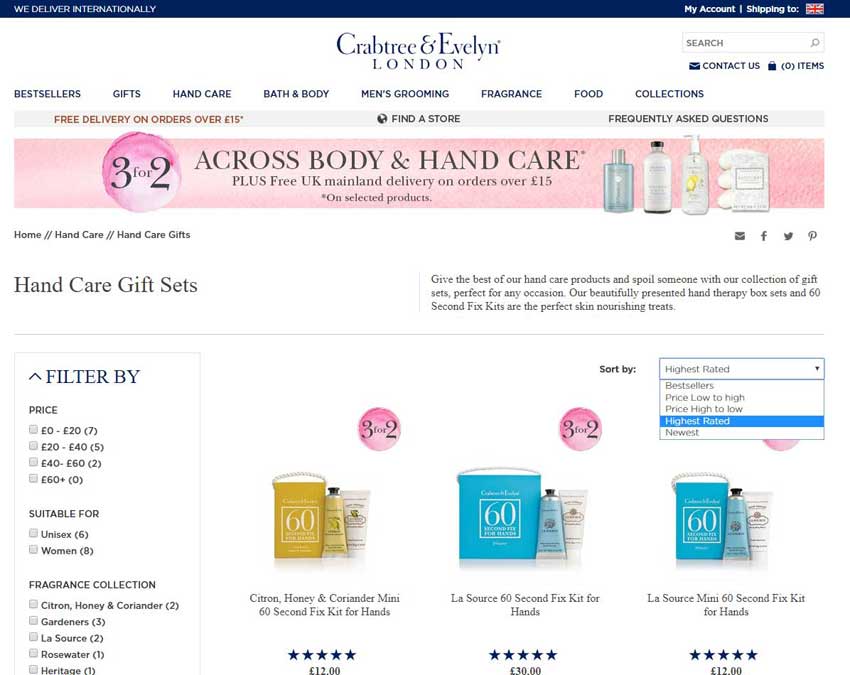 Crabtree & Evelyn use the sort option 'Highest Rated' to allow their customers to find their most popular products
Link to external reviews/press
If your product has been tested, rated and reviewed by other sources such as consumer press or industry comparisons, link to those reviews from your product pages. Seeing other people or industry experts review your products may encourage your consumers to leave reviews too.
For example, Bowers & Wilkins display 'professional' reviews of their products from various trade press and online sources, alongside 'customer' reviews and ratings provided by Feefo.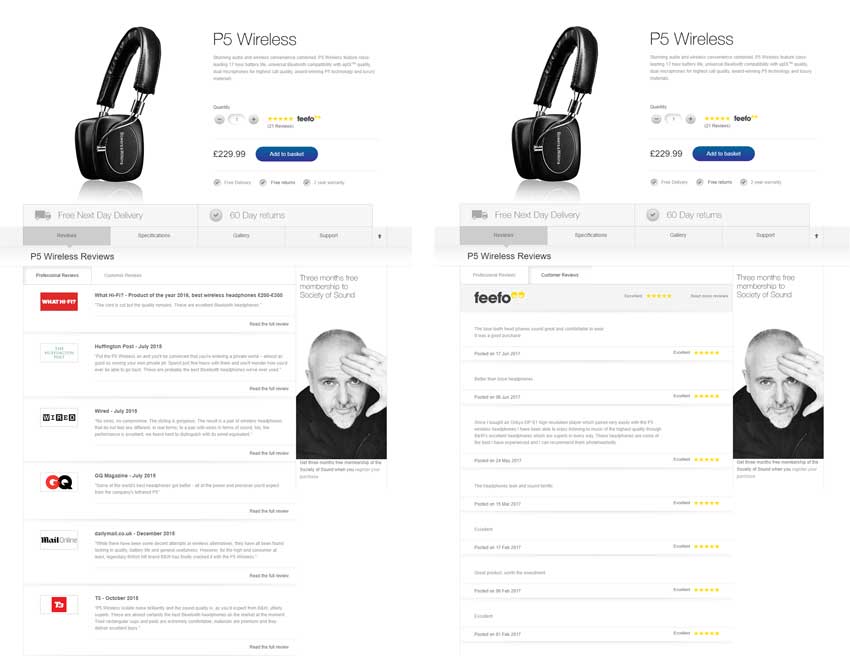 Incentivise users to leave ratings and reviews
Giving users something in return for their time and effort is a great way of attracting reviews but it obviously needs to make economic sense for your organisation and not be too time consuming for them.
Incentives that encourage users to reorder from you can be particularly profitable as they mean more orders. For instance, a discount on their next order such 10% off, or if you are operating an ecommerce loyalty scheme like that within tradeit, the addition of extra loyalty points for each review they leave. As those points can only be redeemed against orders on your site, it means they will need to reorder in order to take advantage of them. Entry to a prize draw is another effective option, particularly if it results in further orders. The chance to win a store credit of a certain value for instance.
Use and share them across all channels
With the advent of omni-channel retail, reviews can be shared across all of your channels. For example, some retailers may display their online product ratings & some select reviews on the shelves of their stores in order to try and close more sales.
Furthermore users make check product reviews online when they are in-store before committing to purchasing. Making sure your channels are in sync and your reviews are easily accessible via mobile devices can increase conversions via all your touchpoints.