Top tips for content-led responsive web design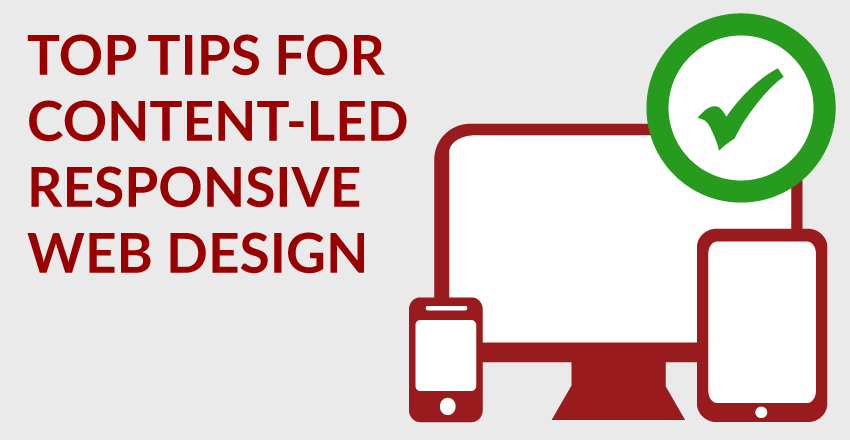 There are several things to consider when you are looking to implement or create a responsive design for your ecommerce site
Usability & Design
The way people use and interact with your website tends to vary quite significantly between device types, therefore it's essential that your website reacts accordingly. Mobile devices tend to be used by people on the go, so content may be presented differently than for a desktop user who has time to look through lots of information in detail. At Red we help you think about user experience on each device and adopt a content-led rather than design-led approach. We ensure that the merchant's content is prioritised in order of appearance so that the most important content always displays first, regardless of device type.
Navigation
With the proliferation of touchscreen smartphones, phablets and tablets now available, your navigation is key to the user experience. These mobile users navigate using taps and swipes instead of mouse and keyboard commands with rollovers and hovers, so ensure that as your site scales for smaller screen sizes, you consider these key requirements. Menus, search fields, buttons, CTAs and text need to be legible and usable on the smallest of devices, but also consistent between them all. At Red we use a style guide during the design process to ensure these requirements are met in terms of brand consistency and usability across all breakpoints.
Content Types
Be wary of content that may be fine on your desktop site functioning poorly on a smartphone or tablet. For example, large images (particularly those with text on) or video files may take too long to load or be illegible for mobile users. Plus, Flash files are not supported on most tablets and smartphones. The tradeit platform supports not only responsive web design but responsive content within the site. This enables different images, text etc… to be displayed at different breakpoints. This might simply be a smaller sized version of the same content, or a completely different piece of content that is device specific (i.e. an ad for mobile users) and can therefore be more personalised.
Speed
Mobile users rely on websites being fast, so you must make sure that content is optimised for different devices to ensure that they don't run too slowly, and hinder the user experience. If the site and its content is not optimised, this may cause your bounce rate to rise sharply on mobile or phablet devices. By using a content-led approach, we work with customers when designing and building the sites to ensure everything that is displayed (including the content) is optimised. We also endeavour to regularly test sites throughout the design process, and once live, for speed. Poor site speed is still the biggest barrier to a successful ecommerce site. Our Hosting infrastructure is also regular monitored to ensure optimum site speed.
If you need help implementing your responsive design for ecommerce, then get in touch.