Optimising the mobile UX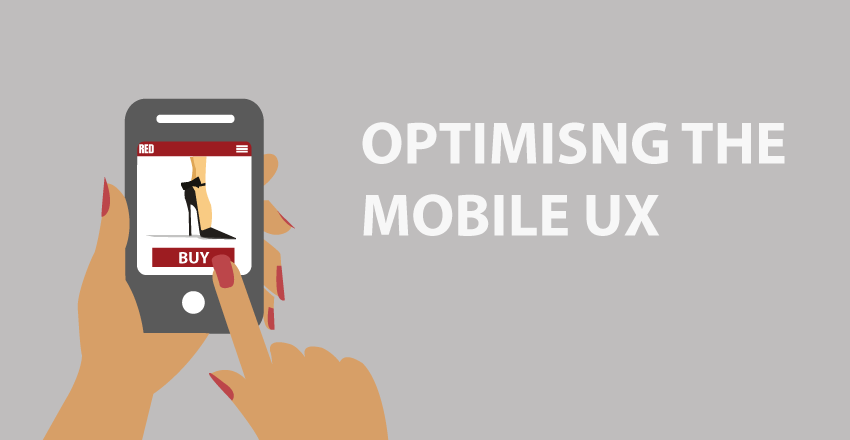 With the news that Google is splitting its index of search results into separate versions for mobile and desktop, and the fact that mobile traffic has been outgrowing desktop traffic since 2014 – with some estimates suggesting that two thirds of all online retail will be conducted via smartphones by 2020 - it's now more important than ever that your ecommerce site is optimised for mobile devices. In fact Britons are leading the way in mobile shopping compared to the rest of the world, with Christmas 2016 seeing 41% of all online spend coming via mobile devices. With that in mind we've drawn up a list of things that are essential for both optimising and growing your mobile ecommerce capabilities.
Design
Responsive Web Design has become the norm over the last few years and most ecommerce sites now follow this approach, but that doesn't always mean that the user experience or elements of the design are optimised for mobile devices.
The advent of touchscreens has meant that the way users interact with sites on mobile devices and tablets is different to on a desktop. Users will swipe, scroll, touch and pinch to navigate and move around a site, so you need to bear this in mind when it's designed.
Not only that, remembering to optimise images for mobile sites and make all buttons or CTAs clear to see is equally important. If you are using text on images (on a homepage banner for instance), it may make sense to have different versions (responsive images) depending on the breakpoint they are being viewed at, as text that is easy to see on a desktop may not be legible on a mobile device.
To help, some merchants start by using a 'mobile-first' approach ensuring that sites are designed with mobile devices in mind as the priority, and tablet & desktop designs extrapolated from that. Whilst there is no right or wrong approach, it's certainly worth thinking about your design approach when thinking about the mobile UX.
Payment methods
Making it easier to pay for items will definitely help improve the UX, speed up the checkout and result in a significant increase in the number of conversions. Introducing mobile friendly payment options such as Apple Pay, Android Pay or Samsung Pay is one easy option, but ensuring payment types are suited to the relevant market is another often over-looked tool. For instance 'buy now, pay later' services like Klarna are extremely popular in Germany and the Scandinavian countries, and as they require minimal form filling and data entry, are ideal for mobile users. Tokenised payment using saved card data from previous transactions will also speed up and improve the user experience.
Page loading times
In line with optimising images for mobile devices is ensuring that pages load quickly. The longer a page takes to load, the less likely that a user will stay on it.
Data Entry
Make sure your sites are developed so that entering data is easy and kept to a minimum where possible. Clear form fills, large CTAs, buttons and instructions are vital. Also, there is no doubt that typing lots of information into a small screen with a tiny keyboard is not that easy, so anything that can reduce the amount of data entry required is going to improve the experience. Tools such as type-ahead functionality for search queries or on form fields, auto address look-up services like PCA Predict, and tokenisation of card details will all save users filling in multiple fields and will all help.
Content appropriate keypad
It may seem insignificant and trivial but if a user needs to enter a credit card number/expiry date, then displaying a numeric keypad for those form fields is far more useful and appropriate than displaying a full QWERTY keyboard, and vice versa for a user when keying in an address for instance.
Testing
Whilst websites tend to be delivered across differing breakpoints based on desktop devices, tablet devices (both landscape and portrait views) and mobile devices, there is still some difference in functionality between devices, operating systems and browsers, within those breakpoints. For instance, what is great on an Android phone may not work properly on an iPhone, or what looks perfect in Safari may not render properly on Chrome, so testing how things work across different mobile devices, browsers and operating systems is crucial in delivering a consistently good experience across mobile devices. Whilst it is unrealistic to test your site on every available device and browser combination, ensuring the experience is perfect across the main devices types, browsers and manufacturers is a must. There are numerous online tools that can help replicate device, manufacturer and browser combinations that you can use during testing.
Same experience/same functionlaity
Ensuring that the experience on mobile devices is the same as that on desktop devices, and all services are replicated across the two is vital. There's nothing more frustrating than merchants who offer paired down tools on mobile devices to those offered on desktop devices. For instance, if you are an omni-channel retailer delivering Click & Collect or online checking of store stock via your desktop site, there's no reason why you shouldn't offer those same services via mobile. Users expect the same experience and service regardless of the touchpoint or device through which they choose to interact with you, so you must deliver it.
Thinking about and testing every action a user may or can carry out via your ecommerce site and helping to make that experience as simple, quick and intuitive as possible is key to delivering a great mobile UX.
Contact us to find out more about our range of ecommerce services including helping you optimise your mobile UX.