Easy ways to deliver targeted content - Part two: Basket contents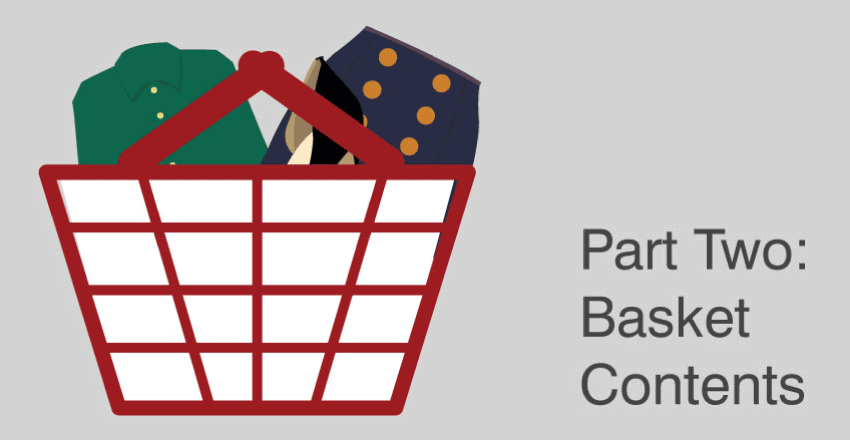 Personalising the delivery of content based on what is in a user's current 'live' basket is an effective way to increase average order value by encouraging them to add more to their order than perhaps they might have done, with carefully targeted content. It's also a great way to introduce them to complimentary products, services, events, brands, offers and more, based on particular items.
For instance, displaying targeted content based on when a specific product, product type, product category or particular brand of product is added to the basket is a simple and effective way to personalise on the spot.
In the example below, when the user adds a skirt to their basket, some targeted content is delivered specific to the fact they have added a 'skirt'. In this case it is a banner promoting 10% off all women's shoes & boots to go with their new skirt.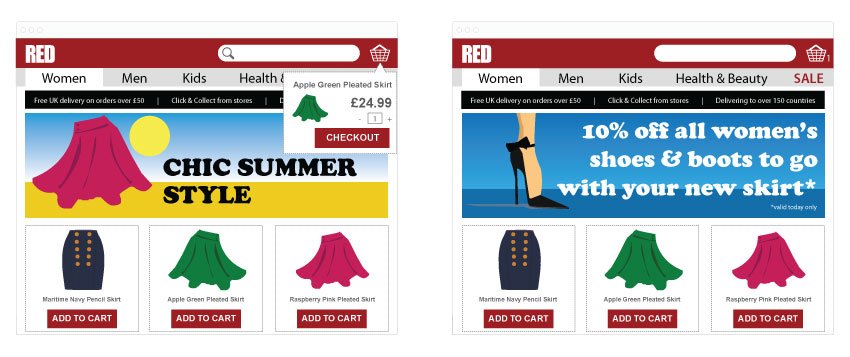 In this second example when a blouse from the REDTECH brand is added to the basket, multiple banners are displayed promoting the rest of the range from that same brand (both in the mini basket and at the top of the page). Remember, targeted content doesn't always need to be a special offer or disocunt, it can be equally effective when just delivering information.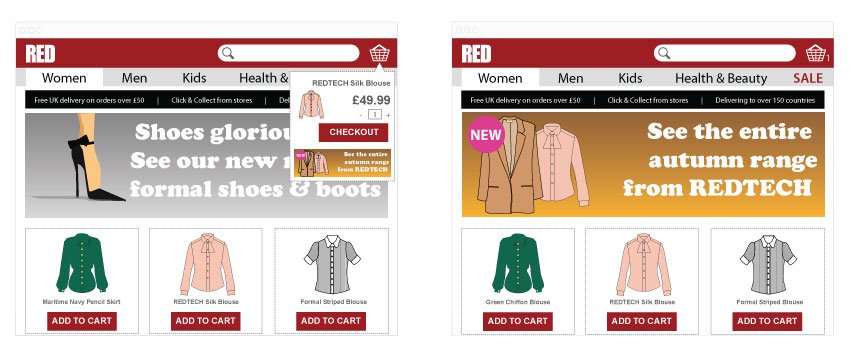 As in the examples above, it is a more realistic idea to begin by targeting groups of items (product groups, brand or product categories), rather than individual SKUs. By examining your ecommerce analytics, either those contained within your ecommerce platform's reporting tools or using an external analytics tool like Google Analytics, you can get a feel for which are your most popular (best-selling) group of products or brands. You can then begin by building personalised content targeted towards users who add one of those items to their basket. However, you could decide to use this information for the opposite purpose, and see which are your least popular products or brands, and then decide to build content that aims to drive up sales of those instead, or deliver a mixture of the two.
As you become more confident about building your targeted content, you can begin to increase the quantity and sophistication of what is delivered, but remember it is important to constantly measure and tweak it in order to see what produces the best results.
See Part One, where we look at using your on-site search tool to help deliver personalised content